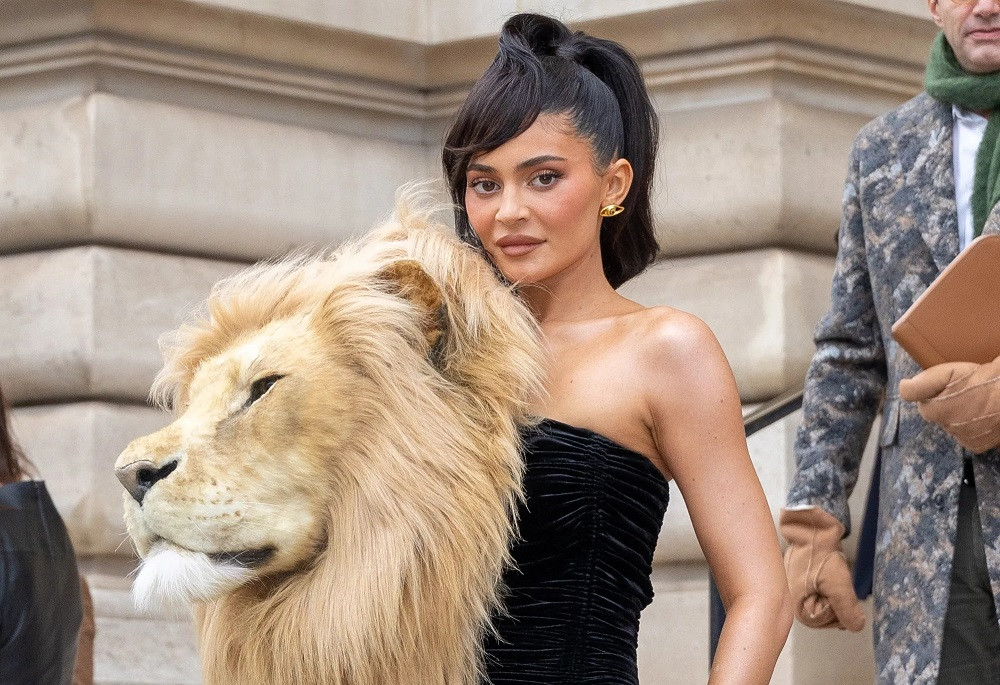 ---
FRANCE:
US entrepreneur and reality TV star Kylie Jenner caused a mini uproar when she appeared as a guest at the Schiaparelli show wearing a dress that featured an incredibly life-like lion's head jutting out from her chest.
Designed by Daniel Roseberry under the title "Leo Couture," the Schiaparelli gown, which also appeared on the runway, was made of "foam, wool and silk faux fur, and hand painted to look as life like as possible," said the brand on Instagram.
Promoting trophy hunting?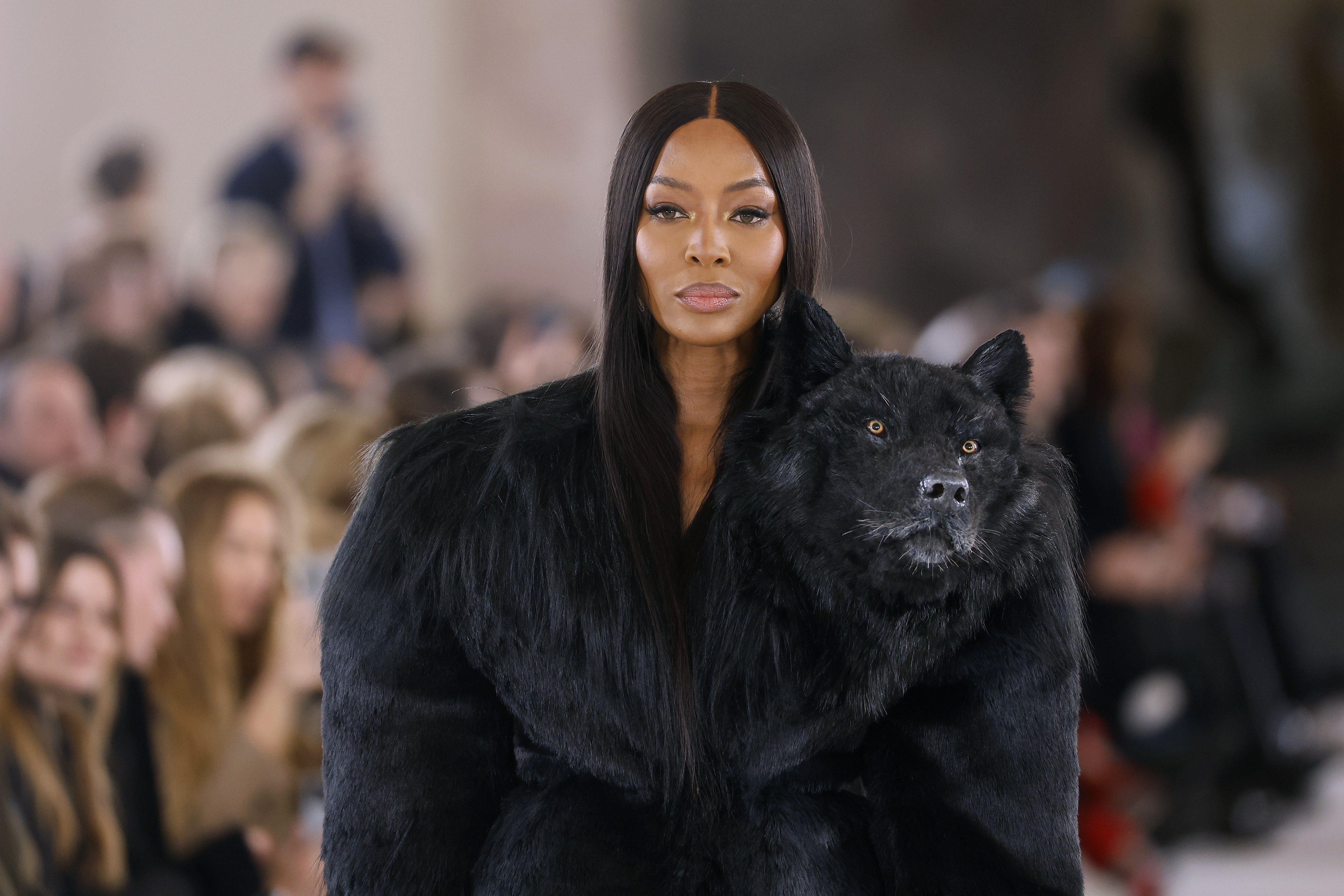 To avoid raising hackles, the brand added the following disclaimer to its Instagram post, "No animals were harmed in making this look."
Some animal lovers were nevertheless unamused. "The whole concept of this is repulsive," wrote one Instagram user in a popular comment. "Regardless of whether the animal heads are real or replicas, they promote trophy hunting, which is obviously disgusting, violent, and non-progressive. Try again."
In contrast, PETA President Ingrid Newkirk told TMZ that the brand's collection of three-dimensional animal heads was "fabulously innovative" and "may be a statement against trophy hunting, in which lion families are torn apart to satisfy human egotism."
Besides Jenner's look, Schiaperelli's collection also featured a black wolf's head, modelled by Naomi Campbell, and a white strapless gown, with a realistic snow leopard head snarling from its bodice.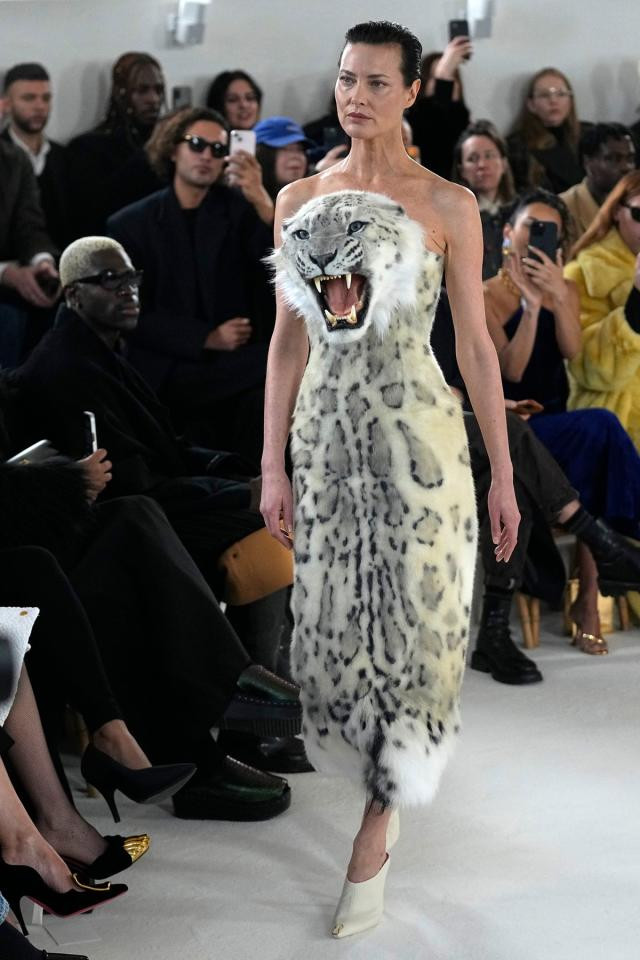 Doja Cat gets the world googling for 'trypophobia'
Rapper Doja Cat — whose 2022 album Planet Her became one of the five most-streamed albums globally on Spotify — also turned heads at the Schiaparelli show.
Dressed in a full red costume, all her exposed skin was covered in red crystals which resulted in some of her fans saying that her look triggered their trypophobia: namely, the fear of irregular patterns or clusters of small holes or bumps.
It took Pat McGrath, the makeup artist who created the look, more than five hours to paint the rapper's face and body red and then apply the 30,000 Swarovski crystals on her body.
Among the many who tweeted about their negative reactions to Doja's look, one wrote, "Anyone who retweets Doja's look on my Timeline is going to be blocked. What in the trypophobia!" To this someone replied, "It's making my skin crawl."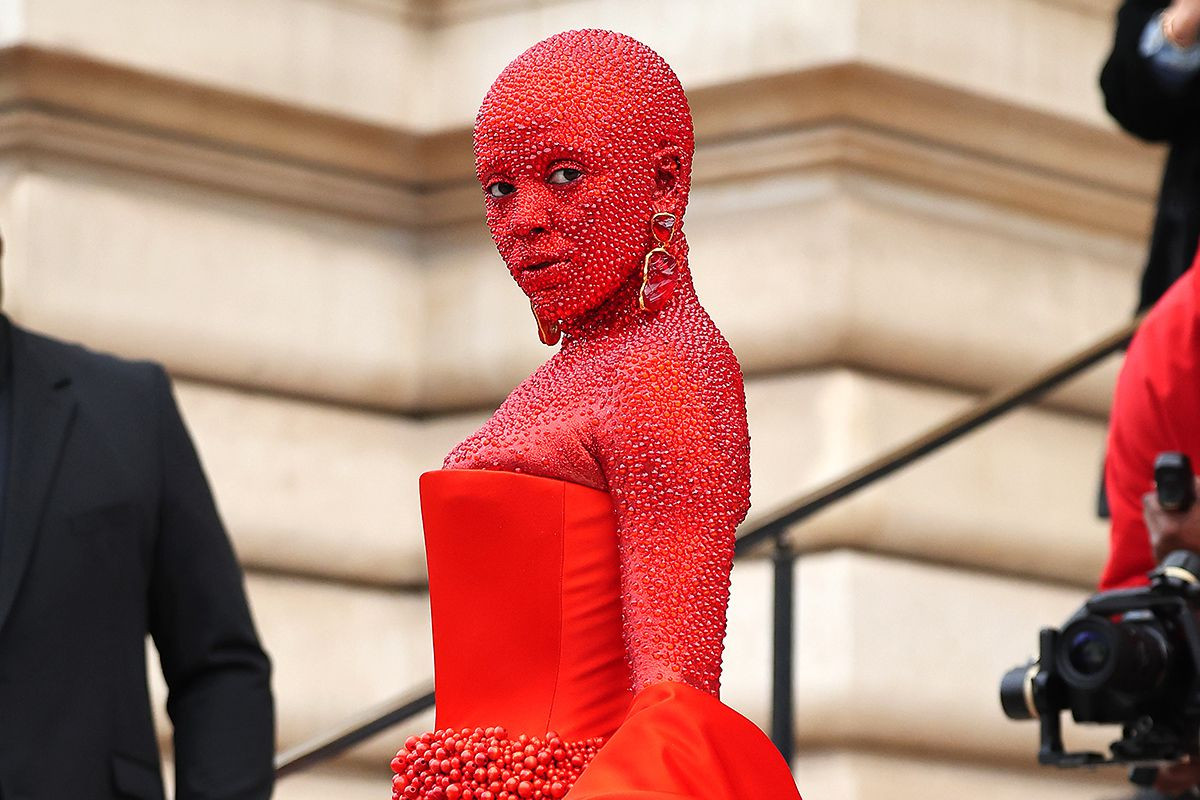 A surreal zoo
Also inspired by the zoological realm, the Chanel catwalk featured large animal sculptures made of unpainted wood, paper and cardboard against which the fashion house's collection of colorful and sequinned couture stood out.
Designer Virginie Viard collaborated with contemporary artist Xavier Veilhan who was inspired by a bestiary in house founder Coco Chanel's apartment.
Veilhan said he wanted to "evoke the relationship to animals which is constantly evolving in our societies."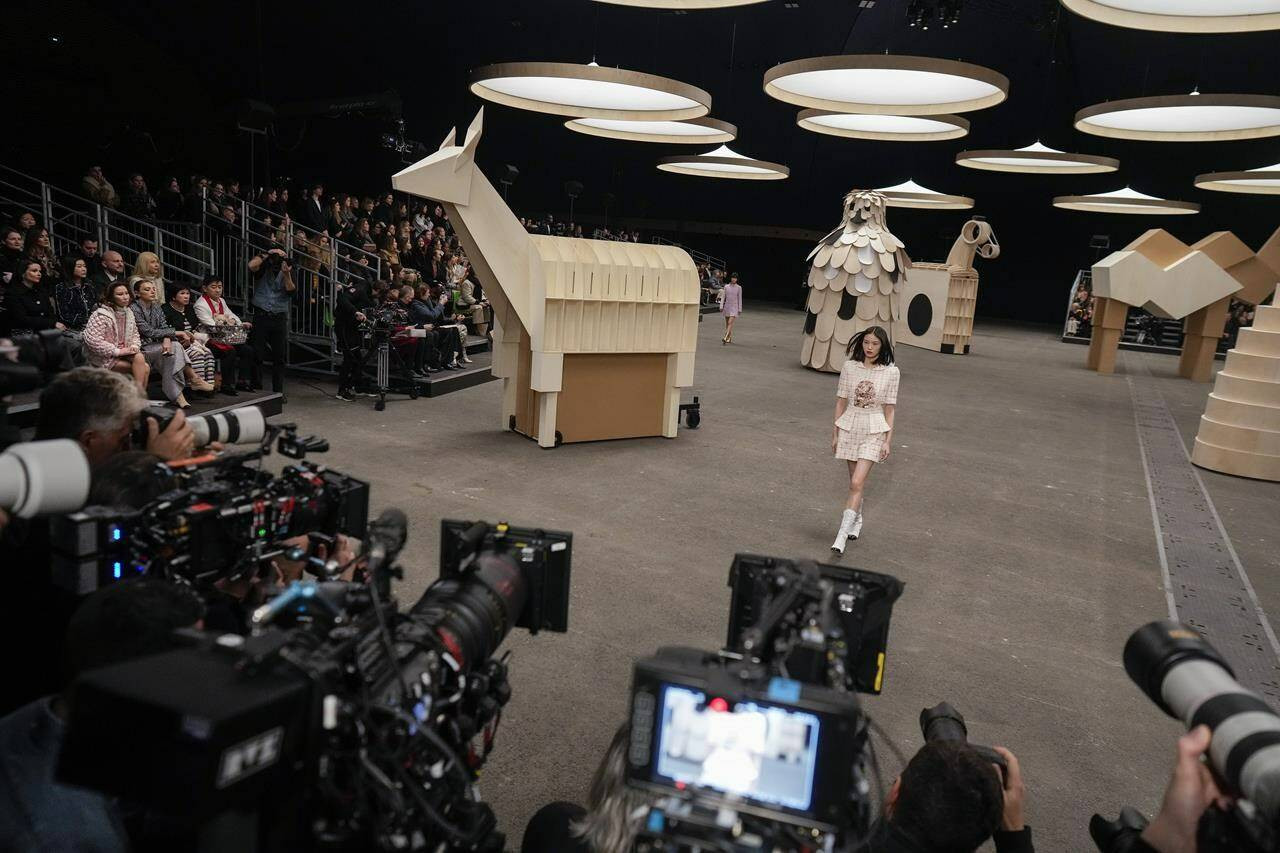 Channeling Josephine Baker
Dior presented its collection set against 13 blown-up portraits by artist Mickalene Thomas of African American women such as Eartha Kitt, Nina Simone and Josephine Baker.
In fact, creative director Maria Grazia Chiuri's spring/summer collection was inspired by the life of Josephine Baker, featuring dresses in muted colors and classic styles. They reflected on the 1920s through 1950s era, which Baker defined.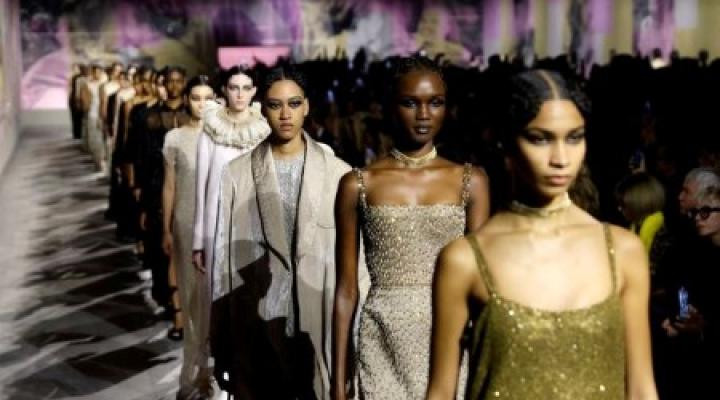 A statement against the Iranian regime
Besides garish fashion looks, a sobering political statement was made by a model at Louis-Gabriel Nouchi's show during Paris Fashion Week.
A man dressed in a black shirt holds up a sign that reads A man dressed in a black shirt holds up a sign that reads
"More than a fashion statement."
Parading the designer's autumn-winter ready-to-wear collection, the model held a small white sign in front of him with the message, "Stop the executions in Iran."
Nouchi's collection was inspired by Bret Easton Ellis' 1991 book, American Psycho.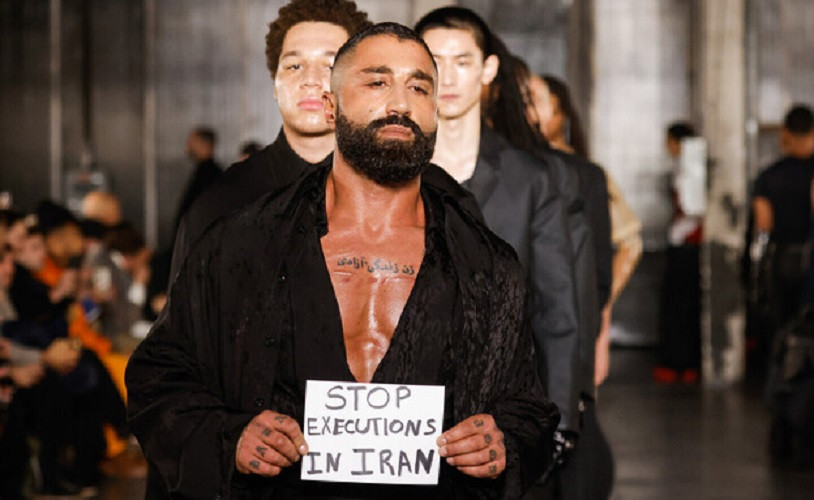 Have something to add to the story? Share it in the comments below.
COMMENTS
Comments are moderated and generally will be posted if they are on-topic and not abusive.
For more information, please see our Comments FAQ