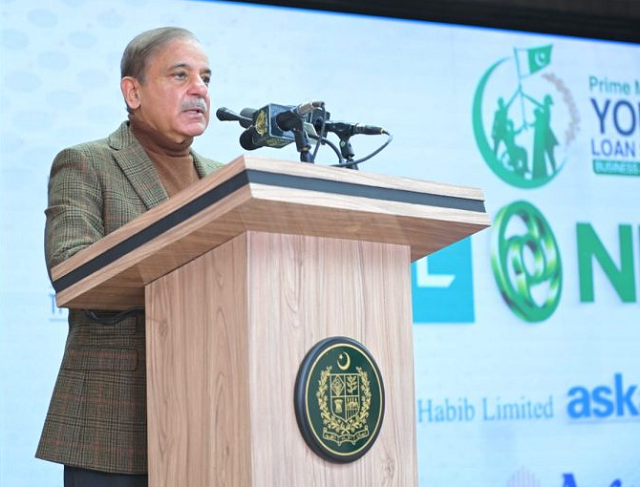 ---
ISLAMABAD:
Prime Minister Shehbaz Sharif on Tuesday said the government had told the International Monetary Fund (IMF) that they were keen to complete the 9th review programme and wanted to conclude the terms through negotiations without any delay so that Pakistan could move ahead.
He expressed the optimism that country's other multilateral and bilateral programmes would also move ahead.
The prime minister launched PM's Youth Business and Agri-loans scheme which would provide opportunities to the youth to earn their livelihood through different business and agriculture initiatives.
Addressing the launching ceremony, the prime minister said that Pakistan was passing through difficult times and resolved that he would sacrifice all his political career and life for the sake of the country.
"I have served thrice as a chief minister of Punjab and now serving as an incumbent prime minister of the country, what legacy we will leave behind if these issues are not being addressed? It is clear that Pakistan is facing huge challenges, and if we have taken responsibility, we will make our all-out efforts to steer the country out of the difficulties," he stressed.
The PM Youth Business and Agri Loans Scheme is aimed at promoting entrepreneurship among youth by providing business loans on simple terms and with less markup through 15 Commercial, Islamic and SME banks.
All Pakistani residents, aged between 21 and 45 years with entrepreneurial potential are eligible to apply for the loan. Loans provided under the scheme are segregated into three tiers.
The prime minister mentioned that Pakistan was spending $27billion dollars on import of costly oil for energy generation and it could be reduced by half by taking practical steps.
The prime minister, in apparent veiled reference to the former PTI's provincial government of Punjab and Khyber-Pakhtunkhwa, said the federal government had announced steps over energy conservation, but unfortunately, one provincial government approached the high court for a stay order while another provincial government used delaying tactics.
To save Pakistan, they would have to sacrifice politics. The PML-N and other allied parties were committed to overcoming the current challenges, he added.
Recollecting his tenure as Khadim-e-Ala of Punjab, he said there was a time when the provincial government utilized its resources for providing interest free loans to the youth while thousands of laptops were provided on merit.
Through the Bank of Punjab, he said, different schemes were launched including the youth self-employment scheme, loans worth Rs40 billion had been distributed among the youth of the province with 99 percent recovery.
The prime minister said an amount of Rs40 billion was distributed as stipends among the students in Punjab, including orphans during his tenure as chief minister from 2008 and onwards, enabling them to pursue their educational career and accomplish their aims in life. He said it was the real investment for any nation.
COMMENTS
Comments are moderated and generally will be posted if they are on-topic and not abusive.
For more information, please see our Comments FAQ