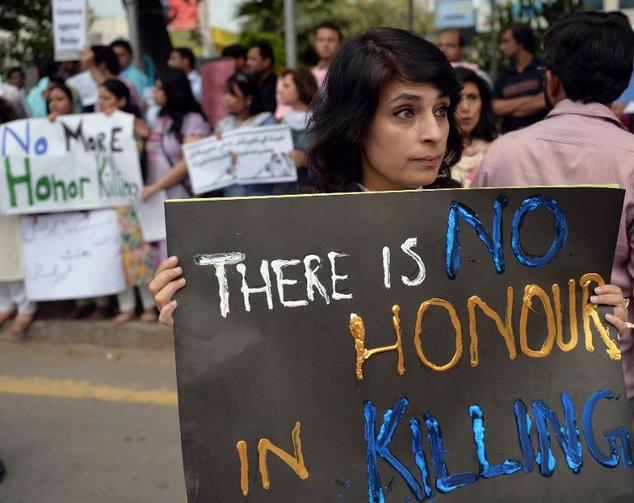 ---
KARACHI:
A man shot his daughter dead who had gone to the city court in connection with a case of marrying of her choice.
A police head constable and another man were also injured in the firing.
Police and people present in the court caught Amir Zaman Masood, 65, the father of the girl, who was trying to escape from the crime scene, SSP City Shabir Sithar said, adding, the murder weapon was recovered from him.
Masood told the police that he killed his daughter, Hajira, 20, in the name of honour because she had eloped with a man named Syed Jawwad Hussain.
The injured head constable Imran Zaman, 40, and Wajid, 20, son of Kaleem Khan, who were in the court for a hearing, were rushed to the Civil Hospital.
SSP Sithar said, Hajira, a resident of Manghopir Road, Kunwari Colony, had run away from home on January 3 and got married to Syed Jawad Hussain, who is said to be a doctor.
Father of the girl had registered a case of kidnapping at Pirabad police station on January 10, SSP Sithar said, adding that the victim had gone to the court with head constable Imran Zaman posted in Pirabad Investigation.
Masood was chasing them and as soon as they reached Gate 4 in the city court, he opened fire injuring Hajira, Zaman and Wajid were injured.
Hajira died on way to the hospital while the other two sustained bullet injuries.
Police have found three bullet shells at the crime scene.
The SSP told the media that the arrested suspect had entered the City Courts through Gate 4, no one is allowed to enter through this gate and for this head constable Khyber Zaman posted at the gate and an inquiry has been initiated against him.
COMMENTS
Comments are moderated and generally will be posted if they are on-topic and not abusive.
For more information, please see our Comments FAQ