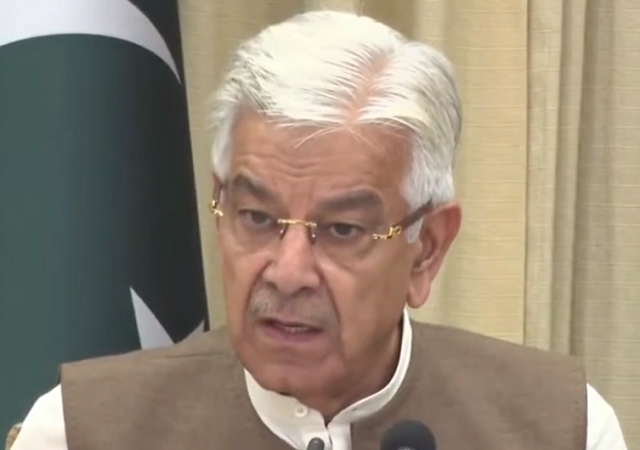 ---
ISLAMABAD:
Defence Minister Khawaja Asif on Monday said Pakistan Tehreek-e-Insaf (PTI) chief Imran Khan was heading gradually towards a complete political failure as all his decisions were proving wrong and miscalculated.
Addressing a news conference, the minister responded to the PTI's objections and criticism on the appointment of Mohsin Raza Naqvi as the interim Punjab chief minister and revocation of their resignations from the National Assembly.
Asif in the prologue of his media briefing congratulated the interim chief minister for assuming his new responsibilities. He wished that free and fair elections would be held in Punjab under his leadership.
He also welcomed the Election Commission of Pakistan's (ECP) decision being taken as per law, saying that the entire process was done according to the Constitution.
The minister clarified that the nominees presented by the PTI and others did not have good exercise as one the nominee was a serving government employee and the other a dual national.
"Their vetting was not good for these nominees. So that's why they had to face humiliation in this case," he added. Moreover, the government's nominees had one ex-civil servant and one media personality, he said, adding that the PTI also gave the name of another honourable bureaucrat who himself apologised to take the task. Hence the PTI's objection on Naqvi's appointment is a fake cry. While clarifying the media over the allegations of a plea bargain against the interim Punjab chief minister, he said Naqvi's name was dragged into an issue of NAB plea bargain but the fact was he had taken some loan from the accused in Haris Steel Mill Case in NAB.
"Naqvi provided a cheque with a letter during the probe and returned the loan to the accused. A few news articles erroneously reported it as a matter of plea bargain whereas one letter could not be considered as a plea bargain. And, if he has done anything illegal then we are not going to defend him," he added.
The minister said Naqvi was the coalition government's nominee and it was his right to defend him.
"Imran Khan is losing his sanity and becoming obsessive as his behaviour, his political conduct and backing out of political decisions qualify him to an uncertain state of mind. Any individual with a stable mind can never make such statements and decisions. The price for that is being paid by his workers and MNAs," Asif said.
He added that Pakistan was a responsible state and its nuclear programme had been globally endorsed as one of the safest programmes in the world.
He said no such thought should be considered pertaining to the protection of the country's nukes.
"We can protect all our defence assets as per global laws and regulations. I give my 200% confidence that the country's nuclear programme is secure and well-guarded," he added.
On rising inflation and economic situation, he said the prevailing crisis was mainly what the coalition government of Pakistan Democratic Movement (PDM) had inherited after the failure of Project Imran Khan, "we received only wreck".
To another query, he said he had told media that after the success of no-confidence motion, the PDM would have gone for fresh elections and get a fresh mandate for five years.
COMMENTS
Comments are moderated and generally will be posted if they are on-topic and not abusive.
For more information, please see our Comments FAQ