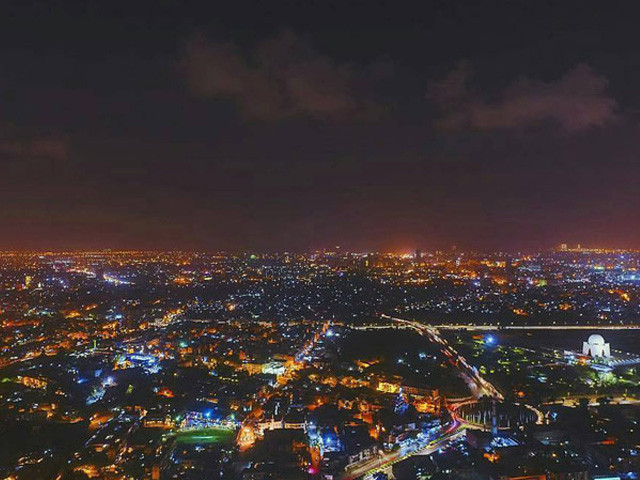 ---
ISLAMABAD/LAHORE/KARACHI:
Despite the fact that the country is facing various economic challenges, including a looming default and spiraling inflation, surveys conducted by The Express Tribune in three major cities disclosed that even though the people were aware of the financial hardships, they just wanted to carry on living their lives normally.
"The prices have increased to a certain extent but that doesn't mean that the people will stop eating," Ali, who runs a burger stall in Islamabad, said.
"We are working as usual. The prices of fuel and electricity have witnessed an unusual hike and the government should do something about it," he added.
Ali maintained that the rising prices had not significantly affected his business.
"My shop is packed with customers like before," he claimed.
Shahnawaz Satti, a tandoor owner, said the increase in the prices of fuel and flour had no effect on his business as he jacked up the rates of his naans and rotis in accordance with that.
Adeel, a citizen, told The Express Tribune that the political instability in the country could lead the country towards defaulting on its external repayments.
He noted that all political stakeholders would have to sit together and chalk out a strategy to avert this situation.
"If the government concedes to all conditions imposed by the IMF (International Monetary Fund), the price of petroleum products would exceed Rs400 per litre. This might not affect the rich but will choke the life out of the common people," he observed.
The survey found that the people were not bothered by the threat of default, but they wanted their lives to continue as per their normal routine.
In Lahore, a city renowned for its festivities and liveliness, normalcy is slowly changing its pace as the economic crisis has made its presence known in every aspect of life.
While various segments of the city's residents still braving the deteriorating economic conditions during the tenure of the PTI government, its successor, the Pakistan Democratic Movement (PDM), failed to bring about the relief it promised when it assumed charge in April last year.
Ever since, matters have been gradually heading towards decay, and with no respite expected soon, there is a sense of disappointment lingering in the air.
Read 'IMF, privatisation not a solution'
Lahore, which bristled with life, is now slowly becoming accustomed to lonely streets and closed markets at 10pm -- an hour relatively earlier by the city's standards.
Recently, the authorities extended the time restrictions imposed on commercial markets, with the exception of pharmacies and other essential services, to save energy.
Pakistan, which already suffers from a serious energy crisis, is trying to make lifestyle adjustments to cut the fuel import bill as the country has run out of its dollar reserves to back its valuable imports.
On the surface of it, the decision to close markets early may appear to be an unwise one, but it is an extension of the "difficult measures" that the government says it has been taking to steer the country out of the economic crisis.
However, despite the incumbent government's tall claims, the situation is still unstable – the effects of which can be felt in everyday life in the city.
The Express Tribune spoke to people from various segments of the society to develop a clearer picture of how things really were.
The lowest segments of society have been hit the hardest by the economic crisis as they struggle to make ends meet, with the prices of essential items increasing faster than their income.
They complain about hefty utility bills despite low usage, unaffordable prices of essential commodities, lack of social protection and their struggle to maintain their income.
Those from various strata of the middle class echoed similar concerns as the economic crisis has made it significantly difficult for them to maintain their lifestyle.
This is particularly true for those living in rented accommodations. With increasing rents and hefty utility bills, this segment is barely left with any savings. Instead, many of them have been incurring debts to carry on with their normal lives.
Those who work at offices speak out against the increased disparity between their income and expenses, especially during the past year.
Similarly, those who run their medium-sized businesses, lament the governmental regulations amid deteriorating profits.
Read more 'Pakistan in financial emergency'
Ali, who runs a clothing store in Lahore's Karim Market area, elaborated how the economic conditions have been affecting his business.
"The customers' purchasing power has been curtailed and the business is slowing down," he said.
"They (the banks) are not opening LCs (letters of credit), hurting our imports. If we look at the domestic factories, they too have been pushed to closure because of fuel shortage," he added.
The degenerating economic conditions have not spared the upper class either as they too complain of similar woes, despite having relatively better lifestyles.
However, when it comes to maintaining a lifestyle, matters tend to become troublesome when you are faced with currency devaluations and worsening social conditions ie crime.
While the facts are there, Lahore, staying true to its historically resilient position, continues to function under a portrayed sense of normalcy. Despite low hopes, life still goes on.
Renowned academic Dr Arfa Sayeda Zehra, while speaking to The Express Tribune, criticised the political elite for its negligence towards the city.
She highlighted how the city, which had a rich cultural history, risked losing its charm amid the ongoing economic crisis.
"We do not want Lahore to be merely a tourist site," she said.
"We want it to be fragrant, emitting a fragrance of knowledge, but when a financial crunch happens, all tastes evaporate," she noted.
Dr Arfa observed that those who still carried the city's spirit were the ones forced into financial difficulties.
"Lahore used to live, now it is just existing," she added.
Shazia Khatoon, a garment factory worker in Karachi, and her family members stopped purchasing fresh fruits and meat. They rely only on vegetables, rates of which are making new highs with each passing day.
The lady, who lives in a rented house, said that eggs, mutton, chicken, yogurt and milk were missing from their menu for the last two months. "I consider myself lucky as I can still purchase cooking oil, flour after 12 hours of working at the factory," she said.
Also read 'Pakistan needs fundamental economic reforms'
Unlike Shazia, a huge number of people belonging to the lower strata of society were seen waiting in queues for subsidised wheat with one man losing his life in a stampede a few days ago.
In the open market, the 10kg price of wheat stood at Rs1,440. The government has announced subsidised flour at Rs95 per kilo, but one would be lucky to make it through in the long queues.
"Every month we used to have weekend dinner outside with family members, but now the grocery expenses have jumped from Rs15,000 to Rs25,000. We have curtailed all the expenses just to run our kitchen," KK Alam, who works in the private sector, said.
"In this situation, no one can even think of saving money," he said, adding that some days ago, his relative survived a suicide attempt because of his financial hardship.
Speaking to The Express Tribune, Sindh Assembly Opposition Leader Haleem Adil Shaikh referred to many poor families who according to him, sleep on an empty stomach. "More than 6,000 containers are stuck at ports in Karachi due to lack of payment. The life-saving drugs are missing. Inflation has increased 45 per cent in the last few months. How can we say that life is normal," he said, adding that the actual victims of the economic crises were those who were living under the poverty line.
He said that after the 18th Amendment, it is the provincial government's mandate to control the article price hike and hoarding mafia, but all authorities had failed and were busy minting money.
On the other hand, there was a huge crowd at markets, shopping malls and restaurants giving the impression as if everything was normal. The people from the upper class are unshakable as they import luxury vehicles and enjoy life.
According to Salman Shah, an economist and former federal finance minister, there are some stocks of different things available in the markets, therefore the people belonging to the upper and middle classes visit the makers for shopping. "What can we do if the government fails to import oil, wheat, and raw material for medicines etc. Pakistan's situation will spiral out of control if it fails to get the IMF loan as soon as possible."
Dr Abdil Qaiyum Suleri, a Pakistani social policy analyst, commenting on the issue said the government seemed to be in a denial mode to redress the economic issues confronted by the country.
"The inflation in our county stands at 24.5 per cent. In this condition, accepting the IMF's strict conditions are vital for our cash flow and economic stability," he said, adding that Pakistan survived in these trying times because of its social fabric in which people support each other.
COMMENTS
Comments are moderated and generally will be posted if they are on-topic and not abusive.
For more information, please see our Comments FAQ