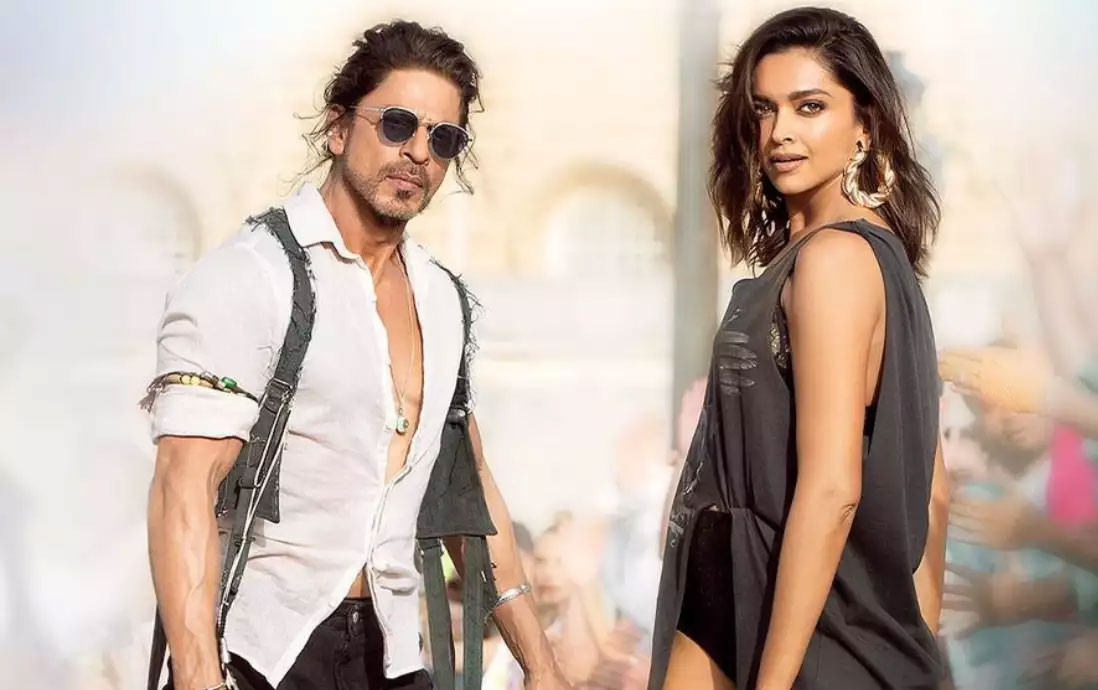 ---
It won't be wrong to say that 2023 is the year of Shah Rukh Khan. Bollywood's King Khan has three films slated for release this year, with his first offering merely days away from hitting the screens worldwide. Pathaan stars Khan in the titular role as well as Indian diva Deepika Padukone and actor John Abraham.
Khan was last seen in his 2018 film, Zero, alongside Anushka Sharma and Katrina Kaif. He also has two other offerings this year: Atlee's Jawaan and Rajkumar Hirani's Dunki, which also stars Taapsee Pannu. However, Khan's comeback film has caused quite a ruckus back in his country. Ever since the first song, Besharam Rang, was released, the film has been at the receiving end of severe backlash from right-wingers.
Religious bigotry
It started when Madhya Pradesh Home Minister Narottam Mishra expressed his displeasure over Besharam and called out the makers, specifically pointing out Padukone's skimpy wardrobe in the sizzling number.
As quoted by the news agency ANI, the minister said, "The costumes in the song at first glance are objectionable. It is clearly visible that the song of the film Pathaan has been shot with a dirty mindset. I don't think this is right, and I will tell the director and makers of the film to fix it. Earlier also Deepika Padukone came in the support of Tukde Tukde Gang at JNU and that's why her mentality has come in front of everyone before."
The MP, while politicising the track, added, "And that is why I believe that the name of this song Besharam Rang is also objectionable in itself and the way saffron and green have been worn, the colours of the song, the lyrics and the title of the film are not peaceful. It needs improvement. If it is not done, then we will consider whether its telecast should be allowed in Madhya Pradesh. Now let's see, so far all those who have been asked have improved. If it's not done then we will consider."
Earlier, Chandrashekhar Tiwari, President of the Indian party Sanskriti Bachao Manch, also protested against the song and members of his group protested against the lead actors.
Chandrashekhar Tiwari said, "This is an insult to our saffron dress, which Sanskruti Bachao Manch will not tolerate. Shahrukh Khan, when Hindus started boycotting your film, you remembered Vaishno devi. Before the release of your film, you are going to Vaishno Devi."
He added, "You will have to apologise to all Hindus and remove the song from this film because the people of India made you a superstar. Shahrukh Khan, why are you always degrading your image by doing such acts? You should apologise to all Sanatan Dharma believers."
The death threats and vandalisation
Bollywood Hungama reported that several protests were staged against the film as well. The outlet reported that a group named Veer Shivaji group planned protests on the streets, at a road intersection, in Indore where they burnt the effigies of Khan. As per reports, the protestors claimed that Besharam Rang offended the sentiments of the Hindu community.
Last month, a seer in Ayodhya threatened that he would burn Khan alive if he ever met him. As per its definition, a seer is a person of supposed supernatural insight who sees visions of the future. Mahant Paramhans Acharya has made worrisome comments in a recent interaction with the Indian media, reported DNA India.
Paramhans Acharya added that the saffron colour has been insulted in the Besharam Rang song. "People of our Sanatan Dharma are protesting continuously regarding this. Today we have burnt the poster of Shahrukh Khan. If I get to meet the film Jihadi Shah Rukh Khan, I will burn him alive," the seer said.
'10 cuts and changes'
Folding under the pressure posed by Hindu right-wingers, the Censor Board of Film Certification India directed the makers of Khan and Padukone's action thriller to make changes to their 'controversial song'. Later, Hindustan Times reported that the film has been given a green signal after 10 changes and cuts.
"At least three changes have been made to the controversial song Besharam Rang - close-up shots of "buttocks, side-pose and sensuous dance movements during the lyrics Bahut Tang Kiya" have been removed," the publication shared.
A Bollywood Hungama report shared details of the ten cuts suggested by CBFC, that have been incorporated in the final cut for the theatrical release of Pathaan. The report added that the certificate does not mention whether the saffron outfit, which has been the centre of controversies around and protests against the film, was removed or changed.
Khan speaks out
Khan voiced his concerns about the emerging trend of negativity and trolling on social media at the inaugural ceremony of the 28th Kolkata International Film Festival, reported Times of India.
Without directly addressing the controversies related to Pathaan and Besharam Rang, Khan said, "I'm really proud of everyone standing in solidarity with me. The support proves that no matter what the world throws at us, we will always remain positive and alive."
Further on, Assam Chief Minister Himanta Biswa Sarma on Sunday said that he received a phone call from superstar Shah Rukh Khan and he assured the actor that there will be proper safety provided to people during the screening of Pathaan in the state after an incident occurred at a theatre in Guwahati amid protests against the film. This comes hours after the politician made a remake of "Who is SRK?" which went viral on social media.
"Bollywood actor Shri Shah Rukh Khan called me and we talked today morning at 2 am. He expressed concern about an incident in Guwahati during the screening of his film. I assured him that it's the duty of the state govt to maintain law & order. We'll enquire and ensure no such untoward incidents," the Chief Minister said in a tweet.
This tweet comes a day after he asked "Who is SRK?" when reporters had asked him about the violent protests against the movie in the state. "Who is Shah Rukh Khan? I don't know anything about him or the film 'Pathaan'," said Sarma on Saturday. He said that people should focus on Assamese films and not Bollywood, as reported by NDTV.
Ticket sales roar
Even after the hoo-ha, Khan's Pathaan is set for a big release. According to Bollywood Hungama, Siddharth Anand's directorial would comfortably earn more than INR420 million on its opening day. Khan's film has earned over INR140 million in advanced booking while Indian Express reports that Pathaan should earn INR2 billion in the first five days of release, thanks to Republic Day.
Have something to add to the story? Share it in the comments below.
COMMENTS
Comments are moderated and generally will be posted if they are on-topic and not abusive.
For more information, please see our Comments FAQ