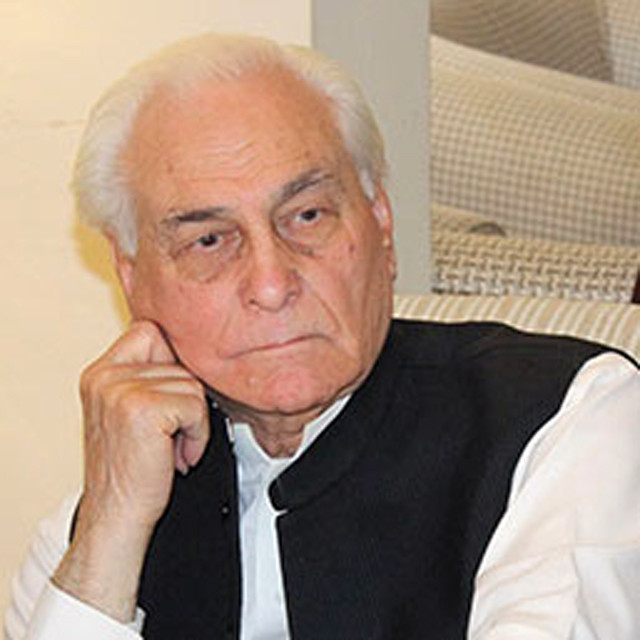 ---
PESHAWAR:
Governor Khyber Pakhtunkhwa (K-P) Haji Ghulam Ali on Saturday appointed Muhammad Azam Khan as the caretaker chief minister of the province.
The governor signed the summary of the appointment of Khan and a formal announcement of the appointment has also been issued. As per sources, the swearing-in ceremony of the caretaker chief minister will be held today.
Khan, who belongs to Charsadda, has previously served as K-P finance minister from October 24, 2007, to April 1, 2008. He also remained the secretary of the ministry of petroleum and natural resources in Islamabad and the chief secretary in K-P from September 1990 to July 1993.
Read Imran will be PTI candidate on all 33 vacant NA seats, says Fawad
The development comes just a day after the outgoing chief minister of K-P Mahmood Khan and the opposition in leader Akram Durrani in the now-dissolved provincial assembly broke the deadlock on the incoming interim setup in the province and agreed to the name of Khan as the caretaker chief minister.
In Peshawar, the name of Azam Khan was announced in a joint press conference by Chief Minister Mahmood Khan and Durrani. "We decided on Azam Khan's name after consultation with our leader," Chief Minister Mahmood Khan said.
"We agreed on Azam Khan as our consensus candidate. We have chosen a person who is acceptable to all," said Durrani. He added that Pakistan Tehreek-e-Insaf (PTI) leader and former defence minister Pervez Khattak played an important role in reaching the consensus.
Dissolution of K-P Assembly
Earlier this week, Governor Ali had signed the summary on the dissolution of the provincial assembly on advice of K-P Chief Minister Mahmood Khan.
K-P CM had sent advice to the governor seeking the dissolution of the provincial assembly under Article 112(1) of the Constitution on the instructions of PTI Chief Imran Khan.
Also read: PTI's assembly strength further diminished
The dissolution of the K-P Assembly comes days after the dissolution of the Punjab Assembly, which was also dissolved on the instruction of Imran. The PTI chief had announced on November 26 at the culmination of the Haqeeqi Azadi March that he would dissolve the two provincial assemblies, where the PTI was at the helm.
COMMENTS
Comments are moderated and generally will be posted if they are on-topic and not abusive.
For more information, please see our Comments FAQ