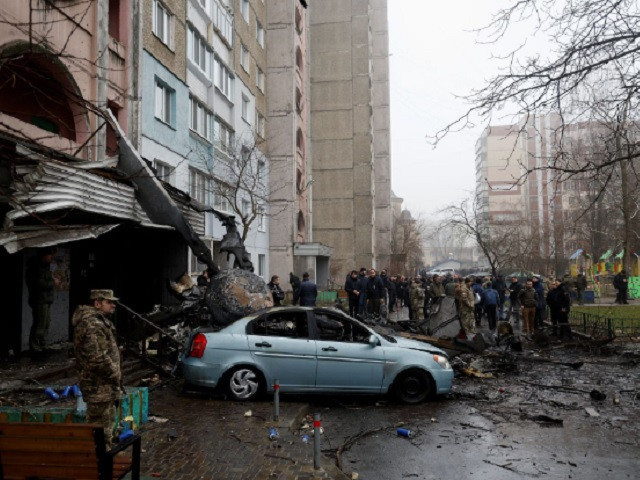 ---
BROVARY:
Ukraine's interior minister was among 16 people, including two children, who were killed when a helicopter crashed near a kindergarten outside the capital Kyiv, officials said Wednesday.
There were no immediate details on the cause of the crash.
"In total, 16 people are currently known to have died," the head of national police, Igor Klymenko, said.
In a video that circulated online from the aftermath of the incident, cries could be heard at the scene which was consumed by a fire.
A helicopter has crashed into a building in Brovary, just outside Kiev, killing nine people on board, including Ukrainian Interior Minister Denis Monastyrsky, his deputy Yevgeny Enin and secretary Yuri Lubkovich. Provisional estimates put the death toll at upwards of 18. pic.twitter.com/8P7NFUKe1y

— RT (@RT_com) January 18, 2023
Among the dead are several top officials of the interior ministry including Interior Minister Denys Monastyrsky and his first deputy minister, Yevgeniy Yenin, he said.
Monastyrsky, a 42-year-old father of two, was appointed interior minister in 2021.
Twenty-two people were hospitalised including 10 children.
Also read: China's first population drop in six decades sounds alarm on demographic crisis
Officials said that at the time of the crash children and employees were in the kindergarten.
Medics and police were working at the scene.
The scene of the crash in the town of Brovary is located some 20 kilometres (12 miles) northeast of Kyiv.
Russian and Ukrainian forces fought for control of Brovary in the early stages of Moscow's invasion until Russia's troops withdrew in early April.
Russian President Vladimir Putin sent troops to pro-Western Ukraine on February 24 last year.
The crash came on the heels of a tragedy that saw 45 people including six children die when a Russian missile struck a residential building in the eastern city of Dnipro at the weekend.
COMMENTS
Comments are moderated and generally will be posted if they are on-topic and not abusive.
For more information, please see our Comments FAQ