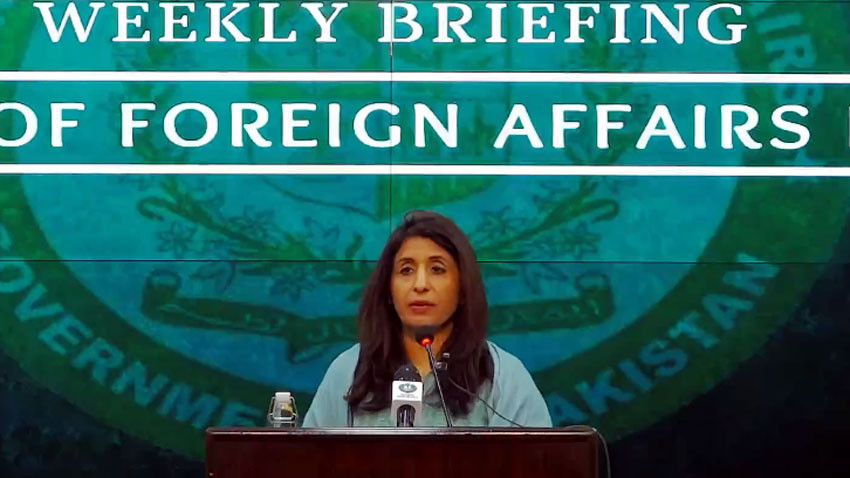 ---
ISLAMABAD:
The Foreign Office on Thursday said that Pakistan is "capable and determined" to counter any threat to its peace and security.
In a weekly press briefing while responding to queries regarding terrorist threats emanating from Afghanistan, FO Spokesperson Mumtaz Zahra Baloch said that engagement mechanisms between Islamabad and Kabul are functional.
"Pakistan will continue to engage with the Afghan side on matters of mutual concern, including security and border management," she added.
Baloch said Pakistan maintains that it will continue to support the Afghan people in their quest for a "unified, independent and sovereign Afghanistan" that is at peace with itself and its neighbours.
Responding to another question, she stated "there is a positive momentum in relations between Islamabad and Washington," adding that Pakistan wants to proceed on the basis of mutual trust, respect and interest.
Read COAS on official visit to KSA, UAE
Further, the spokesperson said Pakistan and Saudi Arabia have close fraternal ties that are rooted in history and common faith and added that the relations between the two countries are multidimensional and include cooperation in the domain of defence.
She said that the context of Chief of Army Staff General Asim Munir's visit to the kingdom is to promote Pakistan-Saudi Arabia relations and defence ties.
In regard to the International Conference on Climate Resilient Pakistan being held in Geneva on Monday (Jan 9), Baloch said Pakistan expects a long-term response from the international community to build climate-resilient infrastructure.
Giving an overview of New Delhi's human rights violations in the Indian-illegally occupied Jammu and Kashmir (IIOJK), the spokesperson said that Indian security forces reportedly killed 214 Kashmiris, 57 of them in custody or in fake encounters during the last year.
Read More IS-KP attackers of Pakistan Embassy, Kabul hotel 'killed'
Last week, four individuals were killed in a fake encounter in Sidhra town in Jammu. According to reports, the bodies were charred beyond recognition. Baloch urged international human rights organisations to take note of this tragedy.
She added that over 4,000 Kashmiris remain imprisoned in different jails in IIOJK and India. "Political prisoners and human rights defenders continue to be targeted and incarcerated," she said.
Baloch maintained that Pakistan will continue to extend "unstinted moral, political and diplomatic support" to the people of IIOJK in their quest for self-determination in accordance with the UN Security Council resolutions.
COMMENTS
Comments are moderated and generally will be posted if they are on-topic and not abusive.
For more information, please see our Comments FAQ