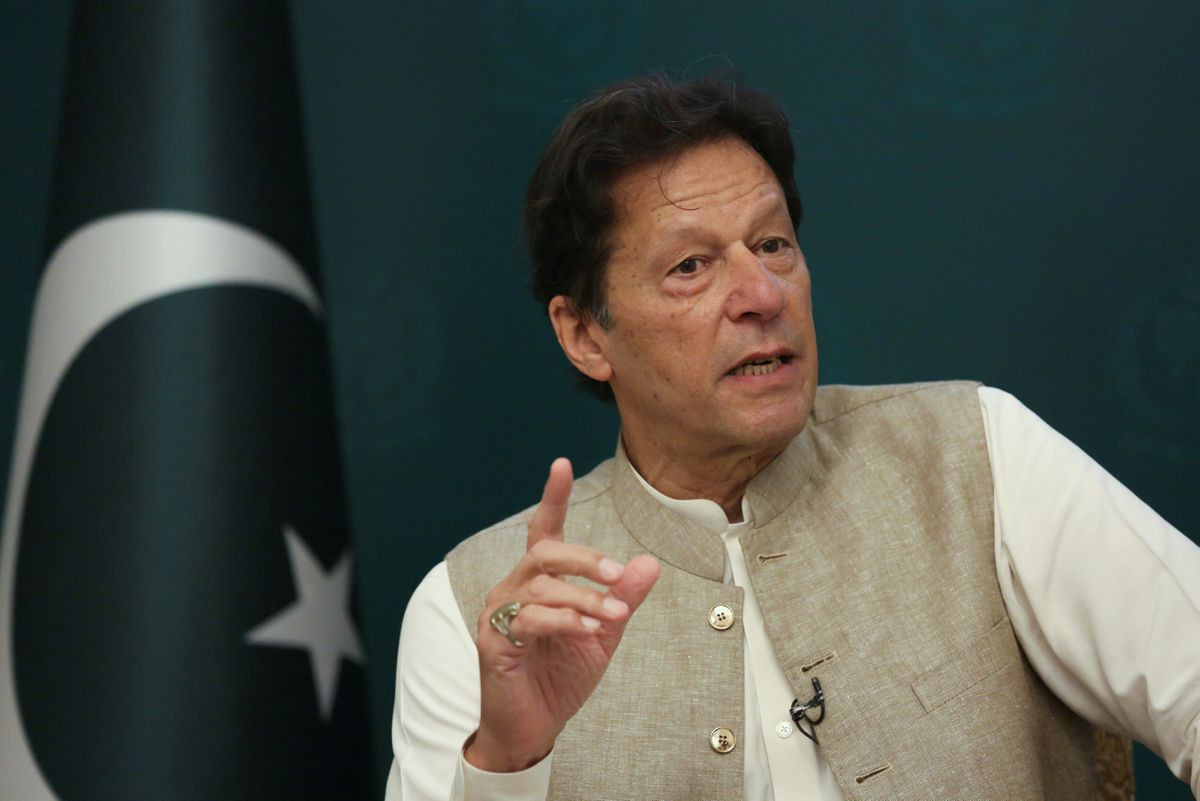 ---
ISLAMABAD:
Pakistan Tehreek-e-Insaf Chairman Imran Khan has said that the government knows that it has no other option but to go to the International Monetary Fund and face humiliation, and that their legs start shaking at the name of elections.
Last month, former finance minister Miftah Ismail said that he "fears default if Pakistan did not approach the IMF at this crucial time".
However, Finance Minister Ishaq Dar and many financial experts have reiterated that it was highly unlikely for Pakistan to default.
Pakistan is currently struggling to cope with massive financial and human losses caused by a devastating spell of rains and floods.
Official data shows nearly 1,150 people have been killed and some 33.4 million affected across the country since June in what officials have termed a "climate catastrophe".
According to economists, Pakistan will need more loans and assistance from other countries and lenders to overcome the spiralling economic and humanitarian crises.
Addressing media persons in Lahore on Tuesday, the former prime minister said: "Two families have been looting the country for 30 years. Over 750,000 Pakistanis have left the country … there is a fear of where Pakistan is going [under the PML-N led coalition government]."
Imran said, "What happened in the last seven to eight months is unprecedented. Overseas Pakistanis are very disappointed with the domestic situation."
Read Bilawal says PTI's policy of 'appeasing TTP' reversed
The PTI chief said whatever anybody says but the only solution is elections. "There is a wave of desperation in Pakistan … they (the government) know there is no other option but the IMF where they will face humiliation. Their legs start shaking at the mere name of elections."
He said, "When we [the PTI] assumed power [in August 2018], the country was close to default."
Imran linked the development of Pakistan to an increase in exports, saying it is very important to reduce the difficulties of exporters. He claimed that exports did not increase during the PML-N era.
Imran said that his government ordered corona vaccine worth $3 billion as well as gave 5.5 million new jobs in three years, while people involved in money laundering were trying to teach them.
"We were repeatedly told that 'you failed'. Our Ravi City project was meant to save the river."
After 17 years the economy improved, he said, adding that his government was the best performing, but what was the reason behind removing the best-performing government.
He claimed that there was an investment of $250 billion from China during the PTI tenure. "Unless investment comes, the country's wealth will not increase."
Inflation has reached its highest level in 50 years, he said. "We were removed from the government and thieves were imposed."
In last March and April, he said, the industries used to say that they were not getting workers and now 1.5 million people had been rendered jobless in the textile sector.
He said that the economy could not be stable without political stability in the country, claiming that the people were not with the "imported government". "Sri Lanka was also facing such a situation – unemployment on one side and high inflation on the other."
COMMENTS
Comments are moderated and generally will be posted if they are on-topic and not abusive.
For more information, please see our Comments FAQ