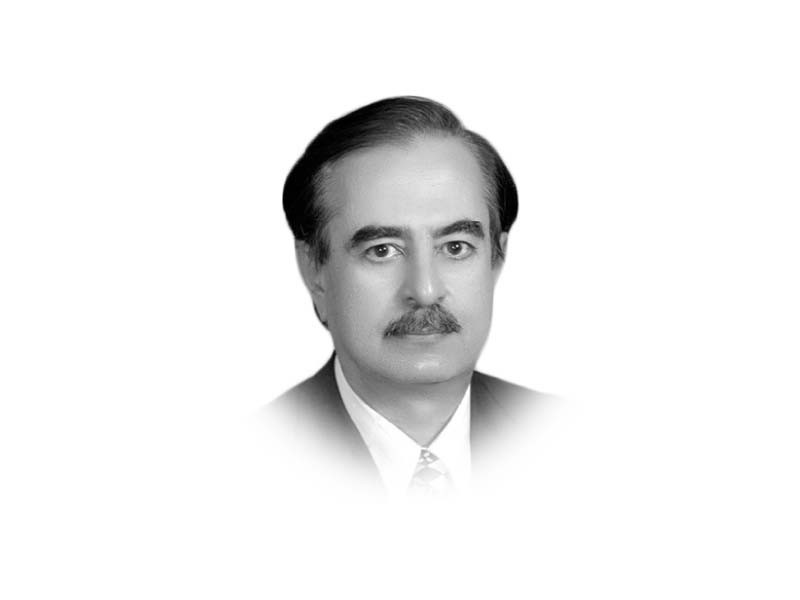 ---
Pitras Bukhari in his Mazamin writes: "If someone has sent this book to you free of cost (kisi ne muft bhaji heiy) he has done a favour to me (tou mujh per ehsan kia hai). If you have pilfered it from somewhere, I admire your taste (Agar aap ne kahin se churai hai, tou mein aap ka zauq ki daad deta houn). If you have purchased it from your own pocket, my sympathies are with you (Apney paison se kharidi haiy to mujhey aap se hamdardi haiy)."
I received a copy of Daam e Khyal (Captive To Thoughts) gratis. Yet it is the author to whom an inordinate favour is due.
But gratuity in no way diminishes the impact this matchless autobiography brings, both as a literary venture as well as a heart-bleeding raconteur of a perceptive and sentient civil servant on the sad, yet avertable, social, ideological, political and economic evolution that Pakistan has taken.
Despite the high positions in government held, through a turbulent period, the scribe's narrative is neither pontifical nor judgemental. It avoids florality, is discreet, self-effacing and nuanced, placing fact over passion and leaving, like all great writers, the reader to draw their own conclusions.
The sins of omission and commission committed by every power stakeholder, at riding roughshod over regional realities, the prevarications by the judiciary, the sacrifice of rules for opportune gains by pen-pushers, are never swept under the carpet. We witness reality in all its harsh colours.
Every bonapartist venturing ruling a massive, variegated country, comprising myriad different cultures, like a uni-linerial regiment, introducing unsuited ideas of governance, mostly for self- preservation, that has brought irretrievable harm to the state, are not spared. But the message is clear: without a process of national re-contrition no improvement can fructify.
There is no chagrin but rather grace in referring to traits the writer acquired serving among the Pashtoons: sitting in the front seat of an official vehicle as an equal with the driver; partaking food with one's driver sitting on the same charpoy; and keeping the doors of one's office wide open to the public at all times.
Daam e Khyal, even more than Shahab Nama, holds a veritable mirror to the pettinesses of those in the highest offices of state; the trivialities, the conceit of presumptuous intellect and the travails that this country has had to undergo in the delusional quest for half-baked idealism, divorced from reality.
Qudratullah Shahab writes of encountering many kings and potentates, neither of whom possessed the poise of the cobbler busy in his ware sitting on Shahid Road of Jhang. But what shall one make of the pettiness of Gen Zia's refusal to sleep in the same bedstead in which PM Junejo had slept in State Guest House, Murree?!
Yet humour is not far behind. As his Secretary a draft demi official letter was taken for approval of Governor Punjab, Sadiq Hussain Quraishi, who praised the wording but advised not to leave spaces at the end or beginning of such communications. On being told that this was the normal practice, the Governor recounted the dangers inherent in such a practice.
On becoming the Vice Chairman of Multan Municipal Corporation, Dr Jigar of Multan, among others, sent a letter of congratulations to which Mr Quraishi sent an appropriate thankful reply. After a few days various visitors started enquiring of Quraishi: "I hope you are feeling better now." Another caller even advised: "Chalien ehtiyat laazim heiy." And yet another asked: "Kia aap abhi bhi Dr Jigar se illaj karwa raheiy hein?"
Upon ascertainment, Makhdoom came to learn that the letter he had written back to the physician was framed and hung by a wall in the apothecary's office. In the space at the bottom of the letter had been added the following words: "Dr Sahib, golyan (pills) that you prescribed to me have had a very good effect and now I feel much better!"
The problem was that Dr Jigar had a widespread reputation for restoring manly potency!
Laughingly the Governor quipped: "Better avoid an empty space at the end of a letter lest a Dr Jigar comes across!"
Between the lines the author brings forth reasons for many of our most consequential national setbacks encountered over our history.
On a visit the author asked Assistant Commissioner Bugti why he thought the unfortunate Akbar Bugti murder couldn't be avoided, that started the sixth Balochi insurrection.
The junior functionary's explanation is an apt commentary on most of our national disasters: "The Bugti affair could've been resolved at the level of a Political Tehsildar or an Assistant Commissioner," the officer replied. Continuing he said: "But when the high and powerful of state, detached from local customs and values, disregarding local cultures and norms, try settling national problems through the apparently quick yielding use of brute force, things are bound to go horribly awry." Wasn't that the Assistant Commissioner providing ample explanation for many of the most serious national catastrophes we have encountered over our last 74 years: the E Pak debacle, jihadism and militancy inducted into our socio-political culture and the Baloch imbroglio.
The narrative is lucid filled with pathos. The especial place Bengal has in the writer's heart is unmistakable and the tragedy of its avoidable separation resonates throughout.
One is also struck by a unique literary vein with allusions to poetry, culture and literature. While Bulleh Shah transfuses with Tagore, Pashtunwali reverberates in Ahmed Khan Kharral.
Tariq weaves a tapestry of unimaginable power and beauty woven from threads taken from a varied yet fulfilled life of administrative and social service, spanning various climes and places, from Shopian to Sialkot spanning continents several, from Africa to Bay of Bengal, Bahawalpur to Islamabad, all narrated with a deep sense of commitment, empathy and human concern.
The author rose to the heights of governance yet never lost touch with reality, the sound of the saints of the deserts, the loss of a half of the country through historic myopism and the obstinacy of power and hauteur to accommodate Baloch and Pashtoon aspirations. He tells a story that is powerful, relevant and meaningful even today if only there prevails the sanity to listen and learn that history, on balance, is more a litany of human foibles than grandeurs.
Published in The Express Tribune, January 4th, 2023.
Like Opinion & Editorial on Facebook, follow @ETOpEd on Twitter to receive all updates on all our daily pieces.
COMMENTS
Comments are moderated and generally will be posted if they are on-topic and not abusive.
For more information, please see our Comments FAQ