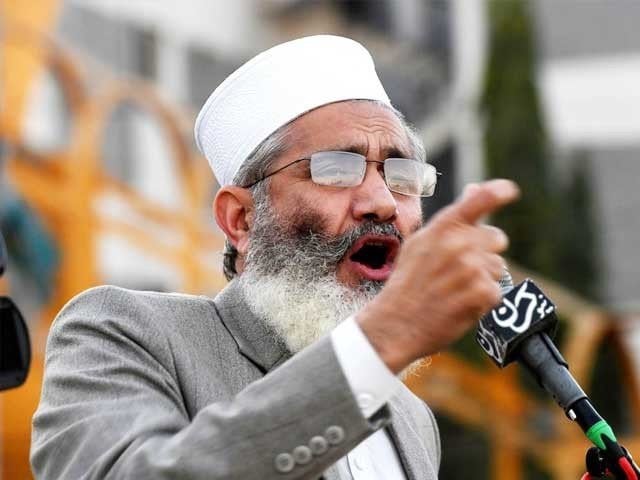 ---
LAHORE:
Jamaat-e-Islami chief Sirajul Haq on Sunday claimed that all three major political parties had imposed political, economic and social terrorism in the country.
In a statement released to the media, the JI chief said the life and death of the "defenders of the status quo" was not here and they were a burden on the country.
Siraj added that the time of "political dwarfs" imposed on the country was about to end.
He maintained that the economic and foreign policies of the country were chalked out at the behest of the International Monetary Fund (IMF) and US, respectively.
The JI chief claimed that the PTI had deceived the youth of the country in the worst possible manner.
He added that "real change" would come when the youth stood up for their rights.
Siraj pledged that the JI would play its role in protecting the youth from feudal lords, tyrannical capitalists and mafia.
He claimed that the "loyalists of colonialism" had put the country's dignity and sovereignty at stake.
The JI chief further said the 14 parties in the Pakistan Democratic Movement (PDM) had also failed to change anything in the country.
He added that the JI was organising the youth across the country for an Islamic revolution.
In July this year, the JI chief had noted that there was a "separate law" for the rich and the poor in the country, saying the powerful roamed freely despite committing crimes whereas the weak were held even for a minor mistake.
Addressing the media in Mansoora, the JI chief maintained that corruption was rampant in government institutions.
"Corruption is entrenched in government bodies and there is no such thing as accountability in the country."
While referring to the PML-N, PPP and the PDM, Siraj said that the three parties had "defanged" the National Accountability Bureau (NAB).
He urged the federal government to work to resolve people's issues, saying "improvement will come from good governance and not from IMF loans".
Siraj said the courts had a "different criteria for judgments" for the rich and the poor.
"No one questions those who steal billions whereas the poor are caught even for the slightest mistake," he added.
He regretted that the rulers of the country had been working for their "vested interests" while the sky-rocketing inflation had left people in a miserable state.
"The political and economic crisis is getting worse with each passing day. If the situation persists it will not take for the country to go bankrupt," he said.
"The PML-N, PPP and the PTI have failed [to deliver]," he maintained.
COMMENTS
Comments are moderated and generally will be posted if they are on-topic and not abusive.
For more information, please see our Comments FAQ