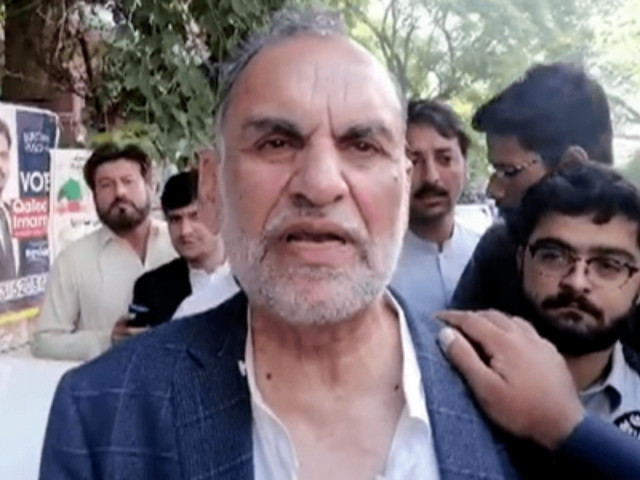 ---
KARACHI:
The Sindh High Court (SHC) on Friday issued notices to the Sindh government, prosecutor general and the provincial inspector general on a petition related to the registration of six cases against Pakistan Tehreek-e-Insaf (PTI) Senator Azam Swati in the province.
A two-member bench, headed by Justice KK Agha, presided over the hearing pertaining to the application filed by Usman Swati, son of Azam Swati, regarding the registration of the cases filed against the senator.
During the hearing, Justice Agha inquired about Swati's absence. To this, the petitioner's lawyer Advocate Anwar Mansoor Khan informed the court that the senator is currently under arrest and was transferred to Quetta.
Read PTI submits petition for Swati in BHC
Advocate Khan furthered that cases have been registered across the country against the senator on the same charge and they are in violation of Supreme Court's (SC) decisions.
Out of the six cases registered against Swati in Sindh, five have been registered in Karachi and one in Qamber.
The court then issued notices and ordered the concerned SSPs to submit a report on December 22 regarding the listed cases.
It is pertinent to note that Swati is currently in the custody of Balochistan police on a five-day physical remand.
A day earlier, a district and sessions court had adjourned the proceeding of Swati's post-arrest bail plea without a hearing till December 12 as the judge said that he will be transferred to another court soon.
Read more Quetta court remands Swati in police custody for 5 days
Over a week ago, the senator was taken into custody for the second time after a raid at his farmhouse in Chak Shahzad, Islamabad, by the Federal Investigation Agency's (FIA) Cyber Crime Wing for allegedly tweeting against senior military officials.
On December 1, a district and sessions court sent the senator to jail on a 14-day judicial remand in the case after which he was transferred from Islamabad airport to Balochistan where he was ultimately taken to Kuchlak.
Multiple cases had been registered against the senator, including in Sindh and Balochistan, which he claimed earlier he only learned about after being handed over to the FIA on physical remand.
COMMENTS
Comments are moderated and generally will be posted if they are on-topic and not abusive.
For more information, please see our Comments FAQ