 ---
Ayesha Omar is known for her unapologetic and lovable personality in the entertainment industry. However, Soha, her character in Habs, takes on an entirely opposite face. Omar essays a vengeful women who constantly acts as a thorn in her unrequited's love's marriage.
Tired of Soha's wicked endeavours, a fan expressed their disappointment to the actor playing the role. Taking to Instagram, the distressed fan wrote, "What are you doing, Ayesha?"

In response to the fan, Omar penned down an insightful message for her followers. She said, "I'm playing a character, sweetheart. That's not Ayesha Omer, she is called Soha. And she was conceived by the writer and director. She's nothing like me, except maybe for the way she dresses up."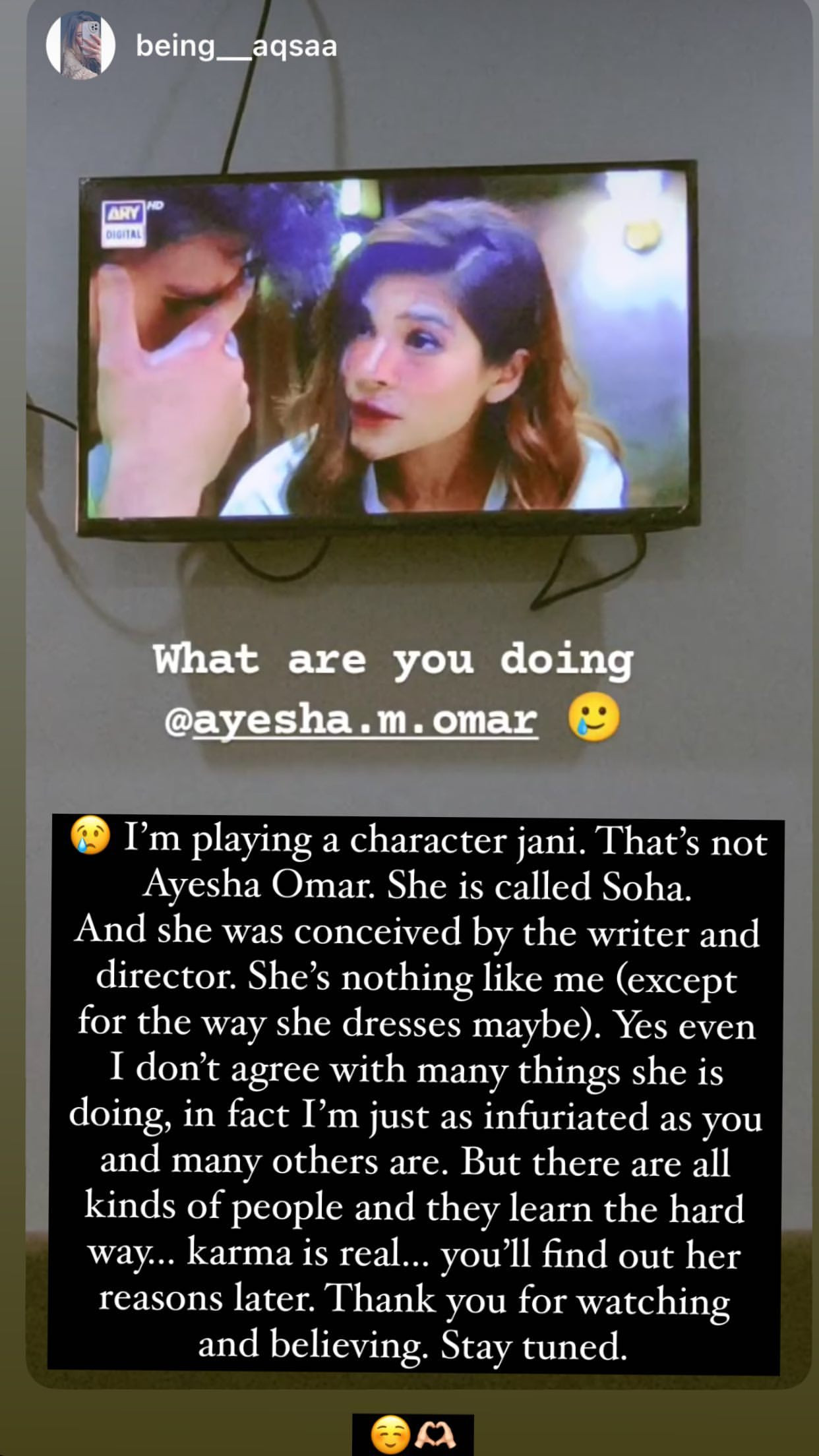 Omar also shared that she too dislikes Soha's actions and is awaiting for karma to bite back at her soon. "Yes, even I don't agree with many things she is doing. I'm just as infuriated as you and many others but there are all kinds of people in the world and they learn the hard way. Karma is real," wrote the Bulbulay actor.

She then thanked her fans for watching the show and requested them to stay put for more twists to unfold in the drama. "You will find out her reasons later in the show. Thank you for watching and believing. Stay tuned," concluded Omar.

Habs, directed by Musaddiq Malik was released in May 2022 and instantly gained fandom due to its cast. The series features Ushna Shah and Feroze Khan, the couple Soha is adamant on breaking apart.
Have something to add to the story? Share it in the comments below.
COMMENTS
Comments are moderated and generally will be posted if they are on-topic and not abusive.
For more information, please see our Comments FAQ