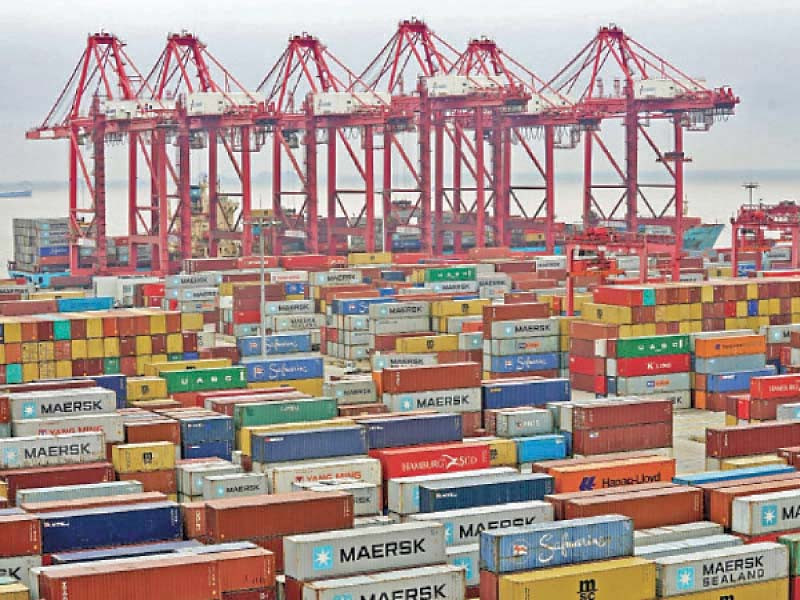 ---
KARACHI:
The government finds itself in a paradoxical situation where it has to decide whether to avoid food supply disruption or preserve foreign exchange reserves as hundreds of containers are stranded at the port on grounds of limited letters of credit (LCs). At the Karachi Port, 250 containers of onion, approximately worth $2.107 million, 63 containers of ginger worth $816,480 and 104 containers of garlic worth $2.533 million are stuck.
Some 0.6 million tonnes of soybean is also stuck at the port on grounds of unavailability of LCs. "Are we really keen to provide relief to the common man?" asked All Pakistan Fruit and Vegetable Exporters, Importers and Merchants Association (PFVA) Patron Waheed Ahmed while talking to The Express Tribune.
The containers of onion are held up at various terminals of Karachi seaport since commercial banks are not releasing documents due to the unavailability of foreign exchange as per a statement of banks.
"This inordinate delay in timely clearance will lead to the multiplication of the cost of containers – terminal and shipping charges," Ahmed explained. The high cost of onion containers would have a serious negative impact on the common man, placing it beyond their purchasing power.
"As of today, the wholesale rate of onion is Rs175 per kg and the retail price is Rs250-270 per kg. With further delay in clearance, these rates are anticipated to shoot up, depriving the common man of the dailyuse vegetable," he added. Federation of Pakistan Chambers of Commerce and Industry (FPCCI) Acting President Suleman Chawla expressed concern over the seizure and non-clearance of 0.6 million tonnes of soybean at Karachi Port and warned that it would result in a massive shortage of poultry feed in the country.
He added that poultry and dairy products were already beyond the purchasing power of consumers and had only recently shown some signs of price stability. "Any further supply disruption will destroy the price stability and drive food inflation higher." Chawla pointed out that importers were incurring heavy demurrage and terminal charges due to the detention and, coupled with the unavailability of dollars and its price volatility, it would result in unbearable losses to the importers.
He demanded that the government swiftly address the issue to avert the worsening of food security in the country. Chawla maintained that the licensing and genetic modification had never been issues with soybean imports from the US as the importers had been importing from the same suppliers for many years.
"Soybean byproducts are primarily used as feed in the poultry and dairy sectors due to their high protein content and positive effects on milk production organically, as its protein content is high at 44%," he pointed out. Additionally, poultry is the primary source of protein in the food basket of masses.
Chawla underlined that due to the healthy profitability of the poultry sector, hundreds of new entrants had built thousands of new sheds across the country to raise poultry. In the present situation, they have yet to recover their initial investment and have been hit by the bleak prospects on account of the unavailability of poultry feed
COMMENTS
Comments are moderated and generally will be posted if they are on-topic and not abusive.
For more information, please see our Comments FAQ