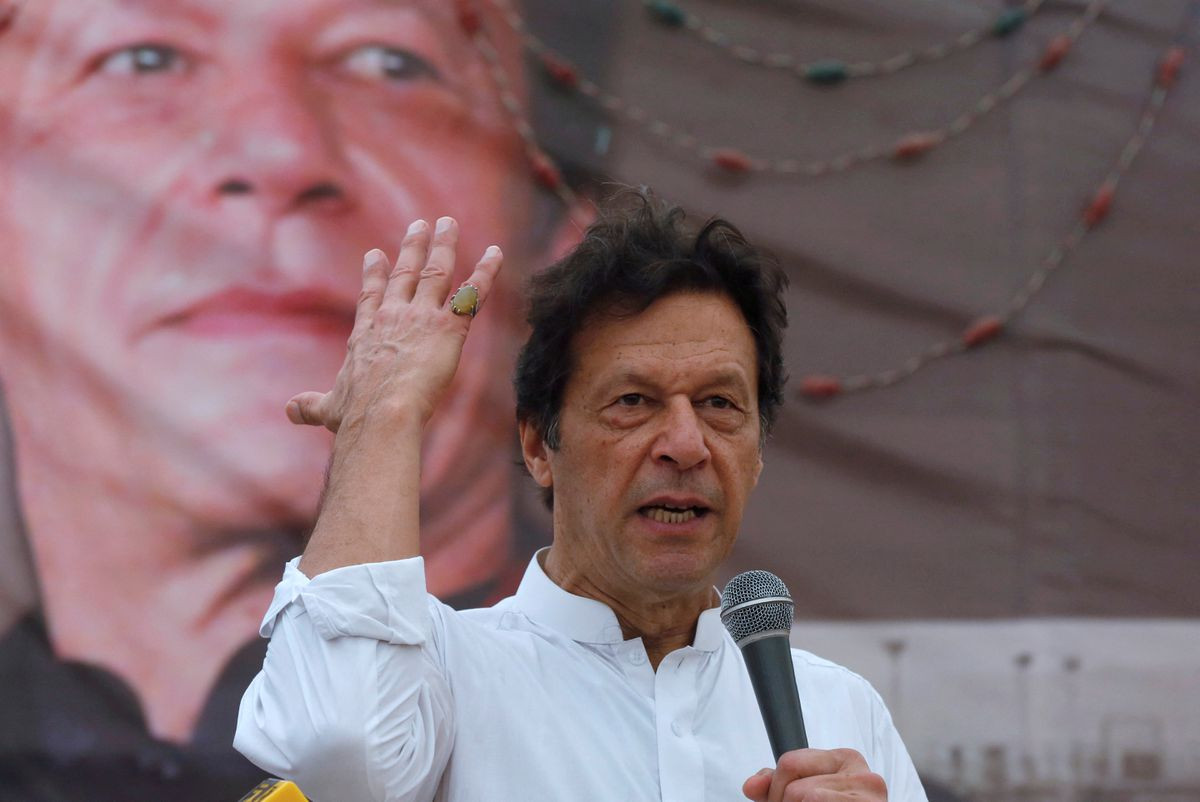 ---
ISLAMABAD:
Pakistan Tehreek-e-Insaf (PTI) Chairperson Imran Khan on Tuesday condemned the incumbent government's move to seal Centaurus mall owned by the Azad Jammu and Kashmir premier, who 'censured' Prime Minister Shehbaz Sharif for not highlighting the sacrifices of Kashmiris in a speech.
According to the former premier, the "mafia" Pakistan Democratic Movement's (PDM) actions suggested that there was a "law of the jungle in Pakistan since [the] last eight months" after the PTI's removal through a no-confidence motion.
Sealing of Centaurus Mall by PDM mafia in response to PM AJK censuring SS for not mentioning sacrifices of Kashmiris shows there is law of the jungle in Pak since last 8 mths. Sends negative signals to Kashmiris too. Q for our Honourable Judges: Are they not upholders of the Law?

— Imran Khan (@ImranKhanPTI) December 6, 2022
Imran furthered that the action sent "negative signals to Kashmiris too". Posing a question for the country's judges, he asked if they were indeed the "upholders of the law".
PTI leader Fawad Chaudhry also took to his Twitter handle to comment on the event.
Fawad claimed that Prime Minister of Azad Kashmir Sardar Tanveer Ilyas stood on his seat during PM Shehbaz's speech and recorded a protest against Pakistan's weak stance on Kashmir.
"After this event, first his [AJK premier's] car was stopped in Mangala, and today his business Centaurs Mall in Islamabad has been sealed," he stated.
وزیر اعظم آزاد کشمیر کہ شہباز شریف کی تقریر کے دوران اپنی نشست پر کھڑے ہوئے اور کشمیر پر پاکستان کے کمزور مؤقف ہر احتجاج ریکارڈ کروایا، اس تقریب کے بعد پہلے منگلہ میں ان کی گاڑی کو روکا گیا آج اسلام آباد میں ان کے کاروبار Centaurs Mall کو سیل کر دیا گیا ہے،

— Ch Fawad Hussain (@fawadchaudhry) December 6, 2022
Fawad claimed that "such a fascist and undemocratic government had never been seen in the history of Pakistan" and questioned what message was being sent to occupied Kashmir if such actions were taken after the AJK PM protested.
Read Peshawar court grants pre-arrest bail to PTI MPAs
He also asked what message was being given to the investors and said that the slowing economy would further deteriorate due to such moves.
ایسی فاشسٹ اورغیرجمہوری حکومت پاکستان کی تاریخ میں نہیں آئ،اگر صرف احتجاج پر کشمیر کے وزیر اعظم سےایسی حرکتیں ہوں گی تو مقبوضہ کشمیر کو آپ کیا پیغام دے رہے ہیں اس ملک میں سرمایہ کار کو آپ کیا پیغام دے رہے ہیں؟ سسکتی معیشت ایسی حرکتوں سے مزید نیچے جائیگی،ملک میں جمہوریت بحال کریں

— Ch Fawad Hussain (@fawadchaudhry) December 6, 2022
He called for democracy to be "restored" in the country.
Centaurus sealed
The Centaurus mall in Islamabad was sealed by the building control department of the Capital Development Authority (CDA) after six notices were issued to the management.
Despite the notices, the alleged non-conforming use of the building continued in violation of CDA regulations.
The first notice was issued to Centaurus Mall management on March 7, 2014, the second on October 25, 2019, then on December 28, 2020, then again on March 31, 2021. The penultimate notice was sent on October 11, 2021, and the sixth and final notice issued on November 23, 2022.
Despite repeated notices, Centaurus Mall management did not comply, and the building was sealed.
COMMENTS
Comments are moderated and generally will be posted if they are on-topic and not abusive.
For more information, please see our Comments FAQ