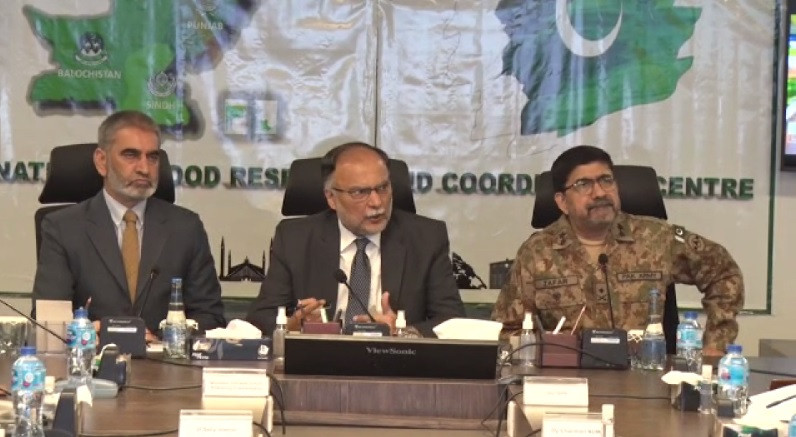 ---
ISLAMABAD:
Announcing the closure of the National Flood Response and Coordination Centre (NFRCC) which he said had completed its mission, Federal Minister for Development and Planning Ahsan Iqbal on Monday said that the federal government has a "new format" to oversee the rehabilitation and reconstruction of flood-hit areas.
Addressing a ceremony held to mark the closure of the centre that was formed in August for a collective response, the minister said that the federal government will work with the provinces to oversee the post-flood situation.
Iqbal revealed that the government has a 4RF (Resilient, Recovery, Reconstruction, and Rehabilitation) strategy, which will soon be unveiled before the international community.
He lamented the loss caused by the floods, which he said was equivalent to 10 per cent of the country's GDP, and highlighted how Pakistan is among the most vulnerable countries to climate change.
He also termed international acknowledgment of Pakistan's losses at the COP27 meeting a huge success, and thanked Prime Minister Shehbaz Sharif and Foreign Minister Bilawal Bhutto-Zardari for presenting the country's case there.
$46.4 billion damage
Separately, the minister said that the damage caused by floods in Pakistan has reached $46.4 billion, and poverty has increased from 3.7 per cent to 4 per cent.
Iqbal participated in the conference organised by SDPI, where he said that regional countries are facing economic and social challenges besides the threats posed by climate change.
Due to the war between Russia and Ukraine, developing countries are facing pressure, the minister said, adding that international financial institutions should provide long-term cheap loans to developing countries.
"Economic recovery is a long-term agenda, there is a need to work on a common agenda for the development and prosperity of the people of the region," he said.
Faced with rising food prices and a balance of payments crisis, debt relief is needed for developing countries, he stressed.
Also read: NFRCC launches dashboard to ensure 'transparency' in flood relief aid
Iqbal said that the government has allocated a budget of Rs40 billion for the poorest districts. The SDGs unit has been established in the Ministry of Development and Planning, he added.
Regarding the devastating floods, he said that the damage caused by them has reached $46.4 billion. Due to floods, poverty increased from 3.7 per cent to 4 per cent, and 0.84 million to 0.91 million people became victims of poverty, he added.
A population of 3.3 million was affected by the floods, and 19 of the 25 poorest districts were affected as well, he highlighted.
Millions of workers have become unemployed due to floods, he further said.
He revealed that the 'Friends of Pakistan' conference will be held on January 10.
More attention needs to be given to social security programmes, he added.
The minister pointed out that the region's contribution to greenhouse gases is very low. South Asia is a backward region of the world, he highlighted.
"For six years we have not decided to hold a SAARC summit, we need a war against poverty, unemployment and climate change instead of war among ourselves," he said.
Secretary Planning Syed Zafar Ali Shah said that climate change has proved disastrous for the whole world, including Pakistan.
There is a need to formulate short, medium and long-term policies to deal with climate change, he said, adding that there is a need to increase spending for SDGs in the region, including Pakistan.
"Under the SDGs, attention must be paid to the areas of sanitation and health," the secretary said. "SDGs is a programme to move towards development in the region. Last year, SDGs development was discussed between Pakistan and Sri Lanka."
"Under the SDGs in the region, current expenditure will have to increase," he said. "Under the SDGs programme, the literacy rate in rural areas is increasing."
(With additional input from News Desk)
COMMENTS
Comments are moderated and generally will be posted if they are on-topic and not abusive.
For more information, please see our Comments FAQ