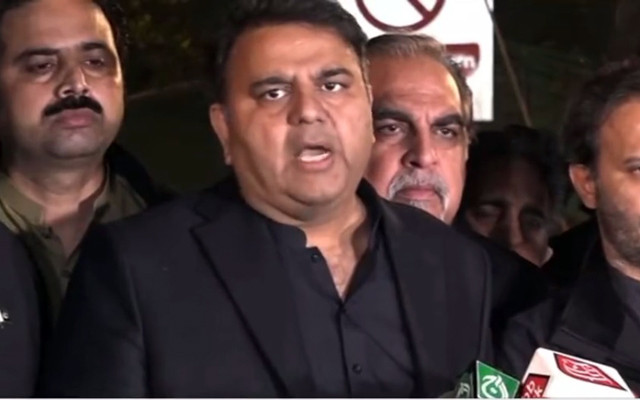 ---
LAHORE:
Pakistan Tahreek-e-Insaf (PTI) has completed deliberations on the dissolution of provincial assemblies in Punjab and Khyber Pakhtunkhwa (K-P) "as it has become clear that the country is heading towards snap polls in light of the current economic situation".
Senior PTI leader and former federal minister Fawad Chaudhry made these remarks while speaking to the media on Saturday.
Fawad highlighted that in wake of Punjab and K-P's assemblies dissolution, the election commission has to conduct elections on 567 seats out of total 859 seats.
"We hope that all institutions, including the Election Commission of Pakistan (ECP), will perform their constitutional duty and ensure free and fair elections in the country," he added.
The PTI leader's statement came a day after party chief Imran Khan 'warned' the federal government to sit and discuss a date for the next general elections or "we will dissolve the assemblies".
Judiciary
Moreover, during his media talk, Fawad said that the Supreme Court also has to perform its constitutional role to ensure the implementation of the rule of law and justice in the country. Currently, the majority of citizens believe that the apex court is not performing its constitutional function, he added.
He added that the public was aware of the fact that the top court can be opened on the "direction of merely a brigadier or colonel rank officer" but the apex court registrar does not permit an elected senator to enter the court premises.
The PTI senior leader further pointed out that "the current impression of the top court was not right" and the country can move forward if decisions continued to be made "behind closed doors".
Commenting on the role of the military establishment, Fawad said that the establishment has to review its policy and decide whether they want to make the country prosper or remain Pakistan on the list of under-developed countries.
He disclosed the PTI has completed the deliberation process of the dissolution of two provincial assemblies. A meeting of the Sindh parliamentary party meeting is scheduled, he revealed.
"Now it will be the decision of the federal government to cooperate or pull the 'political corpses' of Nawaz Sharif and Asif Ali Zardari," he said. "Our decision-making has been completed and all legal and constitutional experts are of the view that no hurdle, neither governor rule nor regime change, is possible in Punjab or K-P.''
Responding to a question, Fawad said that consolidation of looted wealth is the core objective of the Pakistan Democratic Movement (PDM). They are in the government just to pass the appeal period of their closed corruption cases, he claimed.
"They have no stake in Pakistan; all their looted assets are abroad and ultimately they will run from the country after consolidating their ill-gotten wealth," he alleged.
COMMENTS
Comments are moderated and generally will be posted if they are on-topic and not abusive.
For more information, please see our Comments FAQ