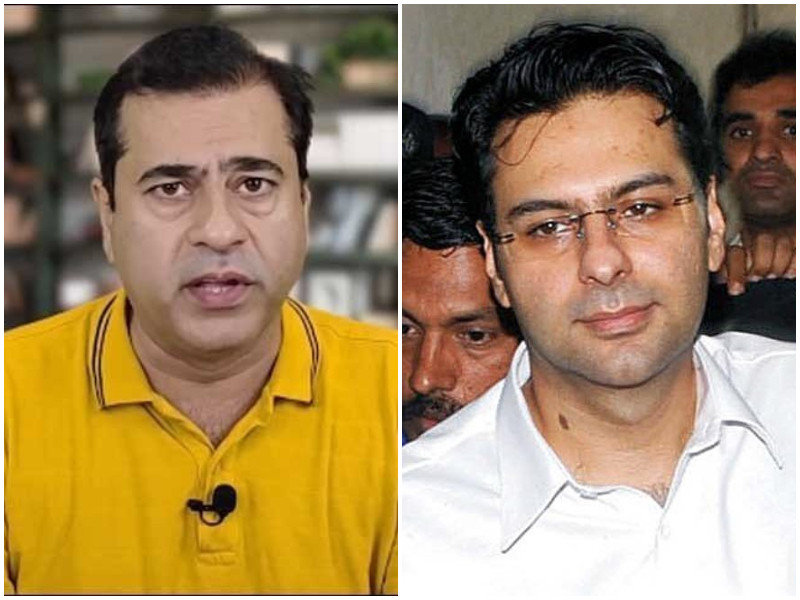 ---
Pakistan Muslim League-Quaid-e-Azam (PML-Q) leader Moonis Elahi and renowned journalist Imran Riaz Khan on Friday engaged in a rare public spat on Twitter.
The bitter conversation took place following an interview of Moonis in which he claimed that his party had been advised by former army chief General (retd) Qamar Javed Bajwa to support PTI in the no-confidence motion that ultimately led to former premier Imran Khan's ouster.
The spat started with Imran Riaz's tweet in which he taunted Moonis and his father Punjab Chief Minister Pervaiz Elahi, saying PTI kept thinking that the two PML-Q leaders accepted the chief minister's position out of love for Imran Khan and due to the voice of their conscience.
"Do not worry. Your ticket is also ready and then you can take over [PTI]. Then everyone including PTI and the rest will also understand," Moonis responded.
The journalist, replying to Moonis' tweet, said that trading party tickets was the "family business" of the PML-Q leader. "By the way, how is Richard Mille's wrist watch running which only costs Rs75 million," he said referring to a Swiss luxury watch.
Moonis responded by saying that he does not own a Richard Mille watch. "Think they are overpriced. Since you are such a fan shall I send you one? Or shall I present it to you when you 'officially' join politics," he asked the journalist.
Sharing a picture of his watch, Imran said in a tweet that he liked his own watch very much, advising Moonis not to refuse after taking gifts.
"Ask Farhan about the watch. He will remind you."
Speaking on a private TV channel yesterday, Moonis had revealed that "there has not been any contact with the new military leadership" however, he added that the former COAS "had turned the tides in favour of PTI".
Read more: Gen Bajwa told us to support Imran, claims Moonis Elahi
"This is my point of contention with PTI and anyone who calls him a traitor," he continued, "he was seen as perfectly fine when he was going in their support and now he is called a turncoat".
"I have offered the PTI to come on TV and prove to me that he [Bajwa] is a traitor and I will show you just how much the man did for you."
He went on to claim that there was "no doubt" about it that "the man had gone all out for you [PTI]"; but the minute he "removed himself then he became the bad guy".
"If he was the bad guy, he would have never told me to support Imran Khan," Moonis said.
"When the decision was being taken on which way we have to go, we had received offers from both sides — Mian sahiban [PML-N leadership], the PDM (Pakistan Democratic Movement), as well as the PTI. Clearly, my inclinations rested towards the PTI, everyone knows that."
"Then I had a discussion with my father and my father had a conversation with them [the military establishment] and at that time they said 'my wish is that you go and side with them [PTI]'. Had the man [Gen Bajwa] been so bad, if he was against Khan sahib or PTI, why would he tell us to support that side at that critical juncture?"
"I don't buy it that he is against PTI," Moonis added.
COMMENTS
Comments are moderated and generally will be posted if they are on-topic and not abusive.
For more information, please see our Comments FAQ