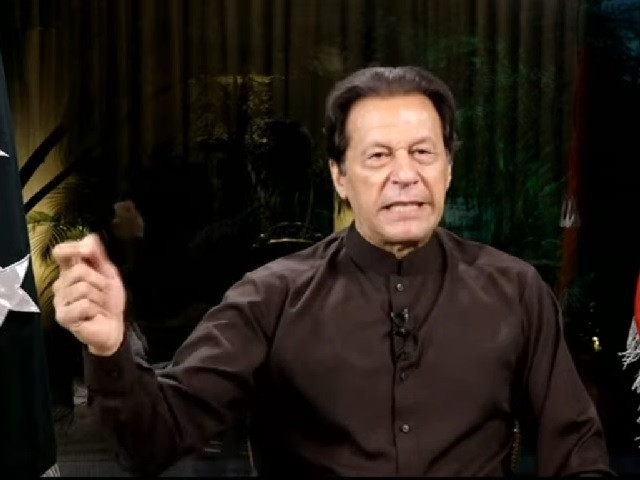 ---
ISLAMABAD:
PTI Chairman Imran Khan on Friday softened his stance on possible talks with PDM leaders and appeared to be striking a conciliatory tone as he signalled his openness to "sit and talk and give a date for the general elections" or "we will dissolve the assemblies" -- a dizzying about-face after months of insisting he would not negotiate with the "corrupts".
The offer for conditional talks was made during his speech to the Punjab Parliamentary Party.
"Considering all this, I have decided that either this will happen that they sit with us [and decide a date for the polls or] imagine that there will be an election in almost 66 per cent of Pakistan -- in Khyber Pakhtunkhwa and Punjab — if we dissolve the assemblies," he said.
The offer for talks to the government appeared to mark a departure from the hardline stance he took during his mammoth November 26 Rawalpindi rally. Concluding his months-long long march in the garrison city, the PTI chief had announced to opt out from the "corrupt system" and has since been dialling up the threats of dissolving PTI-led provincial assemblies.
The former prime minister has been holding meetings with his party lawmakers and allies to hash out the specifics of his plans and decide a date for the scuttling assemblies and resigning en masse from other legislatures a la its mass departure in April when 123 lawmakers in NA handed in resignations.
Meanwhile, a senior federal minister believed that Imran's desire for a dialogue with the government stems from Punjab Chief Minister Chaudhry Pervez Elahi's advice against dissolving the Punjab Assembly for time being as he was releasing development funds to the PTI MPAs, which will be crucial for the next elections.
Speaking to The Express Tribune, he confirmed that the government was not much keen to engage with the PTI for evolving a consensus on the date of early elections. However, it was willing to negotiate on any other issue including economic challenges and electoral reforms.
"We do not know who will be authorised for dialogue by Imran Khan as he himself does not sit with opponent leadership," he added.
Finance Minister Ishaq Dar, while talking to a private TV channel, stated that he had conveyed to President Arif Alvi that no negotiation could be held on PTI's conditions for early general elections.
However, one section within the PML-N was open to negotiating a date for the snap poll in May or June, sources said, adding that the decision does not sit well with coalition partners.
PTI Lawyer Chaudhry Faisal Hussain, who met Imran Khan on Friday evening, said that the PTI chief's political move to offer a dialogue will also end the perception that the party was against holding talks.
Read Govt 'not keen' to hold talks with PTI
However, he regretted that the PML-N did not welcome Imran's offer which, he believed, meant that the coalition government was gaining time to disqualify Imran in any matter.
"The ruling parties are well aware that they have lost support within masses and they want to oust Imran Khan on technical grounds, based on mala fide."
He said that CM Punjab has assured Imran Khan that the Punjab Assembly would be dissolved as per his advice anytime.
Meanwhile, it was learnt that if the government did not give a positive response to the offer, Imran might dissolve both Punjab and KP assemblies this month.
'No prior conditions'
The offer to huddle around a table has drawn the usual response from the government leaders who scoffed at his 'sudden realisation and said that no talks could take place with prior conditions attached to them.
Speaking to a private television, Interior Minister Rana Sanaullah said the PTI chief has realised what politics are and this is why he is ready to sit down with his rivals.
The security czar recalled how former premier Imran was "ready to kill and die" for his cause earlier this year. "Now he is ready to sit," Sanaullah said.
The interior minister, however, added that the realisation and the offer for talks have come after November 25 – a tacit reference to the government's decision to appoint a new army chief of its choosing.
Commenting on Imran's threat of dissolving the assemblies, the minister said the government has been deliberating over the matter for the past few days and "maybe it would be beneficial for us if elections are carried out in Punjab and Khyber Pakhtunkhwa".
Sana's indication that the government in fact saw for itself an "advantage" in case a spate of polls is triggered– a scenario that PDM dreads – following the dissolution of assemblies was at odds with the government's earlier approach to the threat.
His remarks came in the backdrop of senior leaderships of ruling allies holding emergency meetings to foil PTI's plan and mull options including tabling a no-confidence motion against the provincial chief while also considering a governor's rule in the provinces in order to preempt the threat.
Expressing once again that the government was not keen to initiate conditional talks, Marriyum simply announced via a tweet that the elections would be held in October 2023. "October 2023," she tweeted with a screenshot of Imran's statement to either sit with PTI or it would dissolve assemblies.
Defence Minister Khawaja Asif also said that politicians should always keep the doors of negotiations open but they shouldn't be conditional. The defence minister conjectured that Imran could be sincere in his offer this time around but neither should the talks be held on a need basis nor with prior conditions.
"Who is Imran to tell us when should we announce elections; why should we even do it," Asif said while talking on a talk show. He added that he has lost everything, especially after PML-Q leader Moonis Elahi's revelation that his side of the PML-Q supported the PTI chairman during the no-confidence move in April because the ex-military chief had asked them to do so.
COMMENTS
Comments are moderated and generally will be posted if they are on-topic and not abusive.
For more information, please see our Comments FAQ