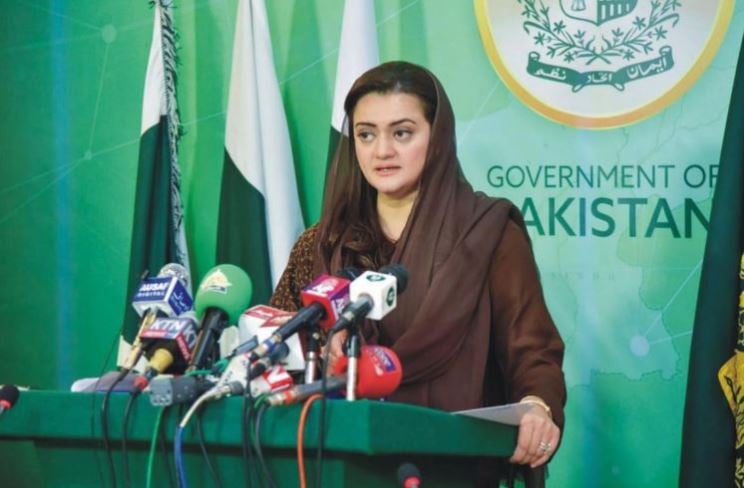 ---
ISLAMABAD:
As PTI chief Imran Khan threatens to imperil the ruling coalition by scuttling provincial assembles and triggering early polls, the PML-N seemed 'nonchalant' about the consequences and tried to bare its teeth, saying it was all prepared to "contest the polls thrice if PTI decides to dissolve assembles thrive".
The government has repeatedly rejected PTI's demand of holding snap polls or, at least, announce a date for it, as it believes accepting talks tied to conditions as it would not only render the whole process "meaningless" but give a perceived victory to PTI.
"We are ready for elections any time; if PTI dissolves provincial assemblies thrice before the next general elections, we would be ready to contest thrice," Federal Minister for Information and Broadcasting Marriyum Aurangzeb told The Express Tribune.
The government's spokesperson while throwing a gauntlet to PTI chairman Imran Khan to go ahead with his announcement that Punjab and Khyber Pakhtunkhwa would soon be dissolved shunned the impression that PML-N was running away from elections keeping PTI's winning streak in view.
On Thursday, PTI expressed its willingness to talk to the federal government on the next elections, saying it could accept elections in the coming August or September if the ruling alliance first announces the date for snap polls and shares an economic plan.
Read more: Imran offers conditional talks to govt to end political deadlock
However, the government's spokesperson had plainly rejected the offer on grounds that no negotiations could take place, especially, when PTI linked it with certain demands. Marriyum said that the two sides lacked common agenda to initiate dialogue as PTI wants snap polls while the government would not budge from its stance of holding the elections on time.
A day after conveying the offer of talks through anonymous PTI leaders, former PM and PTI chairman formally offered conditional talks to the government on Friday asking it to announce the date for general elections or else provincial assemblies in Punjab and Khyber Pakhtunkhwa will be dissolved.
Expressing once again that the government was not keen to initiate conditional talks, Marriyum simply announced via a tweet that the elections would be held in October 2023. "October 2023," she tweeted with a screenshot of Imran's statement to either sit with PTI or it would dissolve assemblies.
The government rejected on Thursday the latest offer for talks by PTI, saying the government and PTI have no common agenda for talks as PTI wants snap polls and the government won't budge from its stance that elections will be held on time.
Marriyum while talking to The Express Tribune also clarified that neither overt nor covert negotiations were being held with the former ruling party and any speculations about such talks were merely that – just speculations.
PML-N leadership has come out of the shadows days after a key PML-N leader, requesting not to be named, had revealed that PML-N was ready for elections. While challenging the PTI chief, the PML-N leader had said that Imran shouldn't waste time and dissolve the assemblies immediately.
"We are ready for elections; no heaven will fall; the most that can happen is that we can lose but that shouldn't be a reason to block Imran's move and delay polls," he had said.
On the option of imposing the governor's rule, he said that "it is no joke to impose governor's rule", saying it requires so many grounds and even if such a decision is taken, it would be difficult to sustain it for long as it can be challenged and the courts can strike it down.
To a question about PML-N supremo Nawaz Sharif's return before the general elections, he had said that it was up to PML-N to go ahead with or without Sharif and that there would be plenty of time for taking a decision in this regard. "We would have at least three months to bring back Nawaz Sharif, if needed," he said, "it's more than enough for us."
COMMENTS
Comments are moderated and generally will be posted if they are on-topic and not abusive.
For more information, please see our Comments FAQ