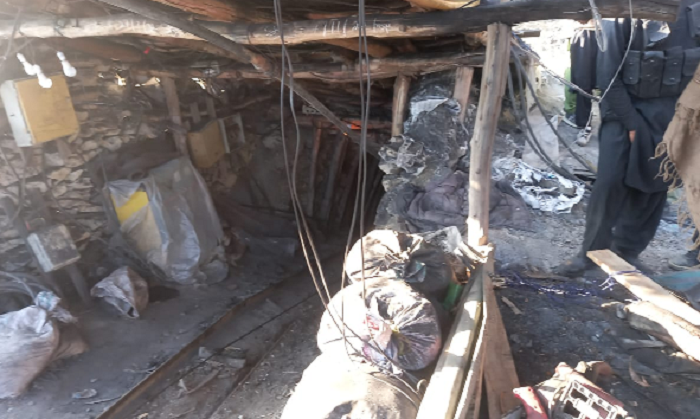 ---
HANGU:
Nine people on Wednesday were killed in a blast inside a coal mine in Lower Orakzai area of Khyber-Pakhtunkhwa and four others injured – in what initial reports suggested was caused by a build-up of gas.
Adnan Farid, the area's commissioner, said 13 workers were present inside the mine at the time of explosion and nine bodies had been recovered.
The remaining four miners were rescued from the rubble who had suffered critical injuries, he added.
Kohat Commissioner Mehmood Aslam Wazir has expressed grief and sorrow over the accident and has ordered an immediate inquiry into it.
On receiving the tragic information, Wazir contacted the Orakzai deputy commissioner and ordered him to arrange quick and effective medical treatment for the injured workers.
According to initial reports, the blast occurred because of a methane gas eruption inside the mine.
It is owned by Shaheen Mine Company.
The Kohat commissioner has assured that full support would be provided to the heirs of those killed in the blast as well as to those injured.
Also read: Working condition of colliers 'violation of human rights'
He has also ordered the mining company to adopt modern procedures in their leased mines.
The commissioner has warned that strict legal action would be taken against those found guilty of negligence.
District Police Officer Nazir Khan said the explosion occurred when the workers were working inside the coal mine and added that the injured had been shifted to Kohat Hospital.
The deceased belonged to Shangla and other districts of the province.
A government team from the mineral development department inspected the site of the incident and said the explosion took place "due to gas sparks inside the mine," Orakzai district police chief Nazeer Khan told Reuters.
A government report seen by Reuters said the blast caused the collapse of the mine. A gas build-up had triggered the blast.
Coal deposits are found in the Orakzai district that sits on the Afghan border and mine accidents are common, mainly due to gas build-ups.
Mine workers have complained that a lack of safety gear and poor working conditions are the key causes of frequent accidents, labour union officials have said in the past.
Section 18 (b) of the Khyber-Pakhtunkhwa Mines And Minerals Act, 2017 reads that the holder of the licence shall "take all reasonable steps necessary to secure the safety, welfare and health of persons employed for the purposes of those operations in the exploration area".
(With input from Reuters)
COMMENTS
Comments are moderated and generally will be posted if they are on-topic and not abusive.
For more information, please see our Comments FAQ