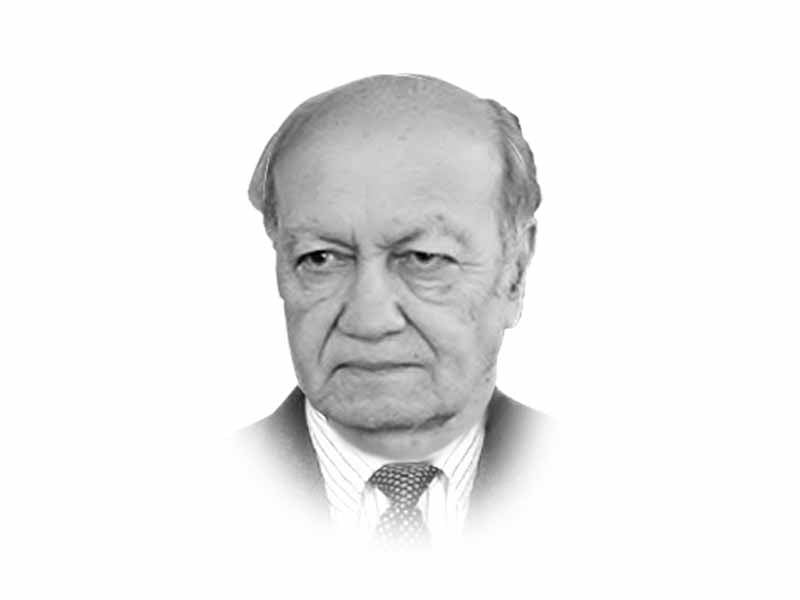 ---
Pakistan's economy will not be on the right course until our politics is right.
Politics will not be right if leaders lean on the military instead of drawing strength from the people to propel them into power.
Imran Khan despite his popularity initially relied on the army leadership but as his support base widened it gave him the confidence not to count on props.
He now considers himself not bound by any shackles.
For the last few months, he is taking on his political rivals aggressively, crossing at times limits of indiscretion.
He until recently was displaying his power on the streets and has the charisma to attract large crowds, like a pied piper where he repeats the same message over and over again that opposition leaders are 'thieves' and so on.
His followers are more interested in being present in his public meeting rather than listening to substantive issues.
Khan is indifferent to the millions of productive hours of the nation lost, as these people accompany him.
Surprisingly, the recent large assemble ended somewhat abruptly that left people including his ardent followers guessing as to what it really achieved.
Was it a result of some understanding that had been reached regarding the date of the elections.
But if that was the case, why would he remark that it does not matter when the elections are held, we will win with an overwhelming majority anyway.
There have been several interpretations of what was the driving motive for ending the power show prematurely.
Was he aiming it as a transformative process that has to be accompanied by a destabilising period to shake up the system to achieve progress or a simple destabilising move to undermine the government and get back into power.
Most likely a quiet understating has been reached with the help of the establishment to partially accommodate the demand for early elections.
The real intent would perhaps remain a mystery.
Meanwhile, what matters is whether the present coalition government is in a position to steer the country toward a modicum of political stability and place the economy on the right track.
There are serious doubts in achieving either of these aims.
If the PTI leader's threat to quit assemblies in Punjab and K-P materializes, it will create a power vacuum and force the government to hold national and provincial elections.
The other alternative of forming governments without PTI representation in assemblies would be faking democracy and functionally it would be even harder to cope with the economic and political challenges.
In fact, the present policies of the government and the opposition are compounding national problems.
The global economic and political situation also does not favour countries in distress.
This was so evident if we look at the response of the developing world towards our climate catastrophe.
What is even more distressing, with one-third of the country facing the aftereffects of the deluge, is that none of the political parties or the media is paying due attention to the plight of those living in the open or have made makeshift arrangements.
The IMF decision to resume a $6 billion loan and allowing Pakistan to draw $1.1 billion is hardly sufficient to address the country's challenging economic state that is under serious stress due to a difficult external environment, faulty domestic policies and the floods impact.
These have in turn fueled inflation and huge external and fiscal deficits.
What we need is strict financial discipline which would be possible if the government is serious in implementing it and the opposition is ready to support it and not exploit the hardships that the stringent measures would involve.
Experience of other countries and our own reminds us that unless a government is sufficiently secure and stable politically, economic growth is not possible.
This factor apparently has never been given a serious thought.
When Khan leads mass protests, ignores parliament and refuses political interaction within a democratic framework, he is seriously hurting the economy.
Similarly, when the army is indulging in politics and warping the political system, it is adversely affecting the economy.
Countries prosper when there is synergy within institutions and when leaders factor politics and economics as a whole.
A sound national strategy will only be possible to conceive and implement if the country's economic and political situation is stable and the economy free of dictates from major powers and international monetary organisations.
In our present predicament, it is not feasible to pursue economic policies that are outside the laid-down parameters of IMF.
A certain firmness and belt-tightening, especially of the upper classes, would be necessary to improve our present state of economy.
It is very doubtful if this would be achievable with a fragile coalition and in the prevailing lax culture of ours.
Political temperatures have to come down.
Once the situation somewhat stabilizes, provinces need to focus on human and infrastructural development that has been grossly neglected.
Countries do not progress merely by empty talk and promises of leaders.
The megacity of Karachi is perhaps the worst example of neglect and abuse of political power.
The gross indifference of the political class and bureaucracy to the dilapidated state of affairs has to change.
The responsibility is squarely on the provincial government.
Country leaders and the people take pride in their commercial capitals.
Shanghai, Istanbul, Mumbai, Dubai and many others in Asia should serve as reminders of where we stand.
It is not that we are oblivious to the hazards of air and water pollution and the general state of the environment.
Our able representatives speak eloquently and draw attention on climate change and other natural and man-made disasters, but our governments fall short in addressing even basic civic responsibilities.
Good governance would require of the country to overcome its financial and political crisis; focus on education, health, infrastructure and pollution; and strengthen institutions.
This would be feasible when the political leadership injects a sense of realism and acts beyond their immediate self-interest to lift the nation up.
COMMENTS
Comments are moderated and generally will be posted if they are on-topic and not abusive.
For more information, please see our Comments FAQ