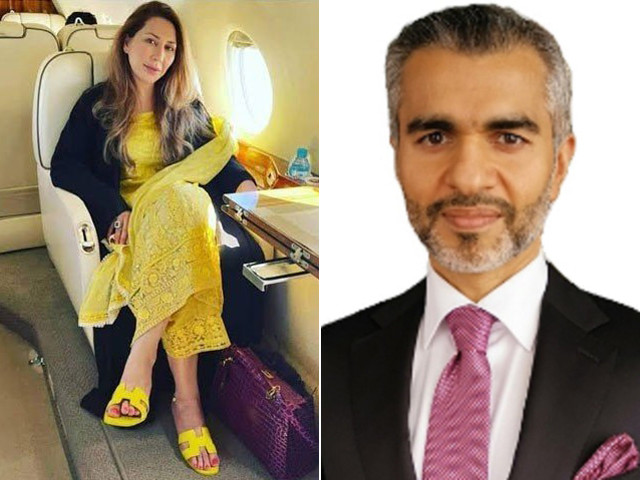 ---
ISLAMABAD:
Farhat Shahzadi alias Farah Gogi – a close friend of PTI Chairman and former premier Imran Khan's wife Bushra Bibi – has sent a Rs5 billion legal notice to Dubai-based businessman Umar Farooq Zahoor, Geo News and anchorperson Shahzeb Khanzada for airing a programme regarding her alleged involvement in the sale of Toshakhana gifts.
Earlier this month, Zahoor appeared on Geo News programme Aaj Shahzeb Khanzada Kay Sath and alleged that the PTI government had sold an expensive Graff wristwatch, gifted to Imran by Saudi Crown Prince Mohammed Bin Salman, for $2 million. It was said that the approximate worth of the gift at the time of sale in 2019 was Rs280 million.
Zahoor also claimed that he had bought the watch through former accoun¬ta¬bility czar Shahzad Akbar and Farah.
He alleged that Farah wanted to sell the watch for $4-5 million "but after negotiations, I purchased it for $2 million", adding that the payment was made in cash on Farah's insistence.
Read Foreign firm denies rumours of selling Toshakhana gifts
Farah's legal notice stated that Zahoor had "deliberately uttered various defamatory remarks" against her and "falsely told" the anchor that Akbar had introduced him to her who then met him to sell a watch, causing her "sizeable reputational damage".
It said the remarks without any evidence were a "sheer denial and broad daylight infringement" of various constitutional rights and had encouraged Farah's rivals to further "noxious agenda to spread false and negative propaganda" against her.
The notice claimed that Zahoor, Geo News and Khanzada had intentionally targeted Farah for "evil designs and machinations" to defame her name, business and reputation, adding that Farah did not travel to Dubai in 2019.
Last month, the Election Commission of Pakistan (ECP) had disqualified the PTI chairman under Article 63(1)(p) as it announced its verdict in the Toshakhana reference.
Read more Imran accused of taking U-turns
A four-member bench of the election supervisor declared Imran's National Assembly seat vacant as it unanimously decided that he had misled officials about the gifts he received from foreign dignitaries during his tenure as premier.
The written ruling read that the PTI chief had "intentionally and deliberately" violated the provisions contained in sections 137, 167 and 173 of the Elections Act, 2017 as he submitted a "false statement" and "incorrect declaration" to the ECP in the details of his assets and liabilities filed by him for the year 2020-21.
COMMENTS
Comments are moderated and generally will be posted if they are on-topic and not abusive.
For more information, please see our Comments FAQ