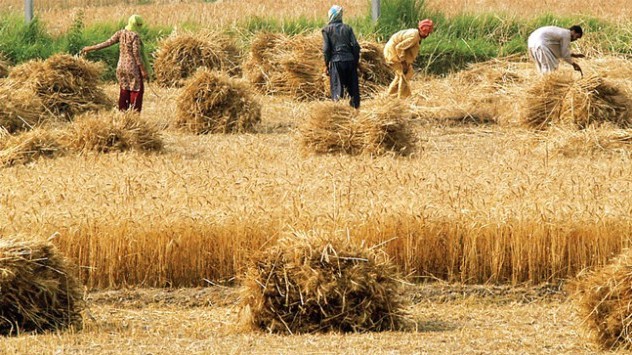 ---
KARACHI:
With Sindh struggling to meet wheat production targets this year due to the devastation caused by the floods, Punjab is stretched to its limits and warning that wheat import might be an inevitability, says Agriculture Minister Syed Hussain Jahania Gardezi. Punjab has increased its target to grow more wheat this year.
Speaking as a chief guest, at the closing event of the 'grow more wheat' campaign organised by the Agriculture Department of Punjab Gardezi said, "This year's production target has been fixed at 22 million metric tonnes against last year's 21 million metric tonnes".
"Wheat is a strategic crop; our self-sufficiency and food security depends on it," said Gardezi, adding that the farmers of Punjab are pulling the weight of wheat supply for the entire country.
This year, according to the Punjab government, the province aims to increase its production by four to five maunds per acre on a total of 16.5 million acres.
"Under the national plan to increase wheat production, subsidies of Rs12.59 billion are being provided to the farmers to increase the production of wheat per acre," he added.
Agriculture Analyst Abdullah Umer Khan Lodhi was of the opinion that Punjab will be able to achieve its wheat production target, but Sindh may not.
"The real issue lies with Sindh as the second largest producer of the staple; between 15% to 20% of the area used for wheat cultivation has been destroyed in the floods," he said, adding that, "Ordinarily, Sindh produces five to six million tonnes of wheat. Now, however, water is standing on that land and the farmers don't have funds to rent other land for cultivation. Therefore, achieving Pakistan's overall target this year will be very difficult."
"We will have no choice but to import. We may even have to import more wheat than we did last year," warned Lodhi.
Agriculture Extension Punjab Director General Dr Muhammad Anjum Ali said, "This year, 50,000 university students participated in the "grow more wheat campaign" in Rahim Yar Khan to ensure the timely cultivation of wheat on the maximum area of land."
Explaining that during the campaign, farmers were guided about the use of the approved varieties of seeds and balanced fertiliser, Ali said, "Last year, wheat was cultivated on 0.685 million acres of area in Rahim Yar Khan district from which 1.28 million tonnes of wheat were produced. This year too, to increase the yield per acre, farmers should be given a subsidy of Rs1200 per bag of approved varieties of wheat and herbicides."
This year, however, certified seeds have witnessed a hike of Rs 5,000 per maund compelling farmers to use their own seeds, which are not efficient and may affect the government's set target. Fertiliser, DAP and potassium, prices have also gone up, making the input cost higher for the farmers as compared to the minimum support price the government has provided.
According to the Co-Founder of the Agriculture Republic, Aamer Hayat Bhandara, "This year, Sindh proposed a minimum support price of Rs 4000 per maund of wheat while Punjab proposed only Rs 3,000 per maund, diminishing the hope of farmers here."
"We need to work harder to improve water efficiency practices, at both the farm and government levels, to increase our per acre yield," urged Bhandara.
Addressing the event, Vice Chancellor Prof Dr Muhammad Sulaiman Tahir said that promoting mechanisation is necessary for innovation in agriculture.
"In order to promote the mechanised cultivation of wheat, providing modern agricultural machinery is necessary for which a 50% subsidy is being provided to farmers. The farmers can take full advantage of the farmer-friendly projects initiated by the Punjab government and achieve the wheat production target," highlighted Anjum Ali
Published in The Express Tribune, November 29th, 2022.
Like Business on Facebook, follow @TribuneBiz on Twitter to stay informed and join in the conversation.
COMMENTS
Comments are moderated and generally will be posted if they are on-topic and not abusive.
For more information, please see our Comments FAQ