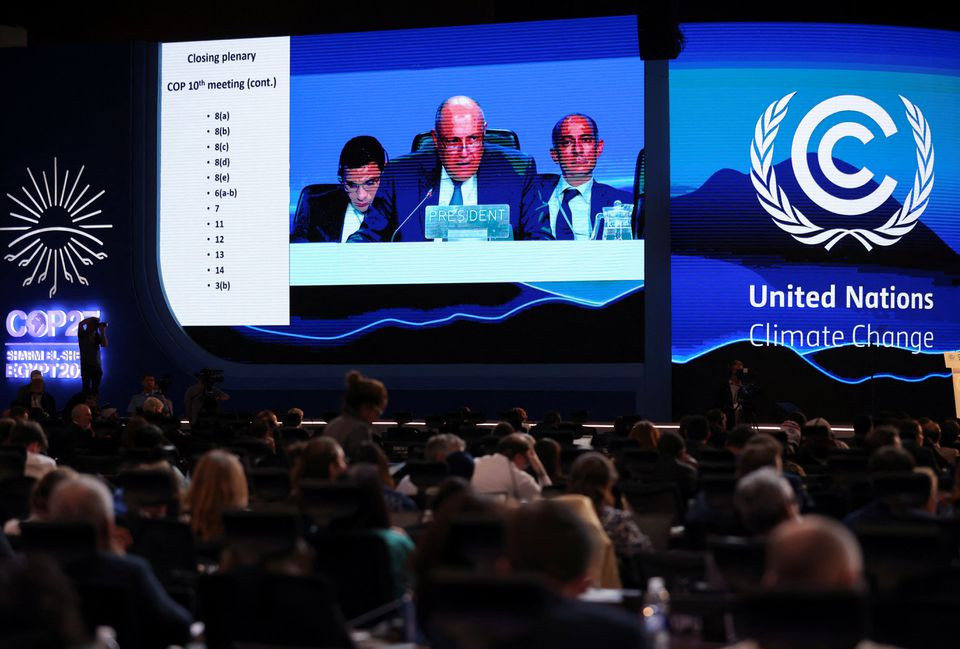 ---
ISLAMABAD:
The root causes and potential responses to global warming are enormous, convoluted, and multifaceted. Every year, the United Nations Framework Convention on Climate Change (UNFCCC) organises the Conference of Parties, or COP, which yields different outcomes, opportunities, and disappointments, and it's unlikely that this will ever change.
COP27 was no different in that it concluded with the now customary flurry of last-minute negotiations, which resulted in an agreeable financial package, a loss and damage fund, for low- and middle-income countries (LMICs) severely impacted by global warming. But success in phasing out fossil fuels – the key to halting climate change – once again seemed beyond the international community's reach.
The empirical data leading up to COP27 was unequivocal: we are on the verge of an irreversible climate meltdown, and the summit opened with the same rhetoric. Vulnerable nations made impassioned declarations, such as the island nation of Tuvalu announcing plans to recreate itself in the metaverse before global sea level rise compromises its existence.
"As our land disappears, we have no choice but to become the world's first digital nation," said Tuvalu Foreign Minister Simon Kofe in his speech at the conference.
Other countries, such as Pakistan, used emotive slogans to call for action, like "what happens in Pakistan will not stay in Pakistan".
However, behind closed doors, fossil fuel nations forced other countries to fight tenaciously to maintain the inadequate status quo.
"We should not target energy sources; we should focus on emissions. We should not mention fossil fuels," said one delegation during final negotiations resulting in the final text duly failing to mention phasing out fossil fuels and instead containing a provision to boost "low-emissions energy".
A loosey-goosey phrase like that could mean any number of things, from solar and wind projects to nuclear and coal-fired plants integrated with carbon capture and storage (CSS). The phrase can also be applied to gas, a significant fossil fuel, despite having fewer emissions than coal.
It's flabbergasting that in 30 years of climate discussions, the leading cause of global warming has still not been explicitly addressed in any agreements. It seems highly unlikely that a crackdown on fossil fuels would occur at next year's climate conference, which will be convened at a major petrostate, the United Arab Emirates.
When getting off fossil fuels is so crucial to people's survival, the world should be racing full speed ahead to achieve the 1.5-degree Celsius target, but instead, it's strolling. Even if there might be a glimmer that the 1.5C target may still be scientifically possible, COP27 proved one thing: it is politically impossible.
Alok Sharma, President of COP26, voiced his frustration at the commitments he advocated for at COP26 being eliminated from the final text of COP27 at the behest of laggard nations and fossil fuel producers.
"We had to fight relentlessly to hold the line... Peaking emissions by 2025 is not in this text. Follow-through on the phasedown of coal is not in this text. The phasedown of all fossil fuels is not in this text...The text on energy was weakened but is at least in; 1.5C was weak, and it remains on life support."
Nevertheless, despite its many flaws, COP27 created history through numerous favourable resolutions. This includes the first-time inclusion of rivers, nature-based solutions, food, tipping points, and the right to a healthy environment into a single, overarching "cover decision".
The second was the aforementioned "loss and damage fund". For over three decades, developing nations have sought financial aid for loss and damage – money required to rescue and restore the physical and social infrastructure of countries affected by the catastrophic weather. Therefore, reaching an agreement on a fund is a significant accomplishment. However, the tricky part comes next: the fund must be established and funded. There is yet to be an agreement on where the funding will come from and how it will be disbursed.
The conference went into overtime on Saturday, partly to make a small start on that massive question since most of the wealth is in the Global North, but most of its need is in the Global South. It would likely take a year to hash out the operational elements of the fund, and any progress will only be seen at COP28.
Additionally, for the first time at a climate COP, the final agreement supports the reform of major lenders like the International Monetary Fund (IMF) and the World Bank. While the IMF may lend $1 trillion to nations in need, just a portion is dedicated to climate funding.
Many developed and developing nations demanded immediate reforms to the World Bank and publicly funded financial institutions, claiming that these organisations had fallen short of providing the necessary funding to assist developing nations in reducing their greenhouse gas emissions and preparing for the effects of the climate crisis.
This kind of reform might entail the recapitalisation of development banks so they can deliver significantly more support to developing nations. One thing that reigned supreme at COP27 was Pakistan's strong leadership throughout the summit and resolve in the negotiation process.
"We are on the frontline and intend to keep loss and damage and adapting to climate catastrophes at the core of our arguments and negotiations. There will be no moving away from that," said Sherry Rehman in an interview leading up to the conference.
As president of the G77 plus China negotiation group, Pakistan was able to keep developing nations together on the issue of loss and damage despite attempts by certain wealthy countries to break the group up.
Nabeel Munir, Pakistan's chief negotiator, repeated the same message daily: "Loss and damage is not charity; it's about climate justice."
In an interview with the Guardian, Asad Rehman, of UK charity War on Want, said, "Without the leadership of Pakistan, we wouldn't have the outcome. Their diplomats are experienced in maintaining G77 discipline and unity and prevented attempts by the EU and others to turn the least developed countries group and the Alliance of Small Island States against the other countries and accept a narrow fund."
In addition, it was revealed that Pakistan, Ghana, and Bangladesh would be among the first nations to receive funds from a G7 project called "Global Shield".
COP27 will be remembered as the turning point in climate crisis history and as the time when the goal of limiting global warming to 1.5C almost died. However, there is still hope.
As Kathy Jetnil-Kijiner, a poet and climate envoy for the Marshall Islands, said towards the end of COP27: "I wish we got fossil fuel phase-out. The current text is not enough. But we've shown with the loss and damage fund that we can do the impossible. So, we know we can come back next year and get rid of fossil fuels once and for all."
The writer is a sustainability and climate risk (SCR) professional, passionate about sustainable energy consumption and climate change
Published in The Express Tribune, November 28th, 2022.
Like Business on Facebook, follow @TribuneBiz on Twitter to stay informed and join in the conversation.
COMMENTS
Comments are moderated and generally will be posted if they are on-topic and not abusive.
For more information, please see our Comments FAQ