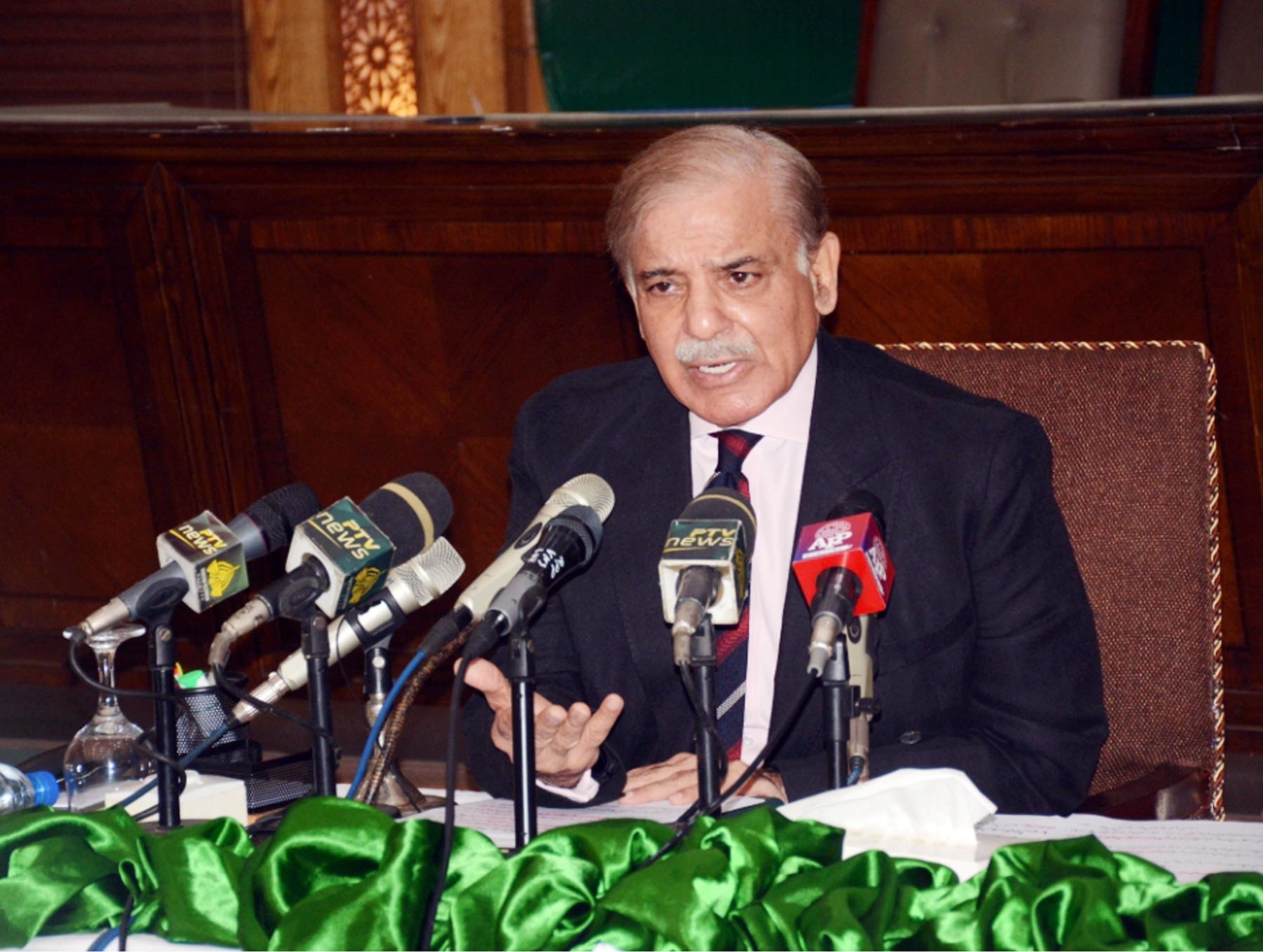 ---
ISTANBUL:
Prime Minister Shehbaz Sharif once again rules out early election as demanded by Pakistan Tehreek-e-Insaf (PTI) Chairman Imran Khan, saying that the current National Assembly would complete its tenure in August next year after which an interim government would hold the general elections.
In an interview with Turkiye-based Anadolu Agency, Shehbaz that the elections "will be held on time," and stressed that the incumbent government came to power through a constitutional process and enjoyed the mandate of the people of Pakistan.
Shehbaz said his government had adopted a "mix of policies to tackle the economic downturn by accepting the fact that "we have a very short time" to pull back from the edge of bankruptcy and financial collapse.
"Let me make it absolutely clear that the next elections will be held on time," he said. "The term of the current National Assembly will end in August 2023 to be followed by the establishment of an interim government that will hold elections," he explained.
"This government came into being through a constitutional process and enjoys the mandate of the people of Pakistan," he said, while responding to a question about his predecessor and Imran Khan's demand for early elections.
The present coalition government had "representation of all political parties of the country except the PTI and is busy dealing with the issues of great importance," added Shehbaz.
The prime minister said that the economic policies of the Imran Khan government were not pro-growth, therefore, those led the economy to multiple challenges. When he assumed office, he added, the economy was facing multiple global and domestic challenges and was "on the verge of" collapse.
"Pakistan's economy was facing excessive monetary tightening, supply-side shocks, lingering pandemic effects, waning investor confidence, high inflation, and the effects of the Russia-Ukraine conflict," he said. He added that his government took rectifying measures, some of which, he admitted, had side-effects.
"No doubt, some of our policy options, like the withdrawal of untargeted subsidies, had added to the cost in the short-term. But, most of our policies are more likely to offer benefits in the longer term," the prime minister said.
"Although such a tough decision required huge political capital, we took the risk of taking these decisions by reversing the untargeted subsidies. We are also aware of the fact that our current course of action is hurting the most vulnerable and marginalised in society," he said.
However, in the same breath, he added: "But we are taking care of them [the most vulnerable and marginalised segments of society] by announcing targeted subsidies and other relief measures." He stressed that an "active engagement with bilateral and multilateral partners" had eased the pressure.
To tackle the economy, he noted that his government took measures to reduce the import bill, current account deficit, and pressure on the Pakistani rupee. The "continuous decline in imports" helped improve the current account deficit during the first four months of the 2023 financial year, he added.
Foreign relations
Prime Minister Shehbaz emphasised that inter-state relations should be "based on mutual respect". He said that "our longstanding and broad-based relationship" with the US was "committed to deepen and widen", while Pakistan and China "will continue to exercise vigilance to ensure that our detractors' plans" failed.
"In recent months, engagement between both [Pakistan and the US] countries has been quite productive and substantial. Our interactions at various levels have intensified, which manifests in that the relationship is strengthening," he said.
Recalling a recent interaction with US President Joe Biden in New York, Shehbaz said there had been "several high-level visits including congressional delegations and by members of the [US] administration", which "yielded positive results" and solidified the bilateral ties.
"Pakistan is cooperating closely with the US to promote peace and stability in Afghanistan," he said. "Pakistan is pursuing a foreign policy of "friendliness and goodwill towards all countries. Pakistan strongly believes in peaceful resolution of issues by upholding of principles of UN Charter and the international law," he added.
When asked about balancing the ties with the US and China, Shehbaz emphasised that Pakistan had traditionally maintained good ties with both the countries. "While the Pakistan-China relationship is very special, Pakistan and the US have also maintained broad-based ties that cover all issues of mutual interest."
He told the interviewer that his recent meetings with the Chinese leadership in Beijing "injected a new impetus in the joint efforts to ensure timely progress and implementation of major projects. "Important understandings were reached on advancing flagship projects, he said.
"We also agreed to step up cooperation in green energy, science and technology, and agriculture, which are all important building blocks of CPEC's [China-Pakistan Economic Corridor] high-quality development," the prime minister said.
When asked whether the resolution of the Kashmir dispute remained a condition for resuming normal ties between Islamabad and Delhi, Shehbaz said that for "complete normalisation" India must "reverse its actions" of August 5, 2019 in Indian Illegally Occupied Jammu and Kashmir (IIOJK).
"We want good relations with all neighbours, including India," he said. "We, however, strongly believe that durable peace cannot be achieved without a just resolution of the Jammu and Kashmir dispute in accordance with the United Nations Security Council resolutions and wishes of the Kashmiri people."
The prime minister said that the "illegal and unilateral actions" of Aug 5, 2019, and the subsequent steps in IIOJK "have further vitiated the environment", adding: "The onus remains on India to create conducive environment for meaningful engagement."
Shehbaz, who was in Turkiye over the weekend, emphasised that Islamabad and Ankara should work together through collective research and pooling of resources, as they faced common challenges and emerging threats. The two nations have similar views on regional and international issues, he said.
COMMENTS
Comments are moderated and generally will be posted if they are on-topic and not abusive.
For more information, please see our Comments FAQ