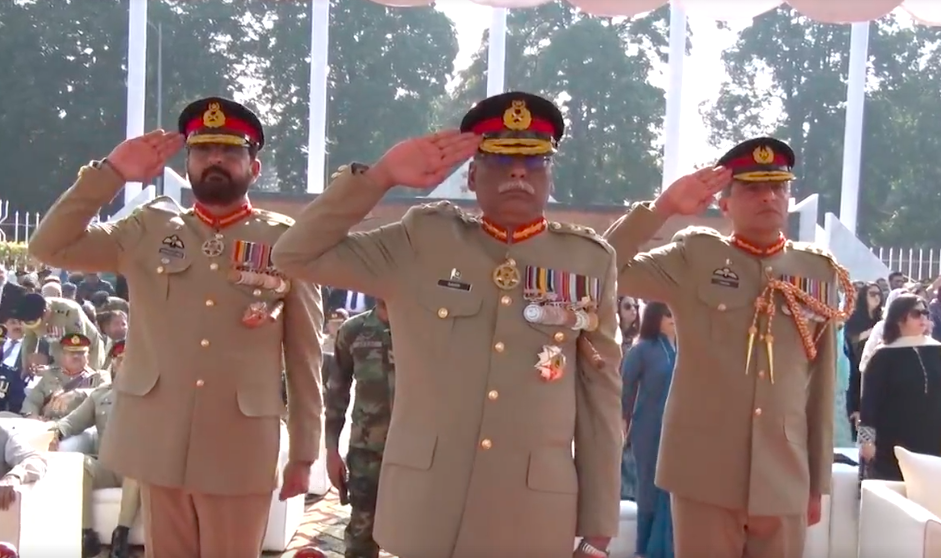 ---
RAWALPINDI:
General Sahir Shamshad Mirza assumed his appointment as the Chairman Joint Chiefs of Staff Committee (CJCSC) on Sunday at the Joint Staff Headquarters in Rawalpindi, reported the Inter-Services Public Relations (ISPR).
In addition to a large number of serving and retired officers from the tri-services, the former CJCSC also attended the ceremony, according to the ISPR.
The military's media wing said the "smartly turned out" Joint Services guard presented the salute as the newly-appointed CJCSC arrived at the venue.
General Sahir Shamshad Mirza reviewed the guard of honour and the March past, reported the ISPR.
President Dr Arif Alvi on Thursday had approved a summary sent by Prime Minister Shehbaz Sharif for the appointment of General Syed Asim Munir as the next army chief and General Sahir Shamshad Mirza as the new CJCSC
Read US Embassy felicitates new army chief, CJCSC
General Munir and General Mirza were the first and second on the seniority list, respectively. Therefore, both key slots went to the most-senior generals after General Bajwa.
General Mirza has replaced General Nadeem Raza, assuming what is technically the most senior position in the military but is considered ceremonial.
General Mirza was Corps Commander Rawalpindi and had served as chief of general staff (CGS) – a key position most army chiefs held in the past.
The CGS is known as the de facto army chief since he heads both the operational and intelligence directorates.
Previously, he had also served as the director general of military operations (DGMO).
Those who know General Mirza closely say he enjoys a good reputation in the army. He is not involved in any controversy and there is not much debate about his candidature.
COMMENTS
Comments are moderated and generally will be posted if they are on-topic and not abusive.
For more information, please see our Comments FAQ