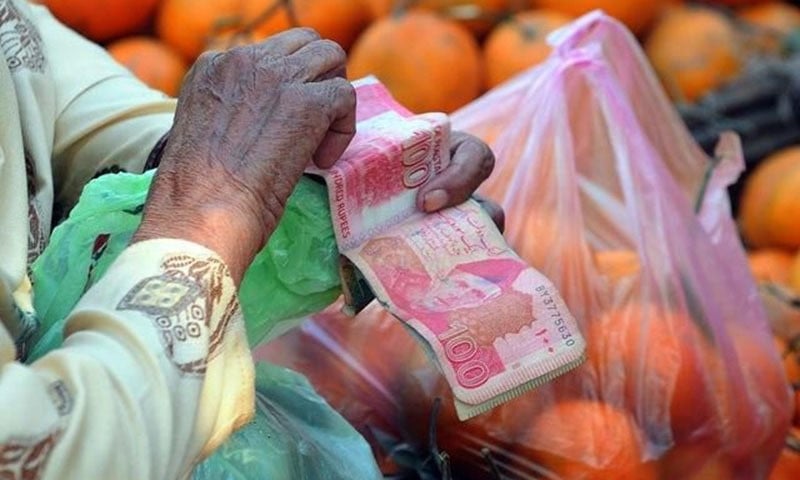 ---
ISLAMABAD:
The rate of inflation, which has been rising relentlessly for the sixth consecutive week, rose by 0.48% week-on-week, while the year-on-year inflation hit 30.16% for the week that ended on November 24.
The rise was recorded mainly owing to a surge in the prices of essential food items, including onions, tomatoes and pulses.
According to data released by the Pakistan Bureau of Statistics (PBS) on Friday.
During the week under review, the prices, as by the Sensitive Price Indicator (SPI), 19 items increased, nine items decreased while 23 items remained stable.
The price of eggs per dozen jumped by Rs21.50, price of chicken increased by Rs11.60 per kg.
According to the PBS, the price of onion per kg increased by Rs4.48, and one kilogram of sugar went dearer by Rs1.20. Similarly, the prices of potatoes, fresh milk, rice, garlic and beef have also increased.
In terms of year-on-year, a spike of 64.57% and 54.71% was witnessed in the costs of diesel and petrol respectively.
During the last week, which ended on November 17, the short-term inflation, as measured by the SPI had eased slightly to 0.62% week-on-week, dropping from the previous week's 0.74%. Meanwhile, according to the PBC, the year-on-year increase in weekly inflation had recorded at 28.67%.
It may be noted here that the inflationary trend in the country broke a record of decades this year due to a steep rise in international commodity prices and the rupee's depreciation.
Besides, the government's move to do away with the subsidies on electricity under an agreement with the International Monetary Fund (IMF) also saw a back-breaking inflation rate.
Similarly, devastating floods during the monsoon season also laid waste to standing crops, triggering a shortage of vegetables. The surge in the shortage compelled the government to remove duties on the import of onions and tomatoes from Afghanistan and Iran.
COMMENTS
Comments are moderated and generally will be posted if they are on-topic and not abusive.
For more information, please see our Comments FAQ