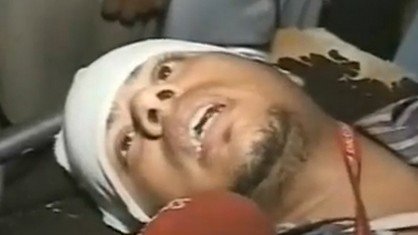 ---
Another case of police brutality was witnessed as Liberty Police tortured Express News team in Lahore and broke technical equipment in their possession.

The incident took place when a camera man of Express News was recording a video of Liberty Police torturing citizens in Liberty Market. The police officials snatched the camera from the cameraman and broke it into pieces. They also tortured him and dragged him into the police station.

The action was backed by the SHO Liberty Market Police station who continued to threaten Express News team for reporting anything against them. The tortured camera man, Asif Farrukh, was tortured in the police station for more than 40 minutes before the rescue officials were allowed to come in and provided him with first aid.

Chief Minister Punjab Shahbaz Sharif has taken notice of the incident.

FIR registered against SHO and ten police officials

An FIR has been registered against the Liberty Market SHO Ahsan Butt and ten other officials under Section 379.

The FIR has been registered at the same police station of which Ahsan is the SHO.

The report states that Ahsan Butt tortured Express News cameraman Asif Farrukh along with his officials and some unknown people. He also threatened Asif for his life. Party to the FIR is Express News' Lahore Bureau Chief Mohammad Ilyas.

So far, no arrests have been made in this regard.

Punjab Union of Journalists protest

The Punjab Union of Journalists have announced a protest rally today against the assault of Liberty Market Police on Express News cameraman. Journalists gathered outside the Liberty Market police station and chanted slogans against the police for their brutality.

President of Punjab Union of Journalists Rai Husnain Tahir said that such incidents have become a routine and will not be tolerated anymore. He also impressed upon the authorities to take action against the police officials responsible for torturing Express News' cameraman.

A protest rally will be taken out by PUJ and other journalist organisations of Lahore at 4 pm from Dayal Singh Mansion.
COMMENTS (4)
Comments are moderated and generally will be posted if they are on-topic and not abusive.
For more information, please see our Comments FAQ