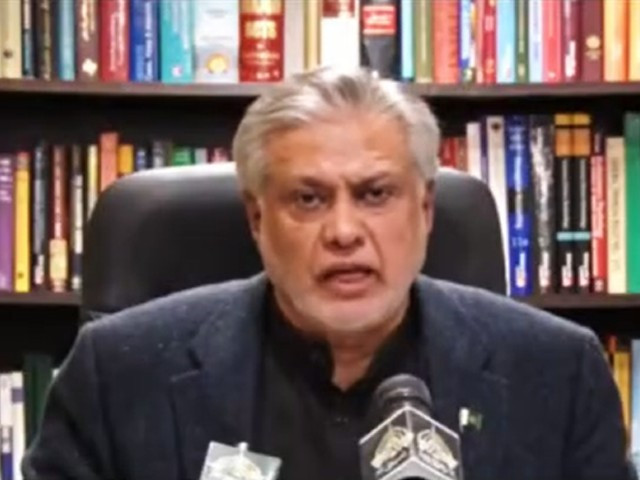 ---
ISLAMABAD:
An accountability court in Islamabad on Tuesday ended corruption proceedings against Finance Minister Ishaq Dar by returning the reference of assets beyond known sources of income to the National Accountability Bureau (NAB).
Judge Muhammad Bashir, while announcing the reserved decision on Dar's acquittal plea, declared that it was no longer the court's authority to decide such matters after the recent amendments to the accountability law.
The judge added that the court could announce a verdict in the favour of neither NAB, nor the suspect.
"The trial against Ishaq Dar ends here," the judge remarked.
The court had reserved its judgment a day earlier.
The anti-graft watchdog's reference for possessing assets beyond known sources of income was submitted to the court in September 2017 on the recommendations of the apex court in its Panamagate verdict.
It named Dar, former National Bank president Saeed Ahmed, Naeem Mehmood and Mansoor Raza Rizvi.
The four men had filed their acquittal pleas.
The reference contained the accounts of 42 witnesses, including the investigating officer of the case, Nadir Abbas.
The NAB alleged in reference that Dar had "acquired assets and pecuniary interests/resources in his own name and/or in the name of his dependants of an approximate amount of Rs831.678 million".
It added the assets were "disproportionate to his [Dar's] known sources of income for which he could not reasonably account for".
After his indictment in September 2017, Dar left the country and remained in self-exile for the next five years.
During this period, he was declared a proclaimed offender and an accountability court also issued perpetual warrants against him on December 11, 2017.
However, in September this year, the warrants were suspended until October 7, giving Dar a fortnight to surrender to the law.
Ishaq Dar returned to the country after concluding his visit to New York and London on September 26.
He appeared before the accountability court on September 28 in the assets reference, right after taking oath of office as federal minister.
Explaining his reasons to not have appeared before the court all these years, Dar told the court that his passport was cancelled by the Imran Khan-led PTI government, and all embassies had also been instructed to not issue a new passport to him.
"Despite my poor health, I still wanted to return and now that I have been issued a passport, I have come back," Dar told Judge Bashir.
During the hearing, NAB was issued a notice on Dar's plea seeking cancellation of the arrest warrant against him.
Dar recently approached the accountability court and filed a petition for his acquittal in the case, unfreezing of his assets, and a permanent exemption from personal attendance in the proceedings.
COMMENTS
Comments are moderated and generally will be posted if they are on-topic and not abusive.
For more information, please see our Comments FAQ