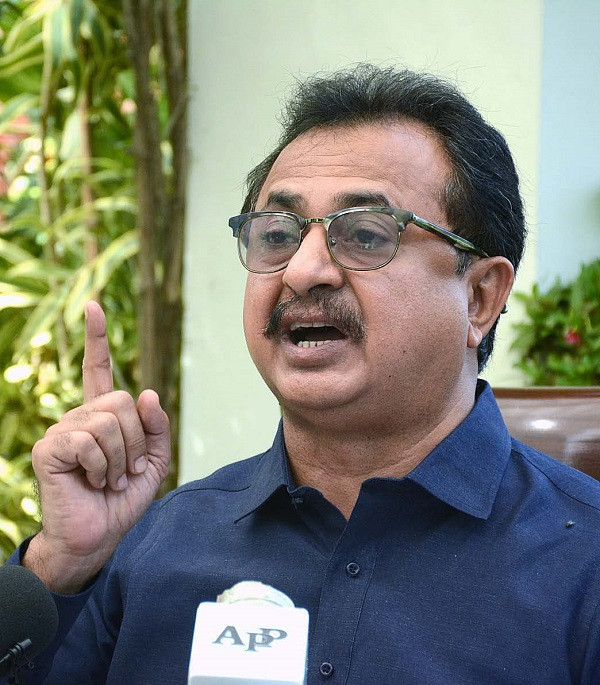 ---
KARACHI:
Heavy contingent of Sindh police conducted two raids at the residence of the opposition leader in the Sindh Assembly, Haleem Adil Sheikh on Friday, however, no arrest was made.
Gulshan-e-Maymar police have registered a case against the PTI leader under provisions of land grabbing and others on the complaint of MDA officer Riaz Baig. The police have also included Section 7 of the Anti-Terrorism Section in the case.
Commenting in this regard, former governor Imran Ismail said that the police raids on the occasion of the marriage of Haleem Adil Sheikh's daughter is a shameful and condemnable act.
Ismail said police mobiles with armed personnel reached Haleem's house as if he was a terrorist. According to sources, the case has been registered on November 16 at 4:30pm and was handed over to the investigation police for further process. Earlier, a heavy contingent of police raided the society behind National Stadium to arrest the opposition leader although no arrest was made.
PTI leader Khurram Sher Zaman along with other leaders reached the residence of Haleem Adil Sheikh. Condemning the police raid in strong terms, they said that the police were under political pressure. A PTI spokesperson alleged that the police raided the house without a warrant and vandalized the property while harassing the family members.
More than 15 police mobiles were used in the raid with dozens of police officers, many in plain clothes, and women police. The spokesman said that Haleem Adil Shaikh was not present at his residence while the police harassed his family unjustly. According to the spokesman, the police are involved in political vendetta at the behest of the Sindh government.
COMMENTS
Comments are moderated and generally will be posted if they are on-topic and not abusive.
For more information, please see our Comments FAQ