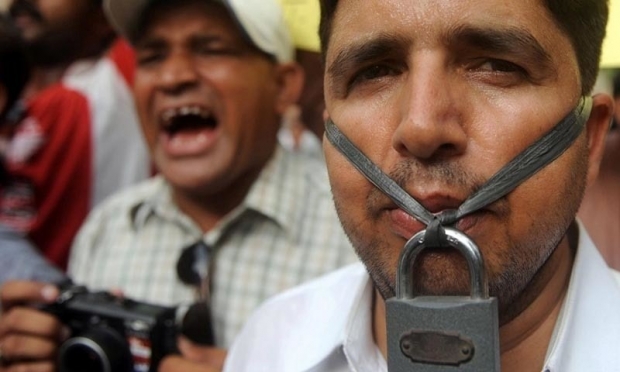 ---
KARACHI:
The Sindh government on Thursday established the Commission for the Protection of Journalists and other Media Practitioners (CJMP).
According to the provincial government's notification, the commission was formed in pursuance of subsection 1 of section 8 of the Sindh Protection of Journalists and other Media Practitioners Act, 2021, which orders the formation of the CJMP.
PPP's Sindh Government is pleased to announce that the commission for the Protection of Journalists and other media practitioners is established. PPP and government of sindh believes in freedom of speech and protection of journalism and journalists. pic.twitter.com/f5UD8dRLoX

— Sharjeel Inam Memon (@sharjeelinam) November 17, 2022
The 14-person CJMP chaired by Justice (retd) Rasheed Rizvi, consists of four ex-officio members – including the information secretary, home secretary, and law secretary – and nine non-official members – Fahim Siddiqui of KUJ, Kazi Asad APNS, Dr Jabbar Khatak CPNE, Athar Kazi PBA, Ayaz Tunio Sindh Bar Council, Prof Tauseef Khan HRCP, Shazia Umar MPA, Syeda Marvi MPA, and Ghuma Fariduddin APNEC.
Read Senior journalist Irfan Raza 'kidnapped, released' in Islamabad
The notification said that the "Commission shall perform functions as assigned to it under the Act".
It furthered that the chairperson and non-official members would "hold office for a period as provided under section 10 and 8 of the Act, respectively". All members of the commission are to work on a voluntary basis, whereas the chairperson shall hold office for a term of three years.
Sindh Information Minister Sharjeel Inam Memon told media personnel that the Sindh Assembly passed the 2021 act and added that its rules had also been notified.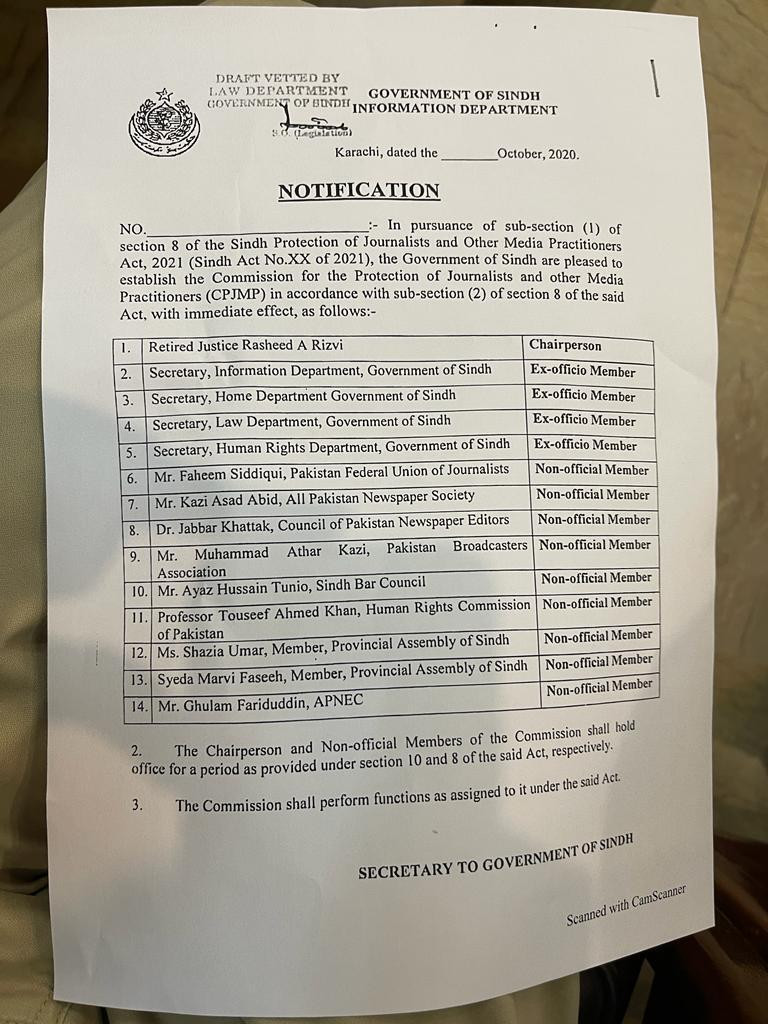 COMMENTS
Comments are moderated and generally will be posted if they are on-topic and not abusive.
For more information, please see our Comments FAQ