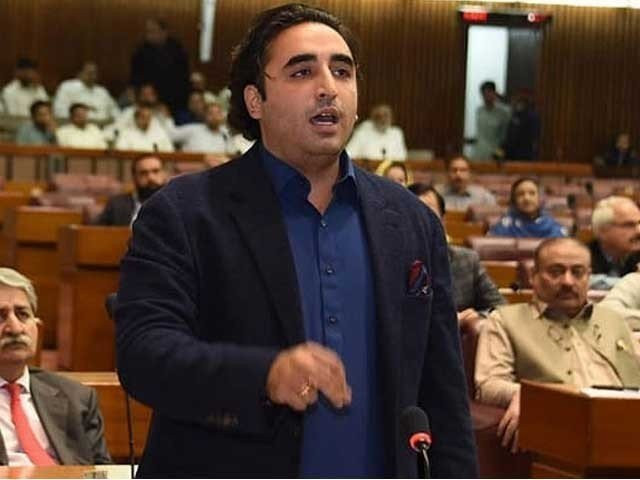 ---
Pakistan Peoples Party (PPP) Chairman and Foreign Minister Bilawal Bhutto has said that PTI chief Imran Khan's politics was only revolving around the appointment of next army chief.
Speaking to the media in Karachi on Tuesday, Bilawal said the appointment should be made according to the law and Constitution while advising against politicising the sensitive issue.
The foreign minister urged all political parties to avoid making controversial statements and demands regarding the appointment of the army chief during public rallies and gatherings.
His statement apparently came in response to the PTI chief statements wherein he raised doubts over the legitimacy of the incumbent government to appoint the army chief.
Imran has been consistently saying that merit should be followed in such key appointments, while questioning how an "absconder and criminals" — a reference to incumbent rulers and PML-N supremo Nawaz Sharif — would be allowed to make the decision.
Also read: Govt seeks to quell speculation on next COAS selection
Prime Minister Shehbaz Sharif returned home on Monday after his extended stay in London where he was believed to have held closed-door consultations with Pakistan Muslim League-Nawaz supremo Nawaz Sharif and other leaders on the appointment of a new army chief.
But contrary to claims that a decision has been taken to appoint the senior-most general as the next army chief, Defence Minister Khawaja Asif dismissed such claims.
"Holding consultations on the appointment of the army chief is the prerogative of the prime minister. However, no consultation has been held on the matter so far," the minister said, insisting that no final decision had been taken either on the appointment of a new army chief.
Speculations were rife following Shehbaz's informal meetings with PML-N bigwigs in London that the principle of seniority would be taken into account for the appointment of new army chief. Many then have started drawing their own conclusions by mentioning certain names as successor of Gen Qamar Javed Bajwa.
The debate over the appointment of the new chief has intensified since the Inter-Services Public Relations (ISPR), the media wing of the military, confirmed last week that Gen Bajwa would doff off his uniform on November 29 at the completion of six-year tenure.
COMMENTS
Comments are moderated and generally will be posted if they are on-topic and not abusive.
For more information, please see our Comments FAQ