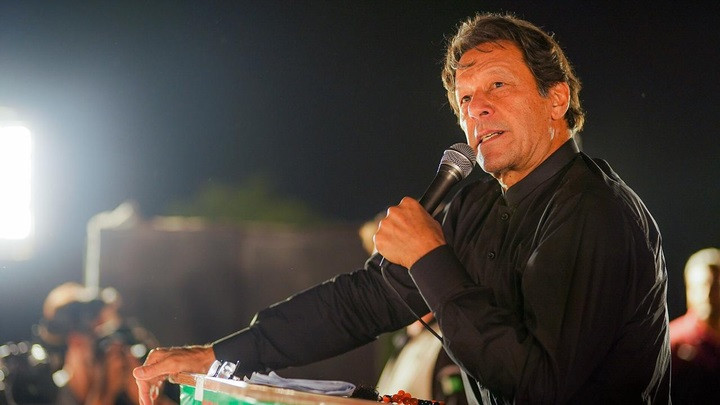 ---
ISLAMABAD:
Ever since he started to flex muscles on the streets and kick up storms by broaching some of the hot-button issues, PTI chief Imran Khan has used, discarded and rehashed several countervailing lines on the matter of the army chief's appointment.
At times, he has shrugged off and said he has no business in knowing about the imminent change of army guard. But within no time, he takes to insisting on appointing the army chief on merit and alleges that Prime Minister Shehbaz Sharif and his elder brother Nawaz Sharif would never appoint one on merit and pick the one who would "help him".
Political analysts reckon that both messages, however, mixed and confusing, are part of a calculated exercise whereby the former prime minister conveniently takes a page out of his playbooks as required by the immediate need to reach his goals.
They also hold that Imran's assertions regarding the issue are actually his under-the-breath and veiled demand for the restoration of the "hybrid system" that allegedly saw him in the past. However, the "game has now changed", they point out.
For days, the PTI leadership called for a consultative process before picking the new army chief. However, Imran showed a clear lack of appetite for it and said that he did not see any problem if the appointment was made by the PM Shehbaz-led government.
In the past few months, Imran would openly say that the Sharifs and Zardaris were unfit to make army chief's appointment on the grounds that "thieves" cannot be allowed to appoint the next COAS.
In September, Imran had alleged that the Sharifs and Asif Ali Zardari wanted to appoint the army chief of their choice because if a "strong and patriotic army chief" came, they would be questioned about their loot.
However, just a couple of days ago, Imran, during a discussion with journalists at his Zaman Park residence in Lahore, softened his stance again, saying that the ruling coalition could appoint whomever they wanted.
On Friday, Imran while addressing PTI's long march in Gujrat once again touched the subject and alleged that "[PM] Shehbaz Sharif is going to decide about the appointment of army chief with fugitive Nawaz Sharif", saying that the London huddle was not taking place to strengthen institutions but "Nawaz Sharif will choose an army chief who will help him".
In Lala Musa on Saturday, Imran once again insisted that he doesn't want an army chief of his choice and said that he never made the appointment of the army chief controversial, reiterating that all he wants is appointment on merit — he hasn't explained merit yet. It is also not yet clear how would he respond when the Prime Minister finally reveals the name of the new army chief.
The government side has constantly been saying that the appointment of the new army chief was the prerogative of the prime minister, and he would, without consulting with Imran, appoint the new military chief in line with his constitutional mandate in due course.
Surprising as it may seem, people in the ruling alliance also question Imran's decision to give an extension during his tenure to the incumbent army chief, who was appointed by ex-premier Nawaz Sharif.
'Imran wants hybrid system back'
Apart from politicians, renowned political analyst Zaigham Khan said that Imran seems to have developed disliking for every other general except one. However, the analyst said, Imran's larger goal was to have the hybrid system back where the military was on his side. But, he said, the "game has changed now".
Zaigham outlined different scenarios, saying that Imran sees the equation as "my popularity backed by your institution", which in other words was similar to a one-party rule. He explained that Imran also wants to have an upper hand on the establishment, saying the problem was that "the hybrid system is not designed that way".
Commenting on his ever-changing stance on COAS' appointment, the political analyst said that Imran should be seen as a populist leader instead of just being a leader, saying that he has huge appeal, and does not care about giving different statements on the same subject.
"He says whatever suits him at that very moment or on that very day," he said. "All he cares about is what suits him regardless of the veracity of the statements."
Zaigham said that Imran can take any position to achieve his goals and he cannot be appeased even if all his conditions were accepted. For him, Imran's habit of constantly changing his stance was not a good trait of a leader but admitted that people were still supporting him no matter what he says.
"I do not think anyone's statement should bother us as long as the PM goes by the book and his choice reflects his objectivity and merit," Pakistan Institute of Legislative Development and Transparency (PILDAT) President Ahmed Bilal Mehboob said.
"This is the constitutional authority of the PM, and he should exercise it without giving the impression that he is taking directions from elsewhere," the PILDAT president added.
COMMENTS
Comments are moderated and generally will be posted if they are on-topic and not abusive.
For more information, please see our Comments FAQ