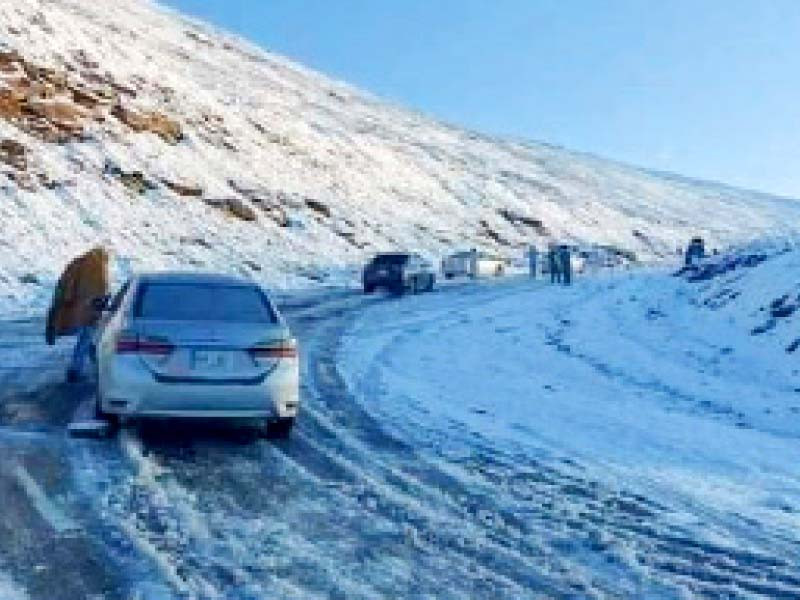 ---
CHITRAL/ DI KHAN/ PESHAWAR:
The first winter rain in different parts of the Khyber-Pakhtunkhwa (K-P) including Peshawar increased the element of chill in the atmosphere, thus heralding the start of autumn in the province on Saturday.
Two people were killed and at least six injured in rain related incidents as per the initial reports.
Peshawar received a heavy downpour which turned the city roads into lagoon for hours and disrupted traffic.
In the mountainous districts including Chitral, Khyber, Orakzai and Kurram snow fall was recorded on the mountains and torrential rains in the valleys.
"Snow is falling on the mountain peaks in Chitral while in the Chitral city and villages hail storms and heavy downpour was recorded for the second day," said a local resident of Chitral while talking to The Express Tribune, adding that this is the formal arrival of long winters in the two districts.
"There is no snow in the entire valley yet but all the mountain peaks are covered in a while snow blanket," he added.
"Some valleys in Upper Chitral have received several feet of snow overnight and the sudden cold weather have forced the people to go shopping for warm cloths, beverages and tea shops," he said.
In Tirah valley of Khyber tribal district, snow was witnessed on mountain peaks and lower valleys were hit by hail storms which destroyed standing crops.
Local residents complained that in Chitral the price of fire wood hit Rs700 per 50 kilo mark which is an all-time high. The prices of LPG cylinders went even further.
Meanwhile in Peshawar rainwater inundated low lying areas and disrupted power supply as well as traffic.
In Shergarh area of Mardan district a mother and her infant son died in a roof collapse incident. Her husband and three-year-old son were rescued in badly injured condition. Police said that all the four person were present in a room which in a bad shape of disrepair and its roof collapsed during the torrential rains, leaving all the four person trapped under the debris. They were taken out of the rubble but the mother and son had already died while the two injured were rushed to the nearby hospital where their condition is stated to be critical.
In Dera Ismail Khan four children were injured when their room was struck by lightening in the mountainous Darazinda area.
The roof caught fire after the strike leaving four children partially burnt. They were rushed to the hospital where their condition is stated to be critical.
Parts of DI Khan received heavy downpour accompanied by dust storms which damaged standing crops.
Similarly, two women were injured when their roof collapsed during rainfall in Landi Arbab area on the outskirts of Peshawar.
Nowshera, Charsadda, Mardan, Kohat, Swabi and other districts also received rainfall.
Agriculturists have said that due to the on-going cultivation of wheat in the region, rainfall will have a pleasant impact despite some damage to crops in hail and dust storms.
Published in The Express Tribune, November 6th, 2022.
COMMENTS
Comments are moderated and generally will be posted if they are on-topic and not abusive.
For more information, please see our Comments FAQ