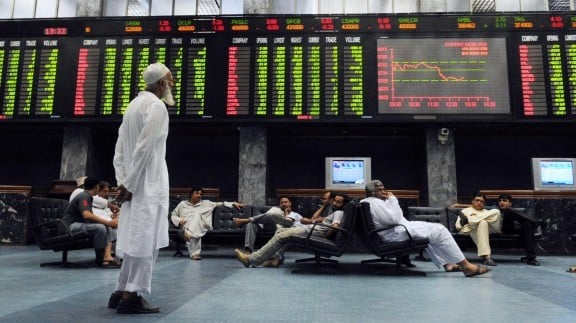 ---
KARACHI:
Bulls held on to their positions for the second consecutive trading session at the Pakistan Stock Exchange (PSX) on Tuesday as the benchmark KSE-100 index gained nearly 550 points due to expectations of a positive outcome from Prime Minister Shehbaz Sharif's visit to China. Investors remained optimistic as PM Shehbaz landed in Beijing on Tuesday for a two-day official visit to meet the Chinese leadership.
Buying activity accelerated in anticipation of a likely debt rollover by China and the revival of CPEC, which kept the KSE-100 index in the positive zone. Bullish spell continued despite concerns over the PTI's long march and the growing political noise. Market participants took fresh positions and pushed the index close to the 42,000-point mark. Earlier, the trading session commenced on a positive note with a spike. The index remained in the positive territory throughout the day, touching an intra-day high of 41,833.43 points in late hours. At close, the benchmark KSE-100 index recorded an increase of 544.03 points, or 1.32%, to settle at 41,808.69.
Topline Securities, in its report, said that Pakistan equities closed positive where the benchmark KSE-100 index settled at 41,809 (up 1.32%). The day kicked off on a positive note as initial gains were led by the cement sector over decline in international coal prices. Lucky Cement, Maple Leaf Cement Factory, DG Khan Cement Company and Pioneer Cement closed higher, it said. However, in the second half, investor interest was also witnessed in the technology sector where TRG Pakistan and NetSol Technologies hit their upper limits.
Avanceon Limited and Systems Limited also closed higher. Traded volume and value for the day stood at 190.53 million shares (up by 95%) and Rs6.29 billion (up by 1.5 times) respectively. WorldCall Telecom was the volume leader with trading in 22.93 million shares, Topline added. Arif Habib Limited, in its report, said that a positive session was witnessed at the PSX. In anticipation of a positive outcome from the prime minister's visit to China and with the plummeting international coal prices, the bulls made a comeback after continuous dry sessions. The market reached an intra-day high of 568 points, giving investors the muchneeded confidence, it said.
"Main board volumes improved dramatically, yet third-tier stocks continued to lead the volumes board." The index closed at 41,808.69, up by 544.03 points (+1.32% day-on-day). Sectors contributing to the performance included technology and communications (+131.2 points), power generation and distribution (+41.8 points), cement (+83.7 points), E&P (+64.7 points) and fertiliser (+42.6 points). Volumes increased from 97.5 million shares to 192.1 million shares (+97.1% day-on-day). Traded value increased by 152.6% to $28.6 million as against $11.32 million. Stocks that contributed significantly to the volumes were WorldCall Telecom, Cnergyico Pk, TRG Pakistan, Pakistan Refinery and G3 Technologies. Overall trading volumes increased to 192.1 million shares compared with Monday's tally of 97.5 million.
The value of shares traded during the day was Rs6.3 billion. Shares of 356 companies were traded. At the end of the day, 250 stocks closed higher, 82 declined and 24 remained unchanged. WorldCall Telecom was the volume leader with 33.1 million shares, gaining Rs0.15 to close at Rs1.48. It was followed by Cnergyico PK with 11.6 million shares, gaining Rs0.11 to close at Rs4.75 and TRG Pakistan with 8.2 million shares, gaining Rs8.2 to close at Rs118.07. Foreign investors were net sellers of Rs42.8 million worth of shares during the trading session, according to data compiled by the National Clearing Company of Pakistan.
COMMENTS
Comments are moderated and generally will be posted if they are on-topic and not abusive.
For more information, please see our Comments FAQ