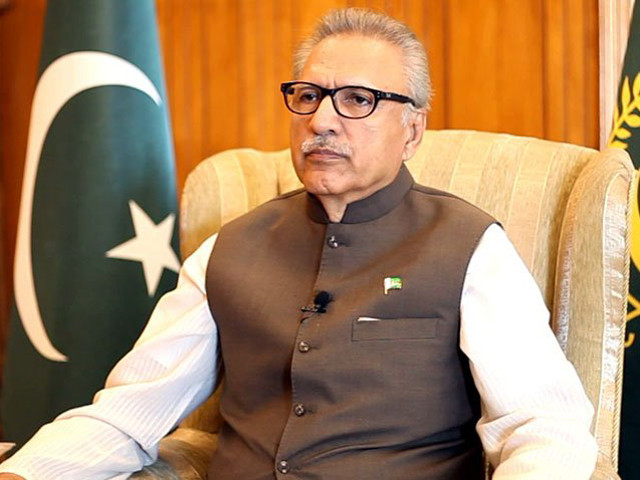 ---
ISLAMABAD:
Federal ministers on Thursday said they had boycotted President Arif Alvi's address to the joint session of parliament as he had abrogated the Constitution and a case under Article-6 should be filed against him.
In a landmark unanimous ruling, the Supreme Court on April 7 this year set aside then National Assembly deputy speaker's ruling to dismiss the no-trust resolution against then prime minister Imran Khan and the subsequent dissolution of the lower house of parliament by President Alvi on the premier's advice.
The apex court ruled that President Alvi's decision to dissolve the National Assembly was "contrary to the Constitution and the law and of no legal effect".
It noted that the prime minister could not have advised the president to dissolve the assembly as he continued to remain under the bar imposed under Clause (1) of Article-58 of the Constitution.
Talking to the media after boycotting the speech, Interior Minister Rana Sanaullah said the president had displayed his loyalty towards one party more than the State.
Read more: Only free and fair election can end political polarisation: Alvi
"That is why we left without listening to his address," he added.
The minister maintained that Alvi had taken unconstitutional measures.
"He did not discharge his responsibilities well as a constitutional head," he claimed.
Sanaullah said Prime Minister Shehbaz Sharif also had not arrived to listen to the president's address to the joint session as Alvi had abrogated the Constitution.
"The president is supposed to be a pillar of the State but instead he violated the Constitution," he added.
The minister demanded that courts should try and punish Alvi under Article-6.
"The courts already know all about it," he remarked.
Speaking on the occasion, Defence Minister Khawaja Asif said a person who had dissolved the assembly should be ashamed of himself.
"He [president] returns summaries and doesn't administer oath to MNAs, but still comes to the House to deliver a speech," the minister added.
Asif further said Alvi was like his leader, PTI Chairman Imran Khan.
Opposition MNA Saira Bano said she condemned the government's attitude during the president's address.
"Parties which are constantly ranting about democracy insulted a guest who had arrived at their home," she added.
Bano claimed that the only reason the president was invited to address the joint sitting was because the new parliamentary year did not start without fulfilling this constitutional duty.
She added that Alvi had not said anything in his speech that would have offended the government.
The opposition MNA said the government was setting a bad precedent.
COMMENTS
Comments are moderated and generally will be posted if they are on-topic and not abusive.
For more information, please see our Comments FAQ