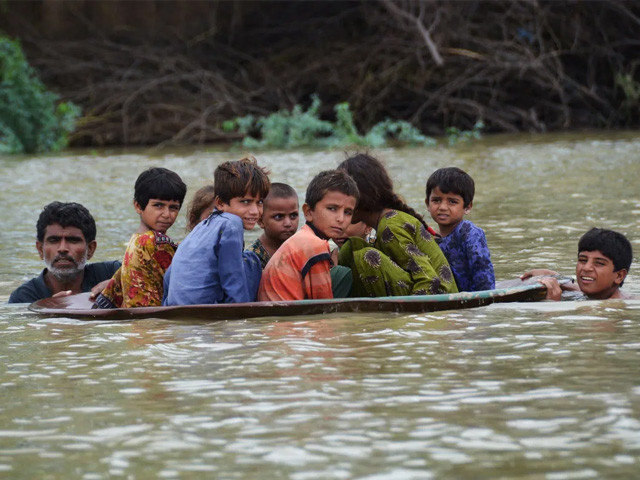 ---
PESHAWAR/ KARACHI/ LAHORE:
In the monsoon flood hit areas where the water level has receded rehabilitation efforts are underway; with a particular focus on providing shelter to those currently living in tent settlements. However, little has been said about the thousands of schools that were ravaged and the millions of children who will now be deprived of an education.
Public schools across the country have been in a precarious position for a while now with some devoid of teachers and electricity and others missing boundary walls and toilets. Now with the floods taking everything in their wake, government schools face an uncertain future. According to data obtained by the Express Tribune from the Department of School Education Sindh, out of 49,446 government school buildings 29,278 have been affected by the flood - 15,800 buildings are partially damaged and 13,478 buildings have been completely destroyed.
In Punjab, albeit the numbers are not as harrowing as Sindh, the provincial education department informed that more than 1,000 schools have been devastated. Whereas, in Khyber Pakhtunkhwa (K-P), educational institutions in the southern district have been the worst affected with 1,378 schools currently damaged out of which 90 have been completely destroyed, as per the province's education department. Director of Schools, Karachi, Farnaz Riaz, when asked about the destruction in Sindh, informed that presently the engineers of the provincial Department of Works and Services were estimating the costs that the restoration and reconstruction process of schools would cost.
"Separate funds will be sought from the federal government once we have made the estimates," Riaz informed. While Riaz did not give a timeline on when the reconstruction work will actually start, Abuzar Manjotha, a local citizen of Taunsa, Punjab, believes that the provincial government will take its sweet time. "Most of the public schools in Southern Punjab are still inundated with water. It is hard to imagine that our children will be going to get an education anytime soon."Provincial Minister for School Education, Murad Raas, disagrees with Manjotha's assessment. "All the district education authorities have been instructed to repair the flood-affected schools in their respective areas and submit a report."
As per Raas, restoration work is already underway on 500 schools. However, sources from the Provincial Disaster Management Authority (PDMA) informed that they were still estimating the extent of the damage caused to educational institutions. On the other hand, in K-P, representatives of the provincial directorate for education are of the opinion that although schools were damaged and many cannot be utilised in the near future, alternative methods of schooling will be used.
"There is no doubt that schools in districts like Tank and Dera Ismail Khan suffered the most, however classes will continue by accommodating students in nearby schools. The government is also looking to rent temporary buildings for schools," explained Director Education, Hafiz Muhammad Ibrahim. However, like in Sindh and Punjab, K-P too was currently working on estimating the true extent of the damages and actual numbers of schools destroyed, as per Ibrahim. "The situation is relatively better in upper and central K-P districts. However, districts Nowshera and Dera Ismail Khan are still busy collecting data regarding losses," Ibrahim said while talking to the Express Tribune.
COMMENTS
Comments are moderated and generally will be posted if they are on-topic and not abusive.
For more information, please see our Comments FAQ