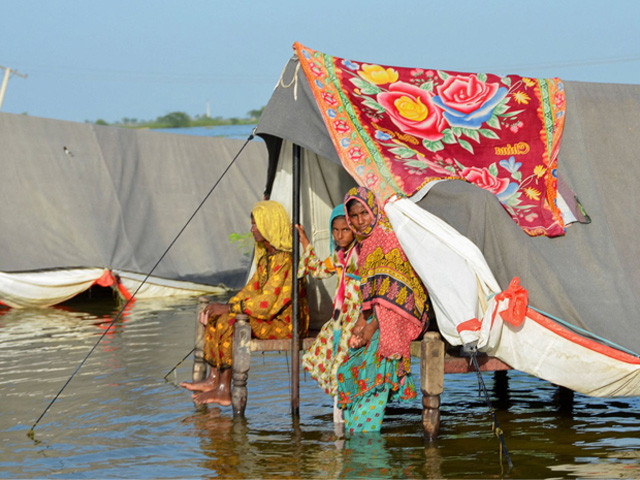 ---
KARACHI:
As allegations of political meddling in data pertaining to relief and rehabilitation efforts have started flowing in, the exercise has been handed over to local bureaucracy but flood affectees feel that in this governmental back and forth they are being deprived of assistance.
According to a recent notification issued by Sindh's relief department, a fresh collection of data regarding the extent of losses suffered in the flood has been ordered and this time around it has been decided to form committees at the Union Council level in a meeting held under Chief Secretary of the province. Furthermore, only government servants of the respective areas, Superintendent of Police (SP) of the respective district, representatives of Pakistan Army, representatives of SPARCO, and representatives of Federal and Provincial Disaster Management Authorities (NDMA and PDMA) will be a part of the committees.
However, those who have been eagerly waiting for the rehabilitation drive to start think that new data being collected will only add to their misery. Mohammad Yasin Zehrani, a resident of Ghulam Ali Zehrani village of Larkana district, said that he does not have a roof over his head due to the flooding and "now I will have to wait more until someone comes along asking for details."
The new survey, as per a proforma released by NDMA, will aim to collect fresh data of flood damage, in which separate information will be recorded for each person affected by the flood. The damage to houses, shops, animals, and crops will be recorded separately in the proforma and the details of dead and injured will also be re-entered.
Tahir Munir Brohi, a social activist from Larkana district, expressed his doubts about the timeliness of the collection of data for the proforma and informed that no one had been to their area to conduct a survey of the damages yet.
The sentiment is the same some 90 kilometres away from Larkana in Sukkur. Rehmatullah Buriro, a political and social activist from the area, told the Express Tribune that a fresh data collection would do little good as everything will eventually go back in the hands of the ruling party.
Spokesperson of Chief Minister House Sindh, Abdul Rasheed Channa, when asked about the distortion of flood related data and the new survey delaying relief efforts, said that so far the data on the flood damage in the province received by the Chief Minister House was preliminary. "The purpose of the new survey again is to collect verified data but the relief and rehabilitation process in the province will not be affected due to the new survey, this work will continue according to the data already received," Channa informed The Express Tribune.
Published in The Express Tribune, October 6th, 2022.
COMMENTS
Comments are moderated and generally will be posted if they are on-topic and not abusive.
For more information, please see our Comments FAQ