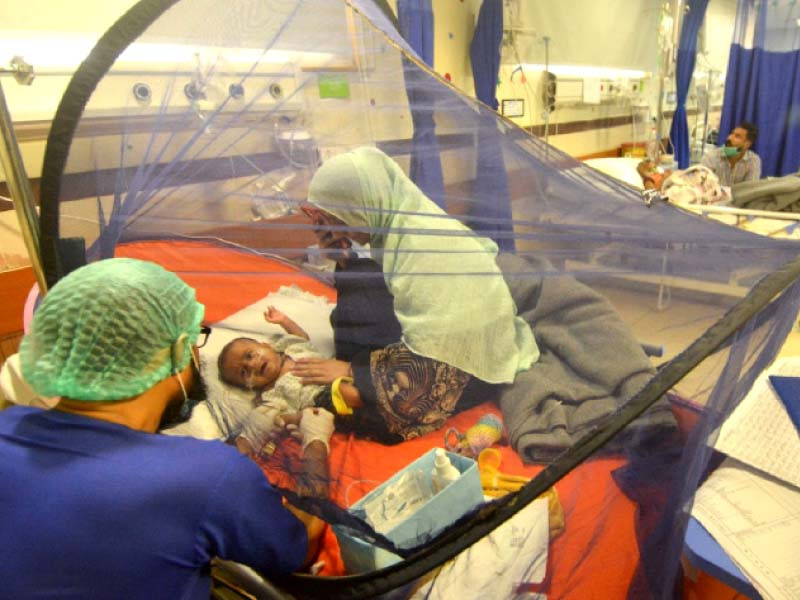 ---
QUETTA:
Flood victims have been in the grip of a variety of mosquito and waterborne diseases as Balochistan has reported over 4,000 dengue cases over the past five months.
These diseases are killing more people than floods across the province.
Most of the cases were reported from the Lasbela, Kech, Gwadar, and Panjgur districts of Balochistan.
During the last couple of days, around 250 dengue cases have been reported from different parts of Balochistan, a health official revealed.
Dengue cases are increasing in the province at an alarming pace which has compounded the problems of the flood-stricken people, already reeling under homelessness, shortage of food, and multiple diseases – malaria, cholera and skin infections.
Balochistan, like the rest of the country, received unusually heavy rainfall this monsoon due to climate change which on the one hand ended the decade-long drought but also left a trail of destruction in its wake.
Most areas of the province were flooded and the stagnant floodwater provided a large surface area for mosquitoes to breed.
This resulted in the outbreak of different pandemic diseases such as dengue and malaria.
Officials said in the postflood scenario, multiple infections are now killing more people than were devoured by floods.
"The Balochistan government must ensure availability of medicines and testing kits in these areas to help overcome the situation, Dr Shireen Khan, a well-known medical professional stated.
The Chief Secretary Balochistan, Abdul Aziz Uqaili also directed the authorities to conduct fog sprays in the affected areas in order to stop the spread of dengue and malaria.
The floods damaged more than 700 Basic Health Units (BHU) in the flood-ravaged districts of Balochistan.
Of these 700 BHUs, only a few are functional.
The provincial government should restore these BHUs on an emergency basis so that the patients can get timely treatment, he said.
"We are referring most of the patients to Quetta and other large cities of Pakistan, because of lack of beds at the few remaining BHUs," a health official maintained.
Statistics shared by the Health Department of Balochistan indicate that 93 dengue cases were reported from Kech and 49 from Panjgur.
After these cases, 177 people were found dengue positive in only three days, indicating rapid spread of the infection due to lack of safety measures and awareness.
Deaths from malaria and dengue are continuously reported in different areas of Balochistan, a health specialist stated.
"Dengue and malaria seem to have supplemented Covid-19 in Balochistan and Sindh," he added.
Dengue is a common disease in Balochistan and Sindh after the monsoon rains, but the government seems to be not ready to deal with it which has become almost an annual occurrence.
"When things get out of control, then they turn to fire-fighting," the Secretary General of the Pakistan Medical Association lamented
COMMENTS
Comments are moderated and generally will be posted if they are on-topic and not abusive.
For more information, please see our Comments FAQ