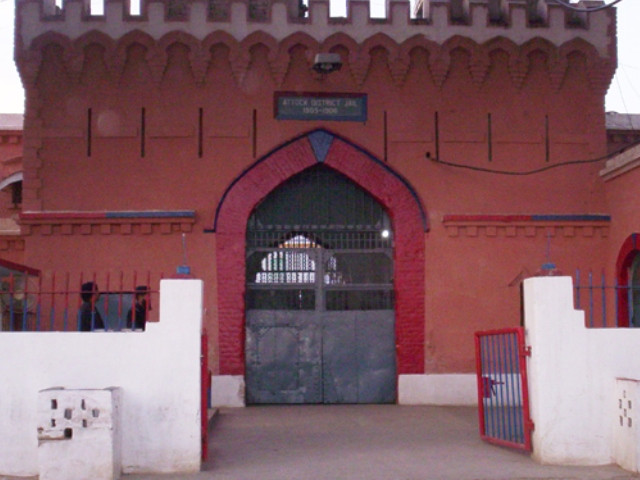 ---
ATTOCK:
A number of crimes at the District Jail Attock have come to the forefront after a report was released by the Provincial Intelligence Centre of the Punjab Home Department on Tuesday.
According to the Express News, the report - which came out days after the one regarding the Central Jail Adiala - highlighted a number of crimes, including harassment of women who were visiting the facility, as well as incidents of bribery.
It further brought to light how imprisoned drug dealers in cells use female visitors for their drug supply. According to the report, drugs are ordered through the prison canteen and are then delivered by prison officials.
It furthered that the drug trafficking system in place is so "powerful" that it operates without any fear and has all kinds of drugs readily available at high prices.
Moreover, the report revealed that bribery is also a common practice at the jail's dining hall where about 100 prisoners are posted but 70 out of those pay a monthly bribe of Rs5,000 each to relieve themselves of their duties while allowing poorer inmates to replace them.
One official is said to have changed his duties after refusing to accept bribes.
Read Probe finds Adiala jail rife with corruption
Apart from that, the report revealed that the jail provides only a handful of medicines and if the need arises for more, they are ordered through a doctor outside of the facility, making it harder for poorer prisoners to afford.
Furthermore, while the days for visitors are specified, officials at the station permit some to visit any day with bribes ranging from Rs500 to Rs2,000, depending on the status of the visitor.
More affluent visitors are allowed to have in-person meetings in the deputy superintendent's room with a bribe of up to Rs10,000.
The intelligence body also highlighted how common prisoners are provided food according to the prison manual. However, they are given an option of ordering their food of choice from outside, with an added payment of Rs1,000 for breakfast, Rs5,000 for chicken karahi and Rs10,000 for mutton karahi.
Read More IHC CJ visits Adiala Jail over reports of violations
One of the inmates, convicted of a drug case, is also reported to be paying a monthly bribe of Rs50,000 to avoid wearing the prison uniform while also availing other facilities.
The report also revealed that one of the police officers, involved in a murder case, has been benefiting from the facility as well by paying Rs30,000 per month.
Owing to repeated incarceration of inmates with drug records, the report states some have started considering the jail their second home with a number of contacts developed inside the facility.
The Provincial Intelligence Centre recommended a high-level inquiry in the district jail, while also calling for female prison staffers to supervise all women visitors.
COMMENTS
Comments are moderated and generally will be posted if they are on-topic and not abusive.
For more information, please see our Comments FAQ