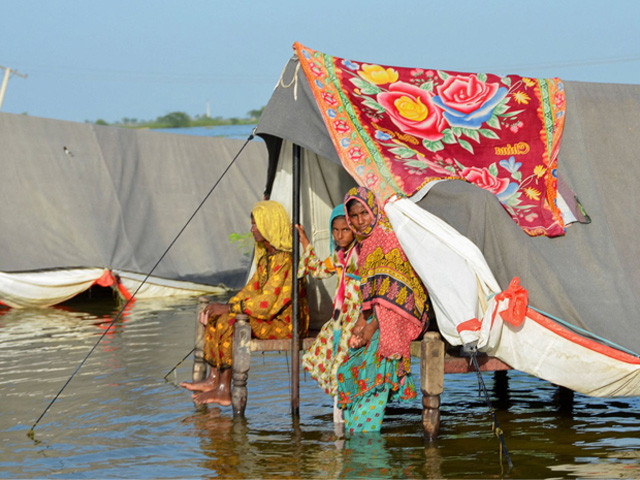 ---
KAMBER SHAHDADKOT:
Thousands of forlorn, forsaken and shelter-less souls in the flood-ravaged Sindh, where hunger and disease are now stalking them, were taken aback by a provincial government announcement that it would be initiating a multibillion-rupees project to rebuild their houses.
"How can the government rebuild our houses and offer incentives to growers for the upcoming Rabi crop when no official has visited our areas to assess the losses," wondered Abdul Malik, a resident of Thorhi Bijar village, UC Bohar, in Kamber Tehsil while speaking to The Express Tribune.
He was speaking a day after the Sindh government decided to launch the Rs110 billion housing project with the financial assistance of World Bank and to also provide incentives to growers.
He feared that the funds to be provided by the World Bank would meet the same fate as the "hundreds of thousands of food packages and tents" that the government claims it has distributed among the flood victims.
During a survey of different tehsils of Kamber, The Express Tribune found that almost all the victims had the same story to tell.
"We're three siblings and all of us live in a tent provided by a philanthropist after the heavy rains wrecked our mud-houses," said Ikramul Haq, a government schoolteacher.
"We are told that the Sindh government has constituted committees at a lower level for damage assessment, but we don't know when they will visit us," he added.
A month ago, the provincial government formed district level committees under the supervision of deputy commissioners which were to have representatives from Corps-V, Engineering Corps, local government, Provincial Disaster Management Authority and elected representatives of the area, but the performance of these committees leaves much to be desired.
Since government officials were nowhere to be found, a crowd of flood victims donning turbans and traditional Sindhi caps was available at the office of Warrah tehsil's Mukhtiarkar for lodging complaints about their loss.
"We've also taken photos of the debris of our houses and want to submit them with an application. My family has lost paddy crop on 70 acres of land and seven cattle," said an elderly man, Ali Khan Channa.
"Since morning we have been waiting for Mukhtiarkar sahab to record our complaints, but he is busy in a meeting."
According to the latest figures released by the PDMA, a total of 1.81 million houses have been damaged or destroyed by the rains with 759 deaths in Sindh.
Similarly, standing crops on as many as 3.7 million acres of land have been affected and around 434,238 cattle have perished.
"A population of 11,989,889, including 2,289,194 families, has been affected by the rains that triggered floods," the reports stated, adding that 7,325,575 people have been displaced.
Of them, 357,855 people live in the camps set up in various districts of the province.
Reports pouring in from Dadu, Jamshoro, Sanghar, Badin, Mirpurkhas suggest that many flood victims have taken to the streets against the provincial government's failure to provide them relief and start a rehabilitation process in their areas.
"We have heard that the World Bank has agreed to provide $323 million, so that growers could reclaim their lands from the floodwater and sow the upcoming Rabi crop.
The government's claims of damage assessment are mere eyewash as no official has so far visited our areas to conduct proper surveys.
It appears the funds disbursement would be done only in government documents," Sindh Chamber of Agriculture Senior Vice President Nabi Bux Sahito said, adding that Sindh has lost 35,000 acres of chili crop and more than million acres of cotton in different districts.
A spokesperson for the Chief Minister House said that a losses assessment survey has been underway in various districts, but surveyors have not approached the areas which are still flooded.
"The Rs110 billion housing project will be executed with World Bank assistance under the supervision of the provincial chief secretary.
The government will ensure that all the flood victims are given incentives on merit," he said, adding that damaged houses would be built, and public and private sector would start construction of houses.
"The crop incentives, especially free seeds, will be provided to growers in Rabi season," he said, adding that a criterion for this would be announced soon.
Commenting on the housing project, Haleem Adil Shaikh, Leader of the Opposition in the Sindh Assembly, said that the PPP government and its leaders would bungle the amount rather than offering incentives to the poor.
"Every day Sindh government ministers claim to have distributed thousands of ration bags and tents.
I want to ask why the flood victims are protesting in every nook and cranny of the province, if relief is provided to them," he said.
"Only people affiliated with the ruling party are getting flood relief," he said, adding that PPP MPAs, MNAs and union councils chairman are busy minting money even in this catastrophe.
"A major chunk of the amount is likely to be embezzled and only those people will be provided houses or other relief who are either PPP workers or its voters," he said.
COMMENTS
Comments are moderated and generally will be posted if they are on-topic and not abusive.
For more information, please see our Comments FAQ