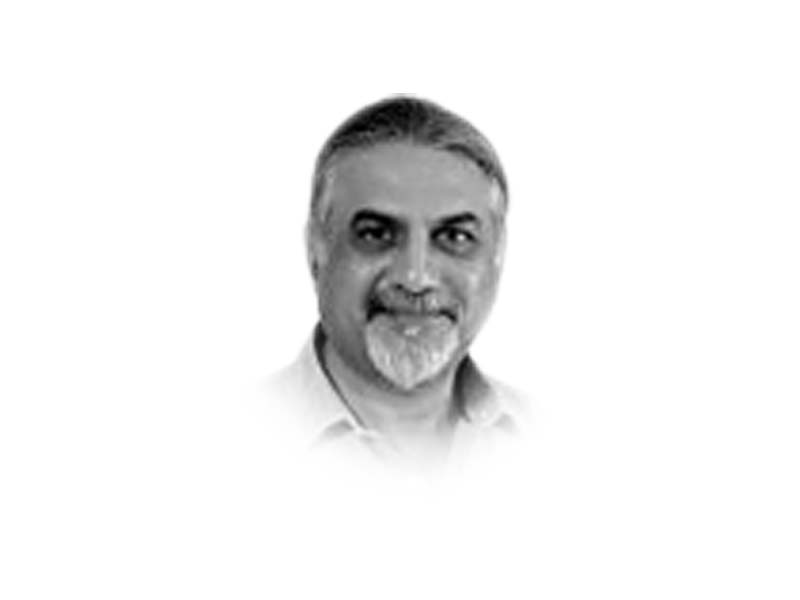 ---
A ceremony related to the 73rd anniversary of the founding of People's Republic of China was held at a Karachi hotel on 29 Sept 2022. Presiding over by the ceremony, Chinese Consul General in Karachi Mr Li Bijian addressed many issues but what caught my attention was his candid explanation about how the western propaganda about the Chinese Xinxiang province is factually incorrect.
A few facts he shared included: the population of the province has risen from 2.2 million in 1962 to 12 million in 2022; the GDP of the province in the same period has grown 30 times; life expectancy has grown from 32 years to 74.7 years; number of mosques has increased to 24,400 which means every 530 residents have one mosque to themselves and the number of mosques in Xinxiang province are twice more than all the mosques combined in the US, Germany and Japan; and 70% of the work being done in Xinxiang is with machines.
Basing on these facts the inference he drew for Xinxiang was that there is no people's displacement, there is economic growth, better health, religious freedom and no forced labour. Is Xinxiang China's Achilles heel? What are the Chinese geopolitical insecurities concerning this province and shouldn't we make an effort to understand them?
Sir Halford Mackinder (1861– 1947) was an English academic, geographer and a politician and is most famous for his Heartland Theory which states, "Who rules East Europe commands the Heartland; who rules the Heartland commands the World-Island (Europe, Arab Peninsula, Africa, South and East Asia); who rules the World-Island commands the world." Mackinder believed that the pivot area of the Heartland is roughly Central Asia from where horsemen spread out and dominated both Asian and European continents.
The Xinxiang province brings China closet to Central Asia and because western propaganda about China's mistreatment of its Uighur population is so intense, one hardly ever gets to read the geopolitical insecurities this province creates for China. Like any sovereign country China retains its right to address its security challenges in a manner it finds most suitable. A good strategy always bridges the gap between desire and possibility and China's desire to have a secure and peaceful homeland will only be possible if it maintains peace and security in its strategically most important province — Xinxiang.
The strategic importance of Xinxiang is that it borders eight countries and buffers the heartland for China. Geopolitically, buffer zones have always held great strategic significance for the land powers. President Vladimir Putin's choice of making the ultimate decision of even waging a war on Ukraine is also an attempt to prevent EU and NATO from slowly eating the Russian — a reality unacceptable to Russia. Ukraine was termed Russia's red line and what Russia is doing now is defending that buffer. If the Russian and the Chinese geopolitical insecurities are properly understood, then one can hardly criticise the consequent actions that both these great land powers undertake to secure themselves. The western propaganda led by the US is a classic case of the pot calling the kettle black. The increased presence of NATO in the Heartland and the US grand strategy of pivoting to Asia Pacific and calling China and Russia the greatest geopolitical threats of 21st century merit a strategic response by these great land powers. One must never forget the undisputed security leverage that the US enjoys by having the Pacific on the one side and the Atlantic on the other. If the US also had land connectivity with other countries, then not only its geopolitical securities would have been similar to those of China and Russia but its strategic responses to the border threats it faced would also have been quite similar.
China borders eight countries around the Xinxiang province which makes up for nearly a quarter of China's international border line and it is not only the length of the border but also the similarity of the demographic distribution of Xinxiang with the neighbouring countries that raises strategic security concerns for China. There are 22 million Muslims living is China which is 1.6% of China's total population; but in Xinxiang alone which has a population of 25.8 million, almost half the population i.e. 12 million people, are Muslims. China is the world's least religious country and according to a survey by WIN/Gallup International only 9% of the country considers itself religious while 67% claims to be atheist. A country that is predominantly atheist would find it extremely difficult to safeguard a Muslim-dominated province that is surrounded by countries where majority of population practises the same religion.
If we look at the demography of the countries that surround Xinxiang, we will find that 72% of 18 .7 million people living in Kazakhstan are Muslims, 90% of 6 million people living in Kyrgyzstan are Muslims, 90% of 8.7 million people living in Tajikistan are Muslims. Xinxiang also borders Pakistan and India to the southwest and both countries showcase a population of more than 200 million Muslims. Xinxiang also borders Tibet and Mongolia and it is famously remarked that Mongolia and Tibet's life and death is Chinas life and death. China cannot afford Mongolia and Tibet to break away from Chinese territory as Tibet serves as China's buffer zone with India, Nepal and Bangladesh while Mongolia with its extended border with Russia serves as a big buffer between China and Russia. Xinxiang also borders Russia which has 16 million Muslims constituting about 10% of Russia's population. Xinxiang also shares its border through the narrow Wakhan corridor with a politically very unstable and religiously very extremist Afghanistan.
Spawning of religious extremism is a great threat that China faces in Muslim-dominated Xinxiang province; and with such huge borders with countries having Muslim-dominated populations, China's policy towards these countries is more driven by security than economic concerns. Organisations like Al-Qaeda and ISIS have presence in some of the countries neighbouring Xinxiang that may forge linkages with Uighur separatists — something China would not want. Its other concern is the possibility of spillover of extremist militancy and proxies from these neighbouring countries.
China has consistently maintained a neutral position in all the ongoing crises in the world — from Ukraine to Yemen, Syria and even Iraq, as China's foreign policy is based on the principle of non-interference. It is important for the world to understand China's geopolitical necessity in how it manages its Xinxiang province and it stems from its realisation of providing foolproof and sustainable security to all its citizens and preventing any form of violence against them.
Geopolitically, it is the geographic component of geopolitics which must be clearly understood; only then one can understand the political component and China's interests and stakes in the way it is handling and managing its Xinxiang province. Externally China is constructor of peace, promoter of development, propeller of industrialisation and supporter of peace and stability; and Xinxiang aside, it continues to apply the similar external model to rebuild and restructure itself internally. Xinxiang as a province needs special handling and one cannot deny that to a rising power that seeks to achieve seamless homeland security.
Published in The Express Tribune, October 2nd, 2022.
Like Opinion & Editorial on Facebook, follow @ETOpEd on Twitter to receive all updates on all our daily pieces.
COMMENTS
Comments are moderated and generally will be posted if they are on-topic and not abusive.
For more information, please see our Comments FAQ