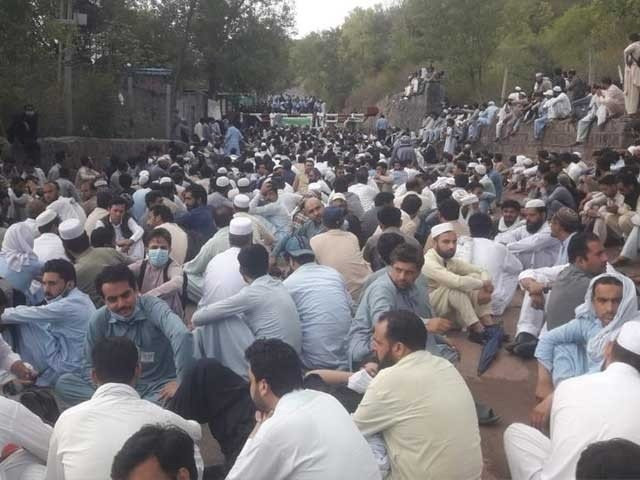 ---
ISLAMABAD:
As the farmers' sit-in in the federal capital's financial hub, Blue Area, continued for the second day on Thursday, it has added to the woes of commuters and travellers after the local administration and police placed barricades on several roads to divert intracity and intercity traffic.
The farmers' rally under the banner of the Pakistan Kissan Ittehad entered Islamabad via Grand Trunk Road on Wednesday after crossing multiple barriers and obstacles that were placed to block the rally. Later, the farmers staged a sit-in on a section of a road in Blue Area – the city's central business hub, which is situated merely a few kilometres away from the Red Zone.
The road blockade by the farmers along with large buses and trucks has played havoc with traffic in Islamabad, multiplying the miseries of commuters. Alternate traffic plans by the Islamabad Traffic Police have also failed to mitigate the suffering of commuters since almost all major link roads between the two cities remain clogged with traffic during peak hours. Sources said that negotiations with the farmers could not be started despite several attempts by the local administration.
The farmers are protesting against the high cost of electricity and fertilisers and they have threatened to march on D-Chowk, where important government installations are located, if their demands were not met immediately. The farmers, who have brought paraphernalia and big pans and jars with them to cook food, said that they will end their sit-in only on the firm assurances of the government.
The rally had entered Islamabad via Grand Trunk Road on Wednesday and staged a sit-in at Blue Area – the city's central business hub merely a few kilometres away from the Red Zone. The Islamabad Capital Territory Administration had also proposed an alternate venue for the sitin, however, the farmers rebuffed the government's proposal and blocked the main section of Blue Area. The farmers are demanding that the additional taxes included in electricity bills should be removed immediately and action should be taken against those selling fertiliser in the black market.
They have warned that if their demands were not met, they would march on the Red Zone and continue the sit-in. The farmer's protest poses a fresh challenge to the Pakistan Muslim League-Nawaz-led federal government that already has a mammoth task of tackling a fragile economy amidst widespread flood-devastation.
COMMENTS
Comments are moderated and generally will be posted if they are on-topic and not abusive.
For more information, please see our Comments FAQ