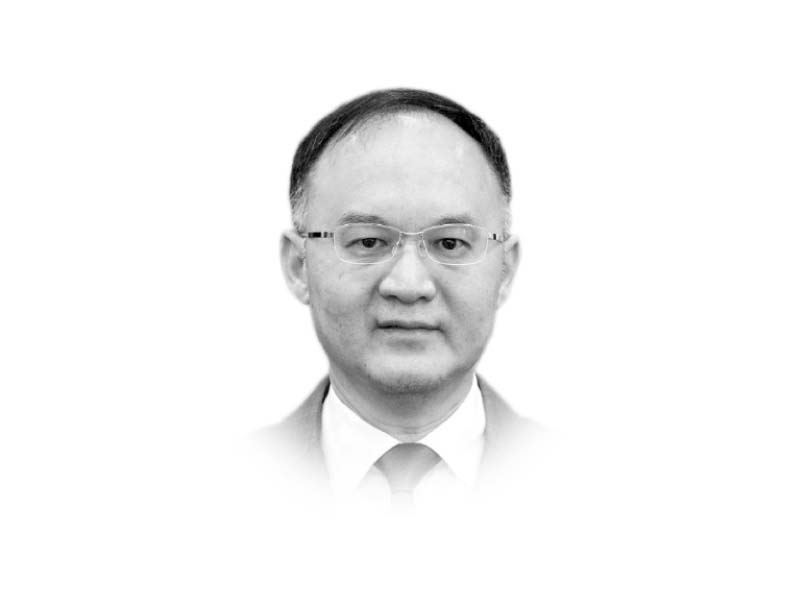 ---
Pakistan has been hit by historic floods, displacing more than 33 million people and causing huge loss of life, property and infrastructure. We share the plight of our brothers in Pakistan. The Chinese government and people are very concerned about the flood-relief work in Pakistan. Among the first ones to lend a helping hand, China has committed the biggest amount of assistance among all countries, totaling RMB 644 million ($90 million). This is another vivid portrayal of the "ironclad" friendship between China and Pakistan. On hearing the floods situation, President Xi Jinping and Premier Li Keqiang immediately sent condolences to President Dr Arif Alvi and Prime Minister Shehbaz Sharif respectively.
The Chinese government has announced RMB 400 million in emergency aid, of which 13,000 tents, 10,000 blankets have already been airlifted to Pakistan. The Chinese military adds another RMB 100 million in aid. Over 10,000 food packages have been distributed by the Communist Party of China through party to party channels. The Red Cross Society of China has provided urgent assistance of $300,000 in cash. The Chinese People's Association for Friendship with Foreign Countries has raised cash and relief materials with a total of RMB 125 million, including contribution from sister provinces, enterprises, institutions and individuals. The emergency account for flood relief opened by Pakistan's Embassy in China received RMB 17 million from the Chinese people within these days. I personally flew to Karachi to receive the first batch of tents on August 30. My colleagues and I were quite fulfilled, after intense work, to see the Chinese Air Force's Transport-20 aircraft, carrying humanitarian supplies, land in Pakistan.
Pakistan government's representative, Minister for Power, Mr Khurrum Dastgir, shook my hand and expressed his gratitude, saying that China was among the first countries to airlift assistance to Pakistan. Later, I went to Balochistan to deliver food packages, which was widely welcomed by local people. Meanwhile, the Chinese enterprises and overseas Chinese in Pakistan have been actively donating money and materials since August. Some engineering companies took the initiative to help repair roads and bridges in affected areas. The series of assistance from all walks of life in China have shown the love coming from the hearts of the Chinese people, and reflects the profound friendship between our two countries, injecting strong momentum into the relief efforts. Prime Minister Shehbaz Sharif expressed his gratitude to China on many occasions, saying, "China has provided a lot of support and assistance to Pakistan in flood relief at a difficult time, which has greatly boosted the morale of the Pakistani people. This is the embodiment of the unique bond of friendship between China and Pakistan." NDMA Chairman Lt Gen Akhtar Nawaz commented: "China's act of helping out in distress has further elevated the friendship between China and Pakistan." In times of trouble, true love is seen. We will not forget when the 2008 Wenchuan earthquake hit China, the Pakistani brothers took out the last tents in its inventory and sent them to the disaster-hit area in China by military aircraft at the first opportunity.
After the earthquake in Luding, Sichuan recently, China received the first condolences from Pakistani leaders. It is in face of such trials and tribulations that the hardcore friendship between the two countries has endured and grown from strengthen to strength. History and reality have proved that China-Pakistan relations did not develop in a day, nor were they bestowed by others, but were built over a long period of time, with both sides sharing the same hardship and suffering, step by step. China will continue to stand with Pakistan in disaster prevention and control, early warning and monitoring, and post-disaster reconstruction. China is also committed to financial and economic cooperation with Pakistan for its economic stability and prosperity. China will move forward with Pakistan hand in hand, striving to assist Pakistan win the victory in flood relief and making unremitting efforts to build a closer community of shared future between China and Pakistan!
COMMENTS
Comments are moderated and generally will be posted if they are on-topic and not abusive.
For more information, please see our Comments FAQ