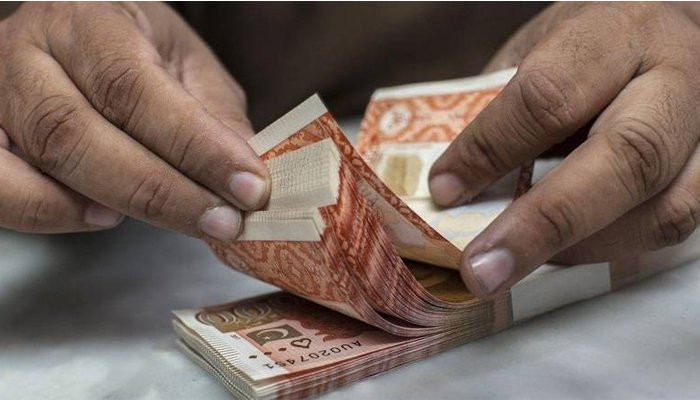 ---
KARACHI:
The Pakistani rupee continued its uptrend for the fourth consecutive working day, gaining a fresh Rs1.55 to a new two-week high of Rs232.36 against the US dollar around midday on Wednesday.
"The rupee was artificially devalued (in the recent past)," newly appointed Finance Minister Ishaq Dar said during his first brief interaction with the media on his return to Pakistan the other day.
"The rupee is undervalued" he reiterated again on Wednesday.
With the latest recovery of Rs1.55, the domestic currency has regained Rs7.35 in the past four successive working days.
Earlier, it had dropped by around 12% (Rs 25) in 15 consecutive working days till last week to a low of Rs239.71.
The latest increase in the rupee's value is observed after a fresh cut in international petroleum oil prices. Crude oil hit a new nine-month low at $77 per barrel compared to $116 per barrel in June 2022.
Read Rupee bounces back on news of Dar's return
Pakistan heavily relies on imported energy. The reduction in oil prices would pave the way for a significant decrease in its import bill.
Financial experts have linked the ongoing recovery of the rupee with the return of Dar to Pakistan after five years in self-exile. The minister is known for protecting the local currency against the greenback.
Some experts, however, anticipate the ongoing recovery to remain short-lived considering the global strengthening of the US dollar, critically low foreign exchange reserves and a high foreign debt repayment challenge.
The reopening of imports from under administrative control and additional import of cotton and wheat in light of the recent floods may negatively impact the rupee.
COMMENTS
Comments are moderated and generally will be posted if they are on-topic and not abusive.
For more information, please see our Comments FAQ