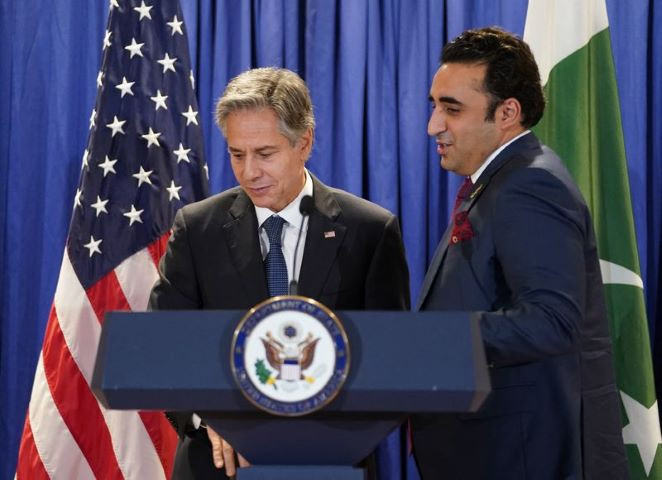 ---
ISLAMABAD:
Pakistan on Tuesday was caught in a diplomatic spat between the US and China as the latter reacted sharply to a suggestion of debt relief over devastating floods which have submerged one-third of the country.
US Secretary of State Antony Blinken called Islamabad to seek debt relief from its close partner Beijing.
"We send a simple message. We are here for Pakistan, just as we were during past natural disasters, looking ahead to rebuild," Blinken said after talks in Washington with Foreign Minister Bilawal Bhutto Zardari.
"I also urged our colleagues to engage China on some of the important issues of debt relief and restructuring so that Pakistan can more quickly recover from the floods," he added.
Chinese Foreign Ministry Spokesperson Wang Wenbin called out the US for "passing unwarranted criticism against Pakistan-China cooperation" and urged it to do something "real and beneficial" for the people of Pakistan.
In a weekly briefing on Tuesday, Wang said since the floods hit the country, China had rushed to Pakistan's aid as it was a "genuine friend and brother in times of need".
"The Chinese government has provided 400 million RMB worth of humanitarian assistance and China's civil society has also lent a helping hand.
"We will continue to do our utmost to help the Pakistani people overcome the floods and rebuild their homes at an early date," he said.
"China and Pakistan have had fruitful economic and financial cooperation. The Pakistani people know it best. Instead of passing unwarranted criticism against China-Pakistan cooperation, the US side might as well do something real and beneficial for the people of Pakistan," the spokesperson added.
China is a key economic and political partner of Pakistan, pushing ahead with a $54 billion "economic corridor".
Washington has repeatedly charged that China will reap the benefits while Pakistan will face unsustainable debt.
The warnings by the United States -- which considers China its preeminent global competitor -- have repeatedly been brushed aside by Pakistan.
The United States has committed $56 million in humanitarian aid and sent 17 planes full of supplies, with promises of long-term support.
Meanwhile, Bilawal took a dig at the powerful countries for only doing lip service to the climate issues as he expressed frustration over the absence of international financial infrastructure to provide immediate relief to Pakistan when it was drowning.
Delivering a talk at a think tank in Washington, the foreign minister also urged the United States and China to set aside their rivalry to fight against climate change.
"We have heard time and time again. 100 billion dollars annual commitment to fight climate change. Guess what when the country is drowning in a 100km lake and you find out there is no money. There is no international financial infrastructure to deal with the calamity of this scale," Bilawal said, warning that climate change was posing an existential threat to the world.
He called the powerful countries as 'big polluters' rueing the fact that they lectured on "climate change and green energy" while at the same continued to engage in conflicts.
He mentioned how US-China rivalry continued when the world confronted the Covid-19 pandemic.
"It would have been incredibly inspirational if we had seen the President of the United States stands with the President of China and announce how we as human race would defeat this existential threat," he said.
"Unfortunately, we have arguments over whether it was the Wuhan virus or the China virus and we suffered as a result and are still suffering as a result," he regretted, urging the big powers to shun their differences and work for the united cause.
"This is the time for unity. This is the time for multilateralism. This is not the time for war."
"Pakistan's message is it is us today, it could be anybody else tomorrow," he said.
Bilawal said that President Joe Biden, who signed a landmark domestic climate package last month, also needed to look at "climate justice."
"It's not only important that you 'build back better' here," he said, using Biden's campaign slogan.
"The opportunity of this crisis in Pakistan is that we must build back better – greener, more climate-resilient – back home as well," he said.
"I believe that by working together we can do this."
Pakistan, despite being the fifth most populous country, contributes only about 0.8% of greenhouse gas emissions blamed for climate change due to its state of development.
The US relationship with Pakistan sharply deteriorated over the course of the two-decade war in Afghanistan.
Blinken defends Pakistan arms sales
US Secretary of State Antony Blinken on Tuesday defended military sales to Pakistan after withering criticism from growing US partner India, which considers itself the target of Islamabad's F-16 planes.
Blinken met in Washington with India's foreign minister a day after separate talks with his counterpart from Pakistan, whose Cold War alliance with Washington has frayed over Islamabad's relationship with Afghanistan's Taliban.
The top US diplomat defended a $450 million F-16 deal for Pakistan approved earlier in September, saying the package was for maintenance of Pakistan's existing fleet.
"These are not new planes, new systems, new weapons. It's sustaining what they have," Blinken told a news conference with his Indian counterpart, Subrahmanyam Jaishankar.
"Pakistan's programme bolsters its capability to deal with terrorist threats emanating from Pakistan or from the region. It's in no one's interests that those threats be able to go forward with impunity," Blinken said.
Jaishankar did not criticise Blinken in public. But on Sunday, speaking at a reception for the Indian community in the United States, Jaishankar said of the US position, "You're not fooling anybody."
"For someone to say, I'm doing this because it's for counter-terrorism, when you're talking of an aircraft like the capability of the F-16, everybody knows where they are deployed," he said, referring to the fleet's positioning against India.
"Very honestly, it's a relationship that has neither ended up serving Pakistan well nor serving American interests well," he said.
Besides floods, the two sides discussed the bilateral relationship as well as other regional and international issues. Blinken, according to the State Department readout, said he urged his Pakistani counterpart for a manageable relationship with India.
When asked whether he was schooled by Blinken on ties with India, Bilawal dismissed it outright.
He said he had the "most pleasant' conversation with the secretary of state adding Pakistan did want a manageable relationship with India. However, he added the current government under Prime Minister Modi was the real problem.
He referred to the fact that he was banned from the United States over allegations of committing a massacre in Gujarat when he was the chief minister.
Also, the Foreign Office in a statement termed the Indian External Affairs statement unwarranted.
The statement said Pakistan has a longstanding and broad-based relationship with the United States, which has been vital in promoting peace, security and stability in the region.
"In recent months Pakistan-US relations have become robust and multidimensional, further deepening people-to-people and bilateral ties. Both countries are constructively engaged to maintain regional peace and security," the statement noted.
"India is strongly urged to respect basic norms of inter-state relations and refrain from commenting on the bilateral ties between the US and Pakistan. India also needs serious introspection of its diplomatic conduct," it added.
State Department Spokesman Ned Price told his daily press briefing that both South Asian nations (Pakistan and India) are "our partners".
"We don't view our relationship with Pakistan, and on the other hand, we don't view our relationship with India as in relation to one another," he said.
"These are both partners of ours with different points of emphasis in each," he said, amid warming US-Pakistan relations.
Price also alluded to Blinken statement reaffirming the US commitment to the people of Pakistan, announcing the additional $10 million as food security assistance to the already announced $56.5 million in flood relief and humanitarian assistance.
(With input from Agencies)
COMMENTS
Comments are moderated and generally will be posted if they are on-topic and not abusive.
For more information, please see our Comments FAQ