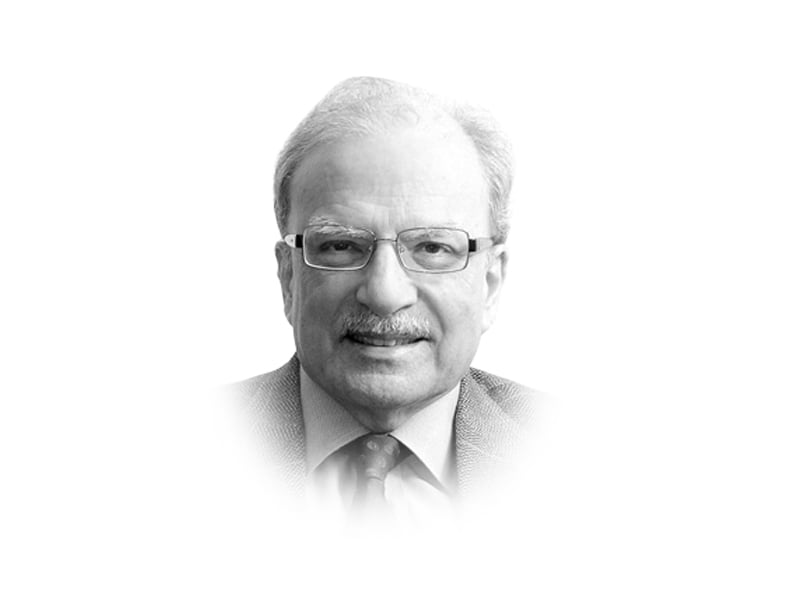 ---
While those in power are deeply engaged in politics, worrying about their own job security, they show little concern and even less knowledge about another danger to the country they govern. Experts have known for a while that Pakistan is one of the countries that is going to be most affected by global climate change.
Over the years I have had several discussions with the people in positions of power and was surprised at both their lack of knowledge of what is likely to happen if the governments failed to take action to protect the citizens and the land on which they live. By now it is clear that some of what is happening in Pakistan and some of what is likely to happen in the future is the result of global warming. Rise in air temperature makes it possible to carry more water than usual, and the faster melting of the glaciers from which the rivers of the Indus system draw most of their water is resulting in floods.
For every degree of warmer temperature, the air can hold about 4% more water, leading to torrential rainfall. Four heatwaves came immediately after the winter of 2021 in what was a winter without spring. For several months every summer, Pakistan, like several other countries in South Asia, struggled to contend with heavy monsoon rains but in recent years experts say global climate change is accelerating existing weather patterns. 'Apocalyptic'.
'Unprecedented'. 'A monsoon on steroids'. These were the descriptions used by officials in Pakistan to describe the situation their country faced after heavy rains this summer. Pakistan experienced about four times more rainfall than the 30-year average. Rainfall picked up even more as monsoon season began in July 2022 which became the wettest on record since 1961. The country had eight rounds of rain in the monsoon of 2022, about double the normal amount. Karachi, the country's largest city, usually sees less than 10 inches of rainfall per year.
By the end of August, it had recorded 48 inches. Monsoons rains are normally welcome in the country since they bring some relief to the high summer temperature and also bring water to the parched land. Important part of produce of land depends on timely rains. However, what is welcome most summers can also bring devastation as happened in the summer of 2022. By the end of August 2022, floods brought by eight consecutive weeks of heavy rainfall had killed 1,300 people, affected more than 33 million residents (about 13% of the population), and destroyed 2,200 miles of roads.
Nearly half a million people were living in displacement camps, and many others had no place to go. The World Health Organization said on August 31 that 888 health facilities had been destroyed and more would be affected if water levels didn't recede. Officials warned that the disaster could lead to an increase in disease and malnutrition; and standing water could act as breeding sites for mosquitoes carrying dengue fever and malaria.
The devastating rains and floods in 2022 in Pakistan are being studied by climate scientists who have developed a new approach to their work. The approach, called 'attribution studies', aims to link two distinct but related phenomena: climate and weather. As one commentator who writes on climate change put it: "Climate is what happens to the weather over a long period and on planetary scale. Direct weather records only go back a century or so in many places, which is why scientists use computer models and concepts from physics and chemistry to build their understanding of the evolving climate."
Attribution research "really helps to understand how weather is affected within long-term climate change," said Daithí A Stone, a climate scientist with New Zealand's National Institute of Water and Atmospheric Research. Nearly two decades ago, Dr Stone worked on the first study to estimate the fingerprints of climate change on a one-off event — in that case, Europe's brutal 2003 heatwave that killed tens of thousands of people.
Since then, scientists worldwide have written 431 attribution studies investigating 504 extreme events. Three-fifths of these studies were published in 2017 or later. Scientists working in the area are now studying the Pakistani 2022 weather event. "The diversity of tools we have at our disposal to look at it now is beyond what we might have imagined back then," said Dr Stone. While data from the current episode of heavy rains and floods is still coming in, a group of 26 scientists affiliated with World Weather Attribution published a study on Pakistan.
The scientists specialise in studying extreme events. The weather-related events in Pakistan were extreme. Scientists found that the heat that scorched India and Pakistan in the spring of 2022 had been 30 times as likely to occur because of greenhouse emissions. July's extreme heat in Britain had been at least ten times as likely, the group found. Pakistan may have experienced disastrously high rainfall this year, which made it hard to pin down precisely how much severe this season was because of climate change. Still most of the computer models used suggested that human-caused warming had intensified the rainfall.
"The country might have experienced disastrously high rainfall this year even without global warming," said Frederick Otto, the Pakistan study's lead author who is at Imperial College London. "But it was worse because of climate change. And especially in these highly vulnerable regions, small changes matter a lot." Pakistan had become an example of a poor country paying the price of the sins committed by what were now rich nations.
"We want to showcase this to the developed world in particular," Ahsan Iqbal, Pakistan's minister for planning and development, told reporters he met recently in Islamabad. "The quality of life that people in the West are enjoying today, someone is paying the price [for it] in developing world." The minister provided details of some of the damage that had been done or is likely to follow. Sindh's agricultural economy has totally collapsed, he said. The rice crop was seriously damaged, and 700,000 farm animals were lost.
"This super flood is driven by climate change — the causes are international, and so the response calls for international solidarity," said Julien Harneis, the UN humanitarian coordinator in Pakistan. The US announced $30 million in aid, adding to a $3 million provided by the UN. But this is small amount as the government has estimated that it would cost $10 billon to have the economy and the most affected people recover from the crisis.
According to a newspaper report, "Denmark will direct about $13 million to vulnerable countries that have suffered loss and damage from climate change — the first time in UN history a wealthy member state has pledged compensation for the consequences of emissions in the developing world. Loss and damage funding has long been a rallying cry for climate justice advocates and leaders from vulnerable countries.
Wealthy nations, including the US, have rebuffed those calls, worried that any kind of financial commitment would imply legal liability for climate change's escalating toll." The work being done by groups such as World Weather Attribution that uses Pakistan as a case study may change the sentiment in the developed world and more resources may begin to flow to poor countries.
COMMENTS
Comments are moderated and generally will be posted if they are on-topic and not abusive.
For more information, please see our Comments FAQ