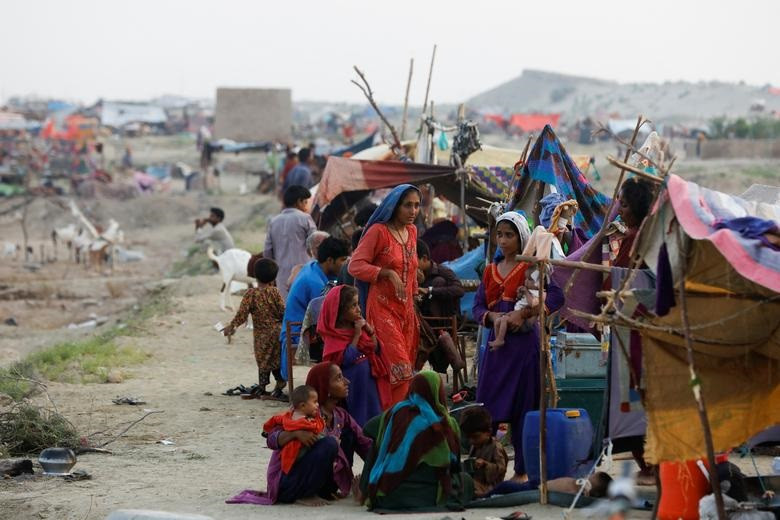 ---
KARACHI:
As starving flood victims face infectious diseases, the relief camps in Sindh have been blessed with eight new lives, bringing the total number of newborn to 24 in the last three days, sources revealed on Saturday.
According to details, 3,679 children have been born in the shelter camps so far.
A large number of people have contracted waterborne and skin diseases, dengue and diarrhoea after the disastrous floods triggered by monsoon rains hit the province.
In view of the mass destruction caused by floods, providing standard healthcare facilities to all, let alone the pregnant women, seem to be a cumbersome task.
Currently, 9,294 pregnant women are residing in the camps out of which 2,666 are in phase one of pregnancy, 1221 in phase two, 1,665 in last phase while 3,742 are full term pregnant. Authorities claimed to have provided dietary supplement to 8,440 women.
Furthermore, 7,679 pregnant women are Tetanus and Tetanus and adult diphtheria vaccinated while 7,739 women underwent medical check-up.
Earlier this month, Sindh Health Minister Dr Azra Pechuho shared alarming statistics of women affected by the unprecedented floods, saying at least 47,000 women were pregnant in shelter camps in the province.
COMMENTS
Comments are moderated and generally will be posted if they are on-topic and not abusive.
For more information, please see our Comments FAQ